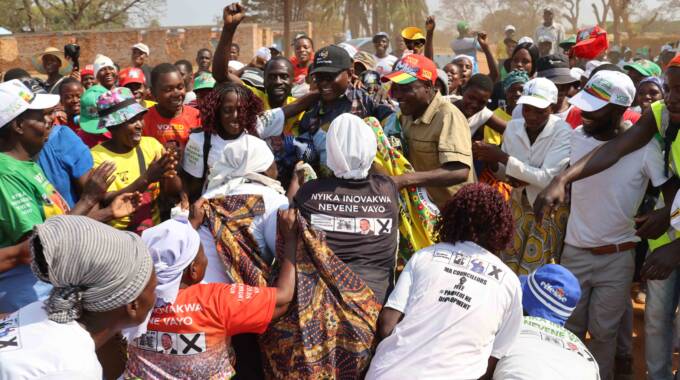 The ManicaPost
Samuel Kadungure
Senior Reporter
MAKONI West is at a very unique juncture — with Government resolutely laying the groundwork for socio-economic development to increase productivity, create jobs and wealth, build human capacity and improve income at household level.
This was revealed by Information, Publicity and Broadcasting Services Minister, Dr Jenfan Muswere, last week on Saturday in his home area of Dowa (Ward 13), Makoni West, during polling station-based meetings to thank voters for retaining him, President Mnangagwa and nine councillors in office.
Minister Muswere, who was elected legislator for the area for the second consecutive term, outlined the constituency's programme which seeks to improve the quality of life, support the empowerment of everyone, develop and preserve local assets and strengthen cohesive projects to deliver the development of the grassroots.
He emphasised on creating durable community assets based on local needs.
With women and girls being the majority of the marginalised, Government's thrust will be to narrow the gender gap through increasing girls' enrolment in school, prioritising women's health and nutrition, income generation and giving them a voice in making decisions that affect them.
Minister Muswere said all communities will be included in development to create a shared sense of purpose among citizens so that the attainment of Vision 2030 in rural economies will be speeded up.
"Most of these development projects are in education, health, water and food security, economic empowerment as well as infrastructure development. Sustainable development must meet or exceed basic needs to fulfil the aspirations of the people.
"We can effectively eradicate poverty and achieve sustainable development if we work together with the grassroot communities. Makoni West has vast opportunities and enormous resource wealth, including water and fertile soils. We must work hard to convert this potential into reality," he said, adding that water, sanitation and hygiene are fundamental to the constituency's social and economic transformation.
Makoni West has continued to experience climatic and economic shocks due to recurring droughts, resulting in poor harvests.
"We have a concrete five-year plan that includes the Presidential Borehole Scheme which is drilling a borehole in each village to ensure access to clean water and nutritional gardens to enhance food and nutritional security at grassroot level.
"We have put up a number of dams to support food and water security, while irrigation schemes are being expanded with support from President Mnangagwa. We have revived the tillage programme and we are grateful to President Mnangagwa for the Pfumvudza inputs. All these initiatives will be scaled up in the next five years," he said.
The developmental thrust was welcomed by members of the community.
Headman Nedewedzo, Mr Charehwa Nedewedzo, said they enjoy a cordial working relationship with Minister Muswere ever since he was voted into office in 2018.
He implored members of the community to unite regardless of their differences, arguing that unity of purpose is the panacea for rural development challenges.
"The Presidential Boreholes Programme is a resounding success and a game-changer in my area, and we hope it will cover all the areas. The roads have been attended to. We have the most trafficable roads in the province," said Headman Nedewedzo.
He said Makoni West can be a model constituency.
"Together we can transform this constituency into a better place. We will be admired by many. All we have to do is to collectively put our hands on the deck and work towards uplifting our area," said Headman Nedewedzo.
Mrs Christine Mukarate said the developmental initiatives will help to lessen the burden on women and girls in the constituency.
"Minister Muswere has uplifted the lives of women and the girl child. Widows and orphans are now being taken care of by him. We are no longer paying for the transportation of Presidential inputs as he is providing free transport. He is a compassionate leader.
"He has trained women in the constituency to be self-reliant through commercial projects. He availed sewing machines for women who are now fending for their families and leading decent lives," said Mrs Christine Mukarate.
Ward 13's representative, Councillor Mind Nyamande said the face of Makoni West had rapidly changed for the better.
"Zanu PF performed well in Makoni West due to the impact of the projects that were initiated by President Mnangagwa and Minister Muswere. The minister has been at the forefront of spearheading tangible service delivery and development.
"He is transparent in the management of Presidential and Government projects. Everyone is benefiting in line with the President's call of leaving no one and no place behind," said Councillor Nyamande.