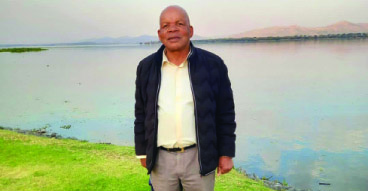 The ManicaPost
Freedom Mutanda
Post Correspondent
On June 28, 2022, the "coloured" of Maunganidze village, Samuel Munyeruki Sithole, also known as Lord SOMS, breathed his last at Victoria Chitepo Provincial Hospital in Mutare.
Sithole was a school administrator par excellence, as well as a Mathematician of high repute.
They called him the "coloured" of Maunganidze due to his very light complexion.
My first time to be close to him was when I was a soccer referee.
We would regularly meet at National Association of School Heads supervised tournaments where he would disburse money to the referees after the tournament since he was the NASH treasurer for Chipinge District.
I remember in 2002 when Chipinge hosted the Coca-Cola provincial tourney.
''Mutanda, you have to go to Rusape to referee the final,'' he quipped.
I was scheduled to be the man in the middle for the final when suddenly, mist enveloped Gaza Stadium and the match between Mutare Boys High and Marist Nyanga had to be replayed in Mutare.
Good old SOMS, as he was affectionately called by both students and staff, had a genial personality that radiated through his smile and never failed to bowl over even the most ardent adversary.
Born on June 6, 1953, Samuel Munyeruki Sithole grew up in an era where education was the preserve of a few and his intelligence took him from Maunganidze School to Mount Selinda Institute where he excelled before going to Gwelo's Fletcher High School.
At the University of Rhodesia, he read for a degree in Mathematics, a subject many students feared to tackle at that time, hence the infamous word 'Mathophobia.'
Lundi High School was his first port of call after varsity and soon after independence he joined Chibuwe Secondary School, a place where he was promoted to be a deputy head.
There began his meteoric rise in the administrative structures of the Ministry of Education.
Mr Clever Sigauke, a close relative and current head of Mutema High School in Chipinge, spoke glowingly of SOMS.
He said Mr Sithole encouraged him and other relatives to scale the academic ladder in pursuit of greatness in all the spheres of life.
''Mkoma SOMS told us that with education, nothing is impossible. Consequently, after Independence, I had to start Grade 7 although I was too old to be in that class. Later, he urged me to try school administration and I did. We have lost a humble man,'' said Mr Sigauke.
Mr SOMS taught at Chibuwe, headed Ratelshoek, Gideon Mhlanga, Chikore and Goko before he joined the Ministry of Higher and Tertiary Education as a Mathematics lecturer at Mutare Teachers' College.
He was passionate about sport and for that, he was a long-serving NASH treasurer and interacted with coaches and referees of various sports.
Mrs Stella Mudiwa, the current Chikore High School headmistress, praised the late administrator and said he was a committed educationist who demystified Mathematics to the many students he taught the subject with distinction.
''Mr Sithole left an indelible mark at Chikore as he was a devout follower of development. He left a mark of development at each school he headed. The teaching profession has been robbed of a great professional,'' she said.
Mr Oliver Chikumba said sometime in 2002, a misunderstanding arose at Chikore High School when the boarding master did not communicate well with the canteen staff, resulting in chicken and rice being replaced by sadza and sour milk.
Students, in a fit of rage, walked to Chipinge to express their anger.
"We were addressed by Dispol Mambara who advised us to return to school while logistics to ferry us back were being organised; SOMS never expelled anyone amongst us. He was a gentle giant. We have lost a father and a mentor,'' Mr Chikumba said.
Mr SOMS was on Thursday laid to rest next to his first wife in Mushati Village.
He is survived by his wife, Rudo, six children and 13 grandchildren.