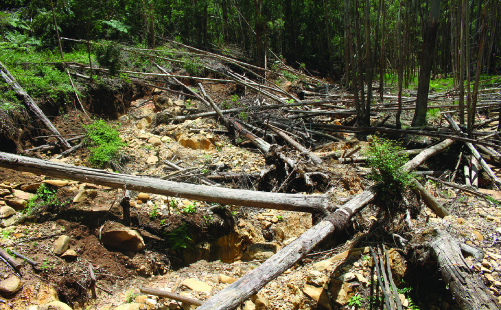 The ManicaPost
Cletus Mushanawani and Ray Bande
ARTISANAL miners working for small-scale gold mining investors in Penhalonga have been flushed out and vetting for allocation of mining claims begun in earnest this week to restore sanity in the area where a total of 21 people died in 13 months due to mishaps in mineral extraction processes.
However, some defiant artisanal miners have continued their operations under the cover of darkness, resulting in the arrest of 30 of them early this week.
The stopping of all activities at the Betterbrands-managed mining operations follow the issuance of a non-compliance of safe mining conditions and waste management by Environmental Management Agency (EMA) on January 8.
Betterbrands Mining Company is operating Redwing Mine, which used to be wholly run by Metallon Gold.
EMA's Manicaland provincial manager, Mr Kingstone Chitotombe confirmed the development and said this sought to ensure adherence to safe mining conditions as well as allowing for the rehabilitation of the mined area.
"There were issues of non-compliance of safe mining and waste management by Betterbrands, resulting in us issuing them with an order for them to halt their operations until they address the issues.
"In the past, issues of their non-compliance have been a cause of concern. We will not relent. We have adopted a whole Government approach where we are involving the Ministry of Mines and Mining Development, law enforcement agents, local authorities and us to address the situation prevailing in Penhalonga. Deaths are being recorded there due to unsafe mining operations, while the damage to the environment is terrible," he said.
Besides the damage to the environment, a total of 17 people died due to mishaps during mining operations in 2022, while four died this month only.
All of the deaths recorded so far were from shafts being operated by unregistered and unlicensed miners.
In an interview on the sidelines of a meeting to announce that mining operations have been stopped last week on Saturday, Betterbrands Mining Company general manager, Mr Cuthbert Chitima said they have reached a point where they can no longer carry on with operations before setting out sound safety protocols and structures in all mining shafts around the area.
"We are a law abiding corporate citizen and we were served with an order to stop operating by the Environment Management Agency due to the increasing number of deaths and general environmental degradation in the area.
"We thought the arguments raised by EMA could be sorted out while mining operations continue, but unfortunately while we were lodging an appeal against the EMA order, another accident was recorded.
"Therefore, being humane, we felt we really need to close operations and see to it that we put in place safe structures and systems in our mining operations," Mr Chitima said.
He added that the company is now ready to expand their underground mining operations.
"When we started, we could not go underground due to issues that were beyond our control, but we are now in a position to do that. We hope after sanity has been restored and when we start working with suitable and well equipped small-scale investors around the area, we will be able to go underground," said Mr Chitima.
Member of the House of Assembly for Mutasa South, Honourable Misheck Mugadza, who facilitated the discussion between small-scale mining investors and Betterbrands, said there is need to balance interests.
"It is a fact that the closure of mining activities affects us all, but at the same time we need to preserve the sanctity of human life. For us to enjoy the proceeds from mining, we need to be alive and well.
"Therefore it is important that we prioritise life and allow the process of bringing orderliness to this area go ahead. At the same time we plead with those undertaking the initiative to be mindful of the plight of our youths and all those benefiting from the mining activities," said Hon Mugadza.
Mr Chitotombe encouraged those who want to formalise their operations to acquire the required documents.
"We know that our youths have limited opportunities. We need to bring them on board and ensure that their operations are done in a sustainable manner. What was happening in Penhalonga was unacceptable.
"Those who want to mine should approach the Ministry of Mines and Mining Development and us for them to get the proper documentation. We have relaxed our Environment Impact Assessment (EIA) requirements by developing what are known as EIA guidelines.
"These are meant to facilitate sustainable mining so that the country attains the US$12 billion mining economy and contribute towards achieveing the country's Vision 2030," said Mr Chitotombe.
He allayed fears of water pollution in Mutare's water sources by mercury.
"As residents of Mutare, we are currently safe because mercury is a heavy metal and it sinks to the bottom of the water bodies. Yes, mercury leaked into the water sources, but I am sure it went to the bottom of Lake Alexander because we did not pick it in the water, but in the sediments of the water body when we carried out some recent tests.
"However, the continuous illegal mining activities and contamination of water sources will soon be a major threat to residents' access to clean and safe water," said Mr Chitotombe.
Speaking on the arrests, Manicaland provincial police spokesperson, Inspector Nobert Muzondo said: "We are in the process of verifying that information with Penhalonga Police Station."
One of the interviewed artisanal miners, Mr Gibson Madzingaidze said: "We are not defying lawful orders, but we also want to survive. We are prepared to formalise our operations, but we lack resources. If proper mining is started, we are ready to work for the miners, so that we can provide for our families. The risk of dying in unsecured mining shafts is too high."