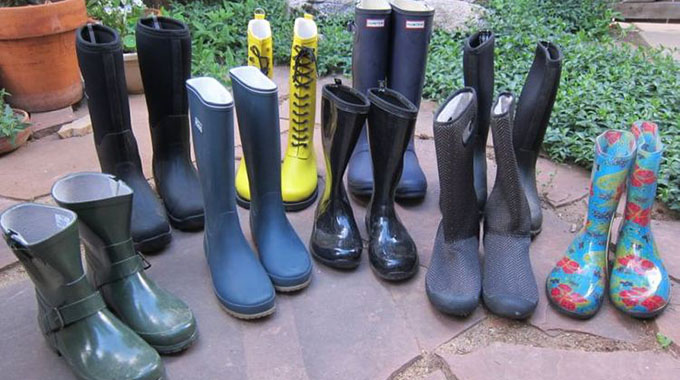 The ManicaPost
RAIN boots have become a necessary item in the wardrobe, especially for those living in seasonal environments and along temperate coasts. With style often contending with comfort and traction, it can be rather difficult to settle on what's best and what's affordable.
After having tested all kinds of rain boots side-by-side, we gathered the expertise to go over the fundamentals for what makes a pair of boots truly worthwhile. A good place to start is to differentiate rain-specific boots from alternative waterproof footwear and how each function in their realm.
Rain boots vs winter boots vs waterproof hiking boots
Personally, we don't mind the shoe rack filling up when we know every pair has its purpose. Still, we'll go over how to differentiate functionality and offer advice on how to avoid too much redundancy in the wardrobe. Rain boots are typically a very distinguishable category with their sleek look, rubber shafts, minimal outsoles, and are often bright or have patterned colours. Specific to rain, these types of boots are not made to compete with boots made for the snow or long-distance hiking. Rarely do they encompass all the preferred comforts.
In their most basic forms, they are made to keep your feet dry in wet conditions and often include features for you to slide them on and off easily. Materials can range from treated neoprene to the most technical resin. They are usually made from synthetic rubber and have simple, thin nylon or cotton lining, or no lining at all. The fancier you get, the more perks or accessories get thrown in. Sometimes you come across hybrids, where significant insulation is added for colder weather.
Different types of rain boots
Coming in all sorts of shapes and sizes, rain boots can most easily be categorised by shaft height: ankle-height, mid-calf, or tall. Ankle-height boots peak around the ankles or slightly above the ankles with a height — as measured from the floor — that is typically less than nine inches. The height of mid-calf boots typically measure 10-14 inches from the ground; and lastly, tall boots can be anywhere from 14 to over 16 inches in height (or even more in extreme cases).
Intuitively, the shorter the shaft height, the less overall weather protection (particularly from puddles and sideways rain).
Something to keep in mind, tall boots are sometimes difficult to wear with pants, which make mid-calf or ankle-height boots more appealing and versatile for the wardrobe.
Warmth and weather protection
For humid locations or temperate coastlines, rain is likely all the inclement weather you'll encounter. For these locales, it's best to shop for boots that have little to no insulation, which typically provides more room for thicker socks if the temperatures occasionally require such. Without the added insulation, your feet are less likely to overheat and sweat. You wouldn't want to end up with swampy feet throughout the day, negating the very reason to wear waterproof boots in the first place. In and of them, rain boots do not breathe very well, so being fully waterproof typically provides adequate warmth for the rain.
The majority of the boots we tested did not have added insulation, and they were either thinly lined with nylon, cotton, or had no liner at all. During testing, these minimally lined boots scored fairly average in warmth.
Ask yourself about the rainy season where you live. When it rains, do temps remain in the mid 50's and 70's? If yes, skip the insulation. Does rain mean chilly to frigid temps where you live? Then consider a more insulated pair or add quality, thick socks to non-insulated ones.
When taking the climate into consideration, it's good to familiarise yourself with the average precipitation your region receives. What are the most likely conditions? If you live in a four-season mountain community, it might still be advantageous to purchase a mild-weather boot for summer thunderstorms and spring and fall slush — as winter will likely be taken care of via appropriate winter boots. This is an example of how you can prevent too much redundancy with your shoe collection. On the other hand, if the rare drizzle is all you're concerned with, then ankle-height options tend to be more fashionable and easy to dress with.
Sometimes waterproof rubber boots are also highly appropriate if you work outdoors. Easy to clean by simply wiping them down, rubber is a durable material.
Comfort
The hope is for a boot that provides adequate foot support and comfort throughout the day. This is especially critical for work environments where waterproof boots are an invaluable asset, such as the examples mentioned previously. Something to consider is how stiff the upper rubber is.
Style
If you're only in search of boots to wear occasionally, maybe more on the spectrum of very rarely, then comfort may not be a mega priority. Style is likely the next leading factor. However, it's always nice when comfort and style are combined into a high-functioning boot, like many of our current award winners. Style is, of course, a difficult metric to score objectively, and people will simply like what they like.
With all rain boots, the softness of the rubber might influence the sag in the front of the shaft when walking. This can influence whether or not the boots look baggy or flattering. Taller models typically have a more streamlined, moulded design and sometimes added accessories like buckles or laces. Shorter models might have pull tabs or very little added features at all. Still, from bold colours and patterns to the traditional black and unassuming, there really is a look for everyone out there.
One area of contention, however, is when fashion and function are not balanced; yielding trendy looks with inadequate waterproofing. If something looks great but doesn't protect your feet from water as it should, we assume you won't have happy feet. This is when ankle-height boots and duck boots might be favourable. Ankle-height boots tend to be easier to put on and take off, and you can wear them comfortably with pants, leggings, dresses, etc.
Conclusion
In the end, the best boot for you is the one that will provide the best function and contentment in the environment where you live and work. — www.outdoorgearlab.com.