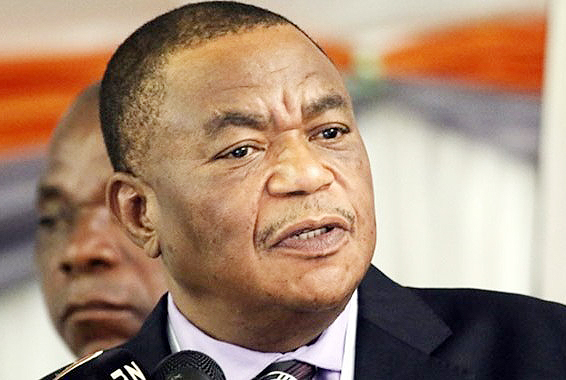 The ManicaPost
Freedom Mutanda recently at Chibuwe
Vice President Dr Constantino Guvheya Nyikadzino Chiwenga, praised Chipinge for providing a huge chunk of freedom fighters as well as giving birth to the late war hero and member of the Crocodile Gang, Cde William Ndangana.
He said that the revolutionary spirit which wanted a Zimbabwe everyone want must galvanise the 314 000 registered voters in the district to vote for the man who was also part of the original Crocodile Gang, Cde Emmerson Dambudzo Mnangagwa, to occupy the highest office in the land, the Presidency.
Addressing thousands of Zanu-PF supporters who thronged Chibuwe Primary School grounds in Musikavanhu constituency, the Vice President eloquently chronicled the road to independence and showed how the current Zanu PF Presidential candidate's life history is intertwined with the founding fathers'.
"Our President was there in 1964 at the Zanu- PF Gwelo Congress where the first substantive leadership was chosen.
"The likes of Cde Robert Mugabe, Cde Leopold Takawira, Chairman Cde Herbert Chitepo, Reverend Ndabaningi Sithole and others were chosen at the congress. Cde Mnangagwa was there and his comrade in arms, William Ndangana, started the ball rolling when he killed a white man in the Melsetter (now Chimanimani) district in 1964.
"Ndangana didn't use a gun to kill the white man but used a knife to do that and the whole aura which surrounded the white man as invincible evaporated.
"Crucially, Chipinge must know that Dhlamini and Mlambo who were members of the Crocodile Gang alongside the leader of the New Dispensation, Cde Mnangagwa, came from Chipinge and that will always be part of the history of Zimbabwe. Sadly, the two (Mlambo and Dhlamini) were executed by the heinous Smith regime and the President, Cde Mnangagwa, escaped the hangman's noose by a hair's breadth as he had not reached the age of 21 at that time,'' said the VP.
He drew applause from the crowd when he said he would meet Chiefs in Chipinge to talk about issues which troubled the Chipinge folks.
"We can't afford to let the will and aspirations down because the late Cde Ndangana wanted a prosperous Zimbabwe; therefore, as Zanu-PF, we want an economic transformation that would benefit our people. Development first; slogans second. Cde ED wants economic development and we say no to thievery, no to corruption. Vote for development in all sectors,'' he urged the Chipinge people.
A ZANU-PF supporter who refused to be named, welcomed the VP's sentiments and described him as a national leader who appreciated the role played by everyone in the attainment of independence.
"Our Vice President has acknowledged the role played by sons and daughters of Chipinge and he has reiterated the aspect of devolution which would help the district as Chipinge has many resources which would help the people in the area and the country as a whole,'' he said.