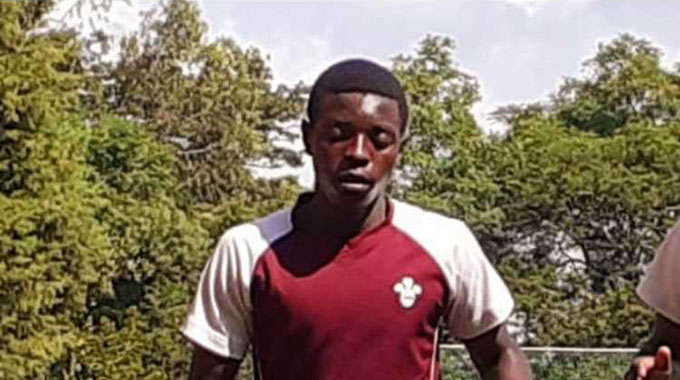 The ManicaPost
Ray Bande
Senior Reporter
CHIPINGE-BORN teen sensation, Luke Musikiri, who is living his dream after recently joining the country's most successful club, Dynamos, believes the Harare giants will be the launch pad for his overseas football glory.
Born and bred in the remote Checheche communal lands of Chipinge South constituency where he attended Checheche Primary School from Grade One to Seven, Musikiri's talent earned recognition during the National Association of Primary Heads (NAPH) tournament at Sakubva Stadium in 2017.
He caught the eyes of Prince Edward Academy scouts during the tournament and the rest has turned out to be a Cinderella story for Musikiri.
It has been a meteoric rise for the 17-year-old who went on to dazzle spectators and scouts alike during the Copa Coca Cola games two years later in Prince Edward colours.
He duly made it into the Copa Coca Cola Dream Team that represented the country in Kenya where he was named player-of-the-tournament even though Zimbabwe lost to Tanzania in the finals.
"Dynamos would like to announce the signing of five players, Trevor Mavhunga, Frank Mukarati, Tinashe Makanda, Newman Sianchali and Luke Musikiri.
"Mavhunga played for Shabanie Mine, DSTV, Starbill, Kariba Waves and most recently Triangle. Makanda was with Highlanders, having previously played for Bantu Rovers, Zim Leopards, How Mine and South African side, Stellenbosch.
"Joining from Ngezi Platinum is Mukarati who had a stint in Swaziland with Manzini Wanderers. He has played for How Mine and Border Strikers. Sianchali was previously with CAPS United, Highlanders, Bulawayo City, Bantu Rovers and Hwange.
"Musikiri signed from Prince Edward Academy where he has been since 2015," recently wrote Yvonne Mangunda, the Dynamos marketing manager.
Growing up at his grandmother's homestead in the cotton farming area, Musikiri never imagined playing for the nation's best supported football outfit.
"This is something I never thought would happen in my life. I started playing football at Checheche Primary School in Chipinge where I was born and bred.
"I was identified by Prince Edward Academy while playing in a NAPH tournament at Sakubva Stadium and instantly joined them.
"I am happy with the way things have been turning as far as my football career is concerned. I am focused on going beyond Dynamos as I look forward to play overseas," he said.
There is one man that Musikiri believes has been the pillar of his success in the game.
"I have a lot of respect for my Prince Edward coach, Pathias Mauto. He moulded me into what I am and I owe a lot of my successes to him," said Musikiri.
Before he landed into the hands of Prince Edward Academy and Mauto, Musikiri horned his football skills under the tutelage of Samson 'Shange' Sithole who coached the youngster from the Under Nine level at Checheche Primary School's Chawira Sports Academy.
Because of his unpleasing past, Musikiri now has the determination to change the script of his life.
"I grew up in poverty under the care of my grandmother. Things were tough. I would go to school dressed in a torn pair of shorts. It was really painful and I remember those days.
"However, I take it as part of my past and I am determined to make things better, not only for myself, but for all those close to me," he said.
Indeed, with a supportive mom that Musikiri has, it appears he is destined for greater heights.
"I never wanted him to play football. No one in his bloodline ever played football that much. I wanted him to concentrate with his studies, but somehow he showed great interest in football from an early age. I ended up accepting it and supporting him. I always give him advice on how to remain disciplined and desist from things that may ruin his football career," said Musikiri's mother.