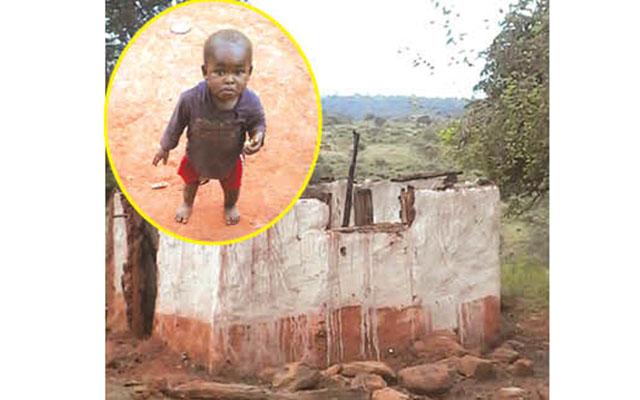 The ManicaPost
Freedom Mutanda and Knowledge Mhlanga Post Correspondents
An 18-month-old Chipinge minor is lucky to be alive after a man from Sone Village of Ward 17 in Chief Musikavanhu's area deliberately went and burnt a neighbour's hut following a misunderstanding at an illicit beer spot during last Saturday evening.
Edmore Tarwa "Dyke" Maposa (43), who has been jailed several times on different charges, went to set fire on a hut belonging to Gift Kataza Manzungu (26) at his extended family home following a verbal skirmish at a nearby shebeen that sells an illicit home-distilled beer called Nipa (Sope).
Witnesses to the verbal exchanges said that Maposa, who is commonly known as Tarwa, came from a beer memorial service (doro remufi) at a local chiefs' home and proceeded to Kumbula complex where a number of shebeens are selling illicit beer. It was upon his arrival there that he saw Manzungu drinking and asked for a sip, which he was denied and an exchange of provocative words ensued before Maposa promised to burn Manzungu's house.
Manzungu's mother, who was at home when the burning occurred said she was in the other hut with her daughter in-law and grandchildren when she heard her husband, who is lame, helplessly shouting from outside that there was a fire over Manzungu's house. It was only then that she hurried to whisk away her little grandson who is 18 months old and saw Tarwa escaping and shouting.
"This is not the first hut to burn here; two years ago another hut was burnt by an anonymous person and now we suspect Tarwa because he has always been at loggerheads with my son. I went to Chipinge Police Station and filed a report and a docket of the case was opened, but to my surprise it has been four days since and nothing has been done about it."
Gift Manzungu said he was shocked to find his rooftop ablaze and his family helplessly watching an hour later when he was heading home from the shebeen.
"What Tarwa did to me is painful and unbelievable. He came to me and asked for a sip of my beer and I refused. It was then that he started mocking me over my continuous stay at my family home and why I was receiving financial support from my brother Kenneth instead of moving out with my family to live at my own stand as he does.
"He said I was a coward and I was not facing up to manly tasks and other stuff before we got acrimonious and he promised to rape my young daughter and burn my hut. This is not the first time he has provoked me; he hates me and wishes me dead because I have a family and a stand with several planted fruit trees and he has none, yet I am young and he is advanced in years.
"I thank God that my wife and children were in the other house having dinner with my mother when our hut was burnt, otherwise it could have been a double blow. I also thank my mother for running into the blazing house to rescue my child who was in the house sleeping by the time our hut was burnt," said a bitter Manzungu who could not conceal his anger and swore to sue Tarwa for the damages.
A traditional leader, Mutape Maxwell Jenya, said it is unAfrican to burn another person's hut but the law will take its course.
"The long arm of the law will surely catch up with the perpetrator," he said.