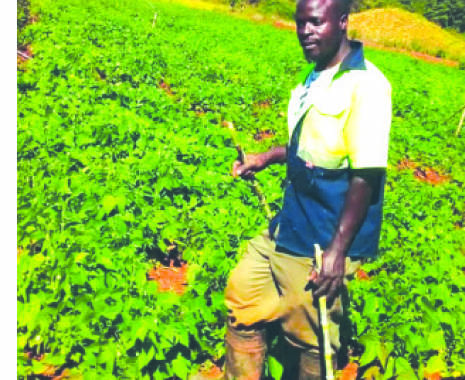 The ManicaPost
Freedom Mutanda
Correspondent
UNDULATING hills and equatorial forest Mahogany trees, punctuated by red soils meet the visitor to Chikore communal lands under Chief Musikavanhu in Chipinge.
Nyaudongo River is the lifeblood of the community, and it is here that a young graduate utilises the river for farming purposes with great results.
He is Mr Respect Majazo.
Ancient civilisations such as Mesopotamia and Egypt came about because of a river close by, and they went on to consolidate their political power through harnessing the river for farming.
These communities were agro-based economies first, before they could be leading lights of their time.
A 28-year-old Politics and Public Management Midlands State University graduate has taken agriculture by storm in Nyagadza area, Chipinge.
He is domiciled in Bangira along the Nyaudongo River.
It is here where the young man has proved that with tenacity and utilising the river close by, one may help in food security and subsequent economic growth for the area, and the country at large.
"I was born on the land, and I am as natural to the land as the natural resources,'' Mr Respect Majazo, said as he reclined on the sofa.
His journey to being an enterprising farmer began when he was in his teens as he watched his parents work on the land.
He takes after his father whom he regards as a role model.
He said: "I saw how my father would prepare the fields for the summer cropping way before the first rains. It would be a hive a hive of activity for all of us, as we yoked our oxen to till the land. As a family, we planted maize and the small grains.
"Later, we weeded the fields and applied Ammonium Nitrate.
I remember reporting to our father and mother on the progress we would have made in the fields. Today, I feel that my father helped me as an apprentice.''
Having attended primary school at Big Tree School near Chikore Mission, Majazo proceeded to Chinaa High School, before enrolling for a Politics and Public Management Degree at Midlands State University and graduated in 2014.
He did not opt for any formal employment after his academic pursuits as he went into farming in 2016.
Zimbabwe has long been credited for being the breadbasket of Africa, and in the SADC (Southern Africa Development Community), she is responsible for food security.
Therefore, when Mr Majazo, took to farming, the way fish takes to water, his community and family supported him relentlessly.
His secret is harnessing the Nyaudongo River for irrigation purposes, and that has been a marvel in an era of climate change.
He remains resolute in his belief that farming can change lives.
Employment creation is not for multinational companies alone.
Mr Majazo has four full time employees who make his job easy.
His harnessing of water from Nyaudongo River has seen a greenbelt being created.
Further, livestock production has thrived along the growing of crops.
"My employees have contributed to my success. Without them, it would have been very difficult to achieve what we have achieved so far.
"During the 2020/21 season, we had a cumulative tonnage of 10 tonnes of maize. From the dry land, we got three tonnes, while the other seven tonnes came from the irrigated area.
"I am expecting to harvest two tonnes from my winter wheat crop. Moreover, I expect a tonne or so of the potato crop,'' said Mr Majazo who is still single.
One of the major challenges to Mr Majazo's quest to become one of the leading agro-producers in Chipinge or the country, is the seasonal Nyaudongo River.
He believes that drilling boreholes will come in handy to avert huge losses in the event of a drought.
"If I had the wherewithal, I would drill boreholes along the river, or close to the fields.
"That way, any absence of rains would not impinge upon my tonnage of maize, wheat, potatoes or small grains.
"I, therefore, appeal to the corporate world, Government or development partners to drill boreholes in this area for us to maximise our potential,'' Mr Majazo appealed.
Many people have been quick to applaud his willingness to work, rather than wait for donors to come and help.
For him, donors should be complemented by young people who must have an inflexible ability to do things on their own.
"The donor syndrome among youths must never ever be celebrated.
"We have to take the lead to be food secure.
"Other young people must take the beneficiation route, while we do the farming,'' Mr Majazo added.
His exploits has seen a number of people applauding his efforts.
Mr Marshall Mtetwa, of Chikore, said: "He might be young, but his ideas are not young.''
As the 2021/2022 farming beckons, Mr Majazo is waiting with bated breath for it to begin. He envisions an improved yield per hectare.
"If the rains are not excessive, we expect more tonnes per hectare. We are eagerly waiting for the farming season to begin,'' he said.
It remains to be seen if the yields this time around would dwarf the figures he earned over the past five years.
The fact that he is into green vegetables, wheat, maize and potatoes, makes him a suitable candidate of being a supplier of these products to retailers in Chipinge District and beyond.