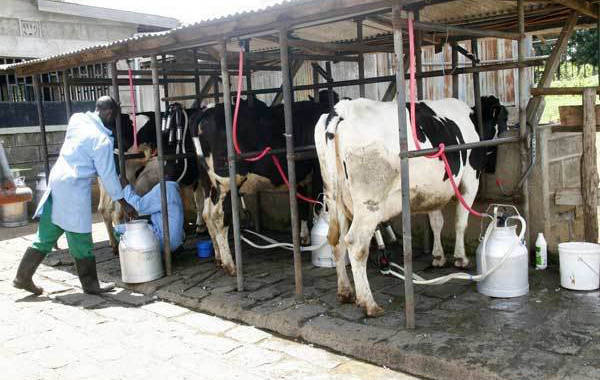 The ManicaPost
Luthando Mapepa
Chipinge Correspondent
MILK volumes produced by Chipinge small-scale dairy farmers is now increasing following various interventions by both Government and private players.
Milk production in three Chipinge milk collection centres now stands at 32 790 litres per month.
The farmers attributed the increase in milk production to the national dairy revitalisation programme as well as the public-private partnership.
As a result of these programme, average milk delivered per farmer increased from 3 317l to 4 447l per year.
Their income has increased from US$1 493 to US$3 719 per year.
Last week, the farmers last week received 25 Hamba electric powered tricycles from Transforming Zimbabwe's Dairy Value Chain For The Future (TranZDVC) to transport their milk to collection centres.
Speaking during the hand-over of the tricycles at Mayfield Milk Collection Centre in Chipinge last week, the Rusitu Small-scale Dairy Farmers chairperson, Mr David Hlokoyama said their membership can reach a production capacity of 50 000l milk production per month.
"Following various interventions by Government, private and development partners, our milk production increased. There was low milk volume per day as the average was at 4l per cow.
"This was being caused by poor dairy breeds and inadequate fodder for the cows.
"We received grants worth US$100 000 and US$144 000 in 2014 and 2017 respectively and we managed to import 43 cows as well as refurbish our milk collection centres.
"Government came in with the Dairy Revitalisation Programme where we got another 25 dairy breeds and purchased silage making equipment.
"A private organisation, We-effect, also sourced an additional 29 heifers, while finance institutions availed lines of credit to us," he said.
Mr Hlokoyama added: "Following these interventions, milk production increased and some farmers were now having challenges to transport all the milk to the collection centres as they were realising 50-110l in one milking.
"We are grateful for the donation of 25 tricycles as farmers were grappling with challenges on how to transport their milk to collection centres," said Mr Hlokoyama.
Minister of State for Manicaland Provincial Affairs and Devolution, Honourable Nokuthula Matsikenyere said Government is committed to promote the growth of the dairy sector.
"Government has been supporting this sector through the Command Dairy initiative. It will continue supporting small-scale dairy farmers as they contribute significantly to our deliveries at milk processors.
"This means that the more we produce milk, the more we create employment at our factories," she said.
(TranZDVC) project coordinator, Mr Chifamba said since 2019, they have poured seven million Euros into supporting small-scale dairy farmers.
"We were empowering dairy farmers by buying modern dairy machines and equipment, as well as electric tricycles for the easy transportation of milk to various collection centres," said Mr Chifamba.