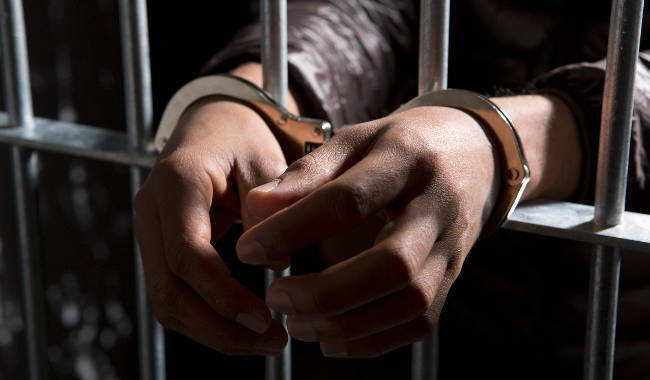 The ManicaPost
Luthando Mapepa
Chipinge Correspondent
THE long arm of the law finally caught up with two Buhera armed robbers who robbed a police officer's motor vehicle and vanished with goods worth thousands of dollars.
The two were recently sentenced to seven years each for robbery.
Adiel Mureza (27) and Sam Simbarashe Svosve (26), all from Chief Nyashanu's area of Buhera, appeared before Chipinge regional magistrate, Mr Noel Mupeiwa, facing robbery charges last week.
The accused had sold the Honda fit vehicle and other valuables in Mozambique.
The vehicle was later recovered in Chingowe, Mozambique.
District prosecutor, Mr Walter Saunyama said on June 3, the complainant, Constable Rarepatsi Moyo who is stationed at ZRP Birchenough Bridge Post left her workplace driving a Honda Fit vehicle as she was going to her home in Munyokowere Village, Middle Sabi, when she was robbed.
"On the day in question, Constable Moyo was on her way home when the accused stopped her at Chipinge Turn-off and asked for a lift to Chiredzi," said Mr Saunyama.
He said upon arrival at Matembudze Business Centre, Mureza asked Constable Moyo to stop the vehicle.
"He disembarked from the vehicle, produced an Okapi knife and stabbed the complainant on her shoulder twice. His accomplice, Svosve, who was still in the vehicle produced a machete from his satchel and dragged the complainant from the driver's seat to the back seat.
"They stripped off the complainant's pair of trousers, skin-tight pants, shoes and socks. They used the complainant's skin-tight to cover her face, gagged her mouth with the socks and tied her hands with a rope," he added.
Mr Saunyama said one of the suspects drove the vehicle towards Chiredzi and dumped Constable Moyo at Chipinge Safari area after tying her to a tree using a rope.
"The accused persons drove away in Constable Moyo's vehicle and went with a Lenovo laptop, a computer keyboard, a Samsung Galaxy A32 cellphone, a Gtel cellphone, a police ID, police notebook, dockets, US$417, $400 and ZAR10.
''The total value of the stolen property is US$3 500," he said.
Mr Saunyama said the complainant later managed to free herself, ran to the road and was taken to ZRP Middle Sabi by well-wishers.
He said on July 5, detectives received information that the suspects were staying at Birchenough Bridge.
"Acting upon the tip-off, detectives raided the accused persons' hide-out and arrested them. They were interviewed and they revealed that they had sold the vehicle and other valuables in Mozambique," said Mr Saunyama.