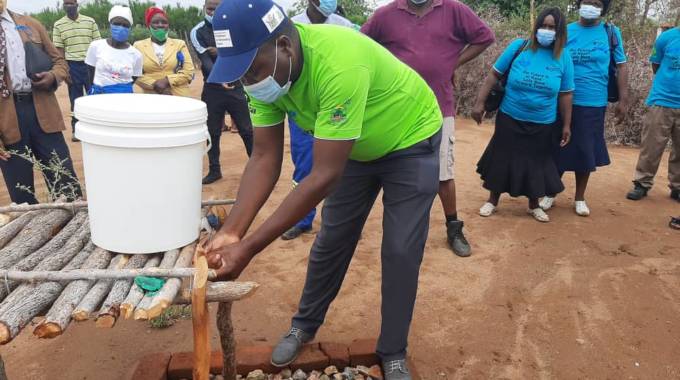 The ManicaPost
Freedom Mutanda and Luthando Mapepa
CHIPINGE District recently converged at Nyakumanwa Village in Ward Five under Chief Mutema's area to commemorate this year's belated Global Handwashing Day.
Global Handwashing Day is celebrated annually since 2008 and falls on October 15.
This year's event ran under the theme: "Our Future is at hand – Let's Move Forward Together''.
Speaking during the ceremony, guest of honour, Mr Blessing Mamvosha, who is Chipinge Rural District Council chief executive officer, said in recognition of the importance of the day, the local authority had committed itself to drilling boreholes in many villages especially in Nyakumanwa.
The village has a single functional borehole that serves the entire community.
"We have several projects lined up in the district which speak to water and sanitation purposes. We have people living with disabilities and the aged who need help to access water. In line with Vision 2030 being championed by President Mnangagwa, sanitation is of paramount importance.
"This initiative dovetails into National Development Strategy (NDS1). In that respect, the district is in the process of instituting solar-powered water systems. We will have piped water at our homesteads at the completion of these projects," said Mr Mamvosha.
Ward Five councillor, Alderman Philemon Machuwaire, encouraged people to embrace hand washing as a culture.
He said: "Nyakumanwa Village has 105 homesteads and around 447 people. Of those, about 15 households have no latrines. But on the whole, there is a marked improvement in sanitation standards in our community in the wake of Covid-19 and other waterborne diseases.''
Mr Innocent Raneti, the Oxfam representative and Mr Ronald Chihana of Diocese of Mutare Community Care Programme (DOMCCP) were impressed with a villager who has upheld hand washing tenets at his homestead by installing the facilities.
The villager, Mr Nelson Shanguro, told the gathering that his family ensures that they wash hands when they enter the yard or when they leave the toilet.
"As a family, we wash hands in the recommended ways of using soap and water. I urge all of us to have these facilities to prevent waterborne diseases,'' he said as he demonstrated the hand washing steps.
Ward Five Environmental Health Technician, Ms Progress Maburira, hailed the Nyakumanwa village head and the people for practicing hand washing.
"I salute Mutape Nyakumanwa and his people for religiously practicing handwashing. Because of that, his village was chosen to host the Global Handwashing Day. We hope that going forward, villagers will continue to observe health protocols as dictated by health authorities,'' she said.
As a way of raising awareness on the importance of hand washing, Oxfam and the Ministry of Health and Child Care had lined up activities that were performed by the village health workers and pupils from Sabi Valley, Kondo and Chipangayi secondary schools.
Poems and songs with themes for the event were received warmly by the appreciative crowd.
Farai Zvakare, a Grade Seven pupil at Sabi Valley Primary School was impressive with his Ndau rendition of news reading as the theme was amplified by simulation.
Dr Brian Makumbe, the Chipinge District Medical Officer, noted that the district took health education seriously.
"I have noted that health education programmes are plenty in the district and the village health workers have to be applauded for doing a sterling job," he said.
He said in the face of Covid-19, hand washing can never be overemphasised.