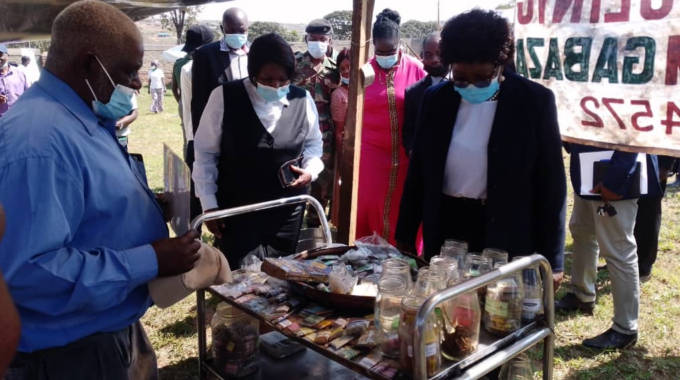 The ManicaPost
Luthando Mapepa
Chipinge Correspondent
THE inaugural Chipinge Business Expo roared to life today, with Women Affairs, Community, Small and Medium Enterprises Development Minister, Dr Sithembiso Nyoni, officially launching the fair in the farming town.
The event attracted scores of small and medium enterprises from across Manicaland Province.
It was held under the theme "Reviving Micro, Small and Medium Enterprises in the Post-Cyclone Idai and Covid-19 Era".
In her keynote address, Dr Nyoni said Government remains committed to supporting SMEs as they recover from the effects of Cyclone Idai and the Covid-19 pandemic.
Dr Nyoni said her Ministry has rolled out various programmes aimed at assisting SMEs in line with Government blueprints.
"Cognisant of the constraints the sector is facing, Government, guided by the National Development Strategy (NDS1) and National Micro Small and Medium Enterprises Policy (2020-2024), is implementing various programmes to address challenges faced to ensure that the sector takes a leading role in the development of our country. Some of these programmes include access to finance through institutions such as Small and Medium Enterprises Development Corporation (SMEDCO), Zimbabwe's Women's Microfinance Bank (ZWMB), Women Development Fund and SME windows established by various financial institutions.
"In addition, the formation of Savings and Credit Cooperatives (SACCOS) is helping communities to pool resources together for onward lending to members. Supporting workspace development for SMEs in town and business centres around the country is also being strengthened. Currently works are ongoing in Gweru, Gwanda and Chikomba for factory shells and vendor marts. Work is also being carried to provide business and technical skills training to equip SMEs to manage and grow their businesses. We are moving in promoting access to markets for SMEs by facilitating participation at local, regional and international exhibition platforms," she said.
Dr Nyoni commended SMEs in Manicaland for their resilience and urged them to embrace digital technology.
"I want to take this opportunity to encourage SMEs to embrace the use of digital technologies which include websites, e-mail, databases, social media and mobile platforms. The use of these platforms has the potential to significantly reduce expenses as they can attract customers at much lower costs than conventional marketing methods. I would like to assure you that the Government is committed to ensuring the uptake and effective use of digital technologies by SMEs and entrepreneurs to unlock fully the potential of the digital revolution," said Dr Nyoni.
Speaking during the same event Minister of State for Manicaland Provincial Affairs and Devolution, Honourable Nokuthula Matsikenyere, said SMEs play an important role in propelling Manicaland towards achieving the targeted US$10 billion economy by 2030.
"The province recently crafted an economic policy which estimates the provincial economy to be around US$2,5 billion. The plan is to work hard to grow the economy by at least 10 percent each year over the next seven years in order to achieve the US$10 billion economy in line with Vision 2030.
"Manicaland province sits on number six in terms of GDP per capita despite having abundant wealth in natural resources. The province sells most of its produce in raw state, thereby depriving the people of higher earnings," she said.
The expo runs between today and tomorrow.