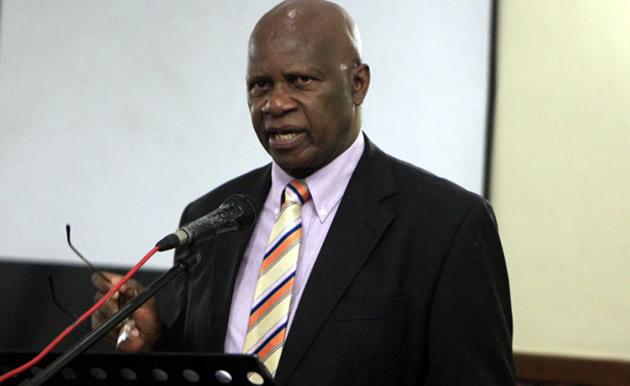 The ManicaPost
Lovemore Kadzura Rusape Correspondent
Makoni Central Member of Parliament (Zanu-PF)  and Minister of Finance and Economic Development Cde Patrick Chinamasa has just earned a ticket to represent the ruling party in the forthcoming harmonised election.
Cde Chinamasa needs to pull up his socks and balance development in urban and rural segments if he is entertaining any chances of retaining the Makoni Central seat.
There are mixed and divergent views on the MP's performance in Makoni Central — with those in rural areas saying the Zanu-PF politburo has done his best to steer development while those in urban areas see him as having not performed to their expectations.
The urban constituents argue that Cde Chinamasa has performed below the bar and has failed to meet their expectations considering his national stature both in the ruling party Zanu-PF and the central Government.
They view Cde Chinamasa as a visiting MP who rarely has time to interact with the electorate to gather their concerns.
Some said Cde Chinamasa spends most of his time attending pressing national issues like local, regional and international meetings leaving the constituency under the superintendence of emissaries.
They also said the MP's aides now appeared as if they were the ones representing the constituency as they were the most visible on the ground.
Those who stand in Cde Chinamasa's corner were quick to point the developmental projects he has been carrying out especially in the rural wards. Cde Chinamasa has been opening new roads in the rural parts of the constituency, a situation which has vastly improved accessibility and reduced transport costs in the beneficiary communities.
Cde Chinamasa has spearheaded the construction of a 30 metre bridge across Nyatande River as well as the establishment of a new all weather condition road Murungu to Fombe (9km), Fombe to St Barbara Mission and Fombe to Ringanai Primary School.
This has brought multiple socio-economic benefits to the rural areas and results in forming a strong backbone for the agro-based economy.
The quickly perceptible benefits are increased accessibility, mobility, increased productivity, saving in cost of transportation of people and material and speedier flow of commodities beside, changes in the life style.
During the official opening of the roads, Cde Chinamasa said though the importance of the rural roads has been emphasised in various plan documents, development was being compromised by lack of Government funding.
He said the projects, worth several thousands of dollars, were funded by his family.
"We have called this bridge Chiwira because the people from Chiwira Village were isolated. The construction of this bridge now affords the opportunity for the people of Chiwira to come in contact with other groups of the society, which in turn inculcates in them a sense of being a part of national main stream in its prosperity and progress," he said then.
Makoni Rural District Council Ward 21 Councillor Ceasar Chikunguru said the construction of the 30m Chiwira Bridge and the 22 kilometre link road from Chiwira to Ringanai Primary School has created accessibility to administrative and welfare services especially in times of natural calamities and for relief operations whenever needed.
"The construction started before he was even an MP. It is a very important development in Ward 21 because it has united people from this area who used to travel 22 kilometres from Chiwira. You could not cross the river when it was flooded. We have several cases of people who drown as they attempted to cross the flooded river," said Clr Chikunguru.
Mrs Longina Katsaruware said the significance of the development extended beyond the issues of rural and agricultural development, and contributed to the unbundling of the concept of poverty and the corresponding processes of social and economic integration.
She said improved rural roads created the conditions for better access of people to services, and of services to the villages.
"Such improvements reduce the perception of isolation and remoteness among the poor and very poor," she said.
Other constituents said Cde Chinamasa has also carried out livestock cross-breeding exercises in an effort to improve the quality of breeds.
So far 400 smallholder cattle and goat farmers have been trained on the latest animal husbandry practices following which 16 high-yielding Brahman bulls and boer goats, selected on the basis of their genetic merit and high reproductive efficiency, were distributed in Wards 22, 20, 19, 21 and 11.
The bulls and goats are used being cross bred with mashona breeds, whose body size and weight had been excessively retarded by inbreeding, and the initiative has started bearing fruits in three wards where the bulls were first introduced as the birth-weight of calves has improved to 30kg.
Cde Chinamasa's aide and Ward 7 Councillor Cde Evaristo Manyengavana said the MP has carried relevant developmental works in the constituency.
"He is the best ever MP since independence. He has drilled 19 boreholes in the area. Every ward be it urban or rural has a new borehole.
"He has constructed four new schools namely Dekwende, Nyakwima, Musasa and Crofton. It is no mean feat to achieve that. He also constructed several blocks in different schools dotted in the constituency, including Vengere High.
"He has an ongoing programme of electrifying rural schools and clinics and he has so far covered a lot of institutions.
"It is not true that the MP is devoting his time in the rural wards ignoring urban ones. In Rusape he has constructed a shed for carpenters. He is very alive to the issue of electricity in Ward 10 and Ward 9 and he is doing his best.
Cde Chinamasa has bought a 100kv transformer for Magamba. On the issue of water and sewer in Magamba Extension MP Chinamasa is engaging relevant stakeholders so that the area is connected to water and sewer," said Cllr Manyengavana.
However, Cde Napier Tendayi, a Zanu-PF youth differ and describes Cde Chinamasa is a visiting MP.
He said he is only visible during campaign time and disappears once elected.
"MP Chinamasa has done little, if not nothing for this constituency since 2013. He has no time for his constituency, we just see our MP on national television and newspapers. I was surprised to see that he could make time to campaign but cannot make time to address the constituency in none election times. We are dealing with an individual who is looking at safeguarding his interests rather than of the people he purports to lead. I so happened to witness one of his rare ward visits where he donated a single he goat to an entire village as project initiative for goat breeding.
"Cde Chinamasa has a bias towards rural wards and that is where he is visible here and there. Here in Rusape he has done nothing that has an impact on the people who voted for him. People in town want clean and piped water but he is busy drilling boreholes and without consulting the residents.
"We have Magamba Extension in ward 9 that has no water, sewer and electricity for a decade and we expect him to solve the issue by using his influence as a senior politician so that the issues are attended to by relevant government departments.  He has not initiated any developmental projects for the youths, women and vulnerable groups. He needs to pull up his socks and perform according to his status not only to hand over rice to the electorate," said Cde Tendayi.
However, Rusape Carpenters Association Chairman Mr Assan Matola spoke glowingly of Cde Chinamasa saying the legislator is a man of his words.
He said Cde Chinamasa assisted them to construct a new site for carpenters in Rusape.
"Cde Chinamasa is an MP who is easy to access and pays attention to the plight of the people of his constituency. Rusape Carpenters Association approached him seeking assistance to construct our own site which houses 80 carpenters. He will personally visit here to monitor progress. He assisted us in the construction of the toilets, connection of water and electricity.
"This complex has helped us to avoid paying rentals. Cde Chinamasa also told us to get organised so that he facilitates all of us here to have access to Point of Sale machines since there is cash shortages in the economy. Small and Medium Businesses are the drivers of the economy and Cde Chinamasa has done well to assist us. He also has a plan to build vendor marts in all urban wards, which is a positive development," said Mr Matola.