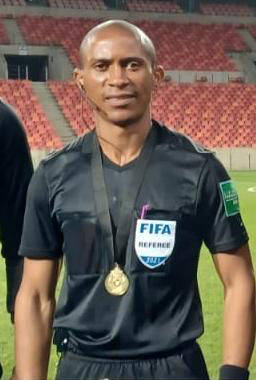 The ManicaPost
Ray Bande
Senior Reporter
FAR from the sickening failures of the senior men's national team, there was a flicker of Zimbabwean football success story in the COSAFA final match last week on Sunday as Brighton Chimene became the last countryman to leave the tournament.
This was long after his compatriots masquerading as the Warriors had left in shame after being booted out in the first round of the regional tournament.
The ever rising Rusape-based Chimene, whose ambitions are no less than officiating at the globe's biggest football tournament – the World Cup – provided a Zimbabwean flare at the close of the 2021 COSAFA finals as he was the fourth official in the final pitting hosts and eventual winners, South Africa and Senegal.
South Africa beat Senegal 5-4 on penalties (0-0 after extra-time) to win the 2021 COSAFA Cup Tournament at Nelson Mandela Bay Stadium in Gqeberha.
This year's edition was Chimene's second COSAFA finals tournament after he not only featured on the list of 2019 panel of match officials, but earned rave reviews.
He was part of the match officials' panel for the 2016 COSAFA Under-17s finals played in Mauritius.
Chimene initially officiated in Group A matches at the start of the tournament which was made up of South Africa, Eswatini, Botswana, Zambia and Lesotho.
He ended with a total of four matches as the referee and three as the fourth official.
The talented former Vengere High School student, who opted into match officiating as a way of atoning for his failure to fulfil his passion to play the game back in high school, said the COSAFA tournament was another learning curve.
"There were no challenges as such in the just-ended COSAFA Cup Tournament for me, but I learnt a lot. It was a great experience which helped me to believe in myself that I can do it and it is possible," he said.
While authorities in the refereeing fraternity have long admitted that he is one of the country's prospects for the next referee at the World Cup, for the first time, Chimene was candid about his ambition to officiate at the World Cup.
"Like every other referee's wish, it is my wish to officiate at the highest competition in football," he said.
Brighton Mudzamiri is the only Zimbabwean referee to officiate at the World Cup, but as an assistant referee.