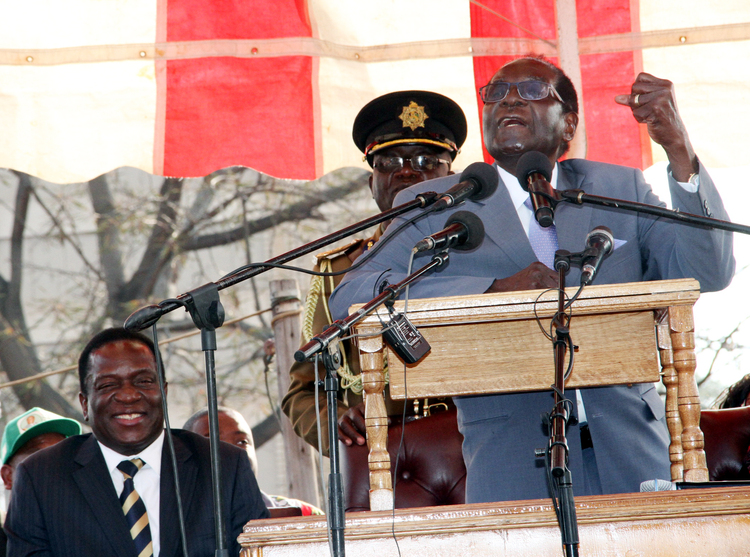 The ManicaPost
Post Reporters
Manicaland Provincial Affairs Minister and acting chairperson of the Zimbabwe National Liberation War Veterans Association, Cde Mandi Chimene on Wednesday stunned a war veterans solidarity meeting with President Mugabe at the Zanu-PF headquarters in Harare when she lashed out at Vice President Emmerson Mnangagwa, accusing him of fronting the so-called Team Lacoste, a supposed Zanu-PF faction blamed for plotting against President Mugabe.
Cde Chimene urged the President to fire VP Mnangagwa, saying if that was not possible, then the ruling party should call for an extra-ordinary congress where the Vice President would be shown the door.
Said Cde Chimene: "It all started in Tsholotsho and some people were expelled and others were suspended. But the cancer remained and we have nurtured it.
"The person who created Lacoste also created G40. I know of Lacoste and the leader. I am accused of being a G40 member. What was known as Tsholotsho was led by Cde Mnangagwa.
"Now there is a group called team Lacoste. This Lacoste is also led by Cde Mnangagwa. President, as you sit there, you have a parallel goverment because some ministers do not report to you, they report to their leader. Now it's time to seperate the two of you.
"We voted Mutsvangwa out and he is not our leader. If you can't fire each other today, let us go for a special congress and we will help you to fire them.
"Zanu-PF now needs culling just like animals. Crocodiles should go to the river; they cannot be in Zanu-PF because Zanu-PF is not a river and they may harm us.
However, addressing the same meeting, President Mugabe called on all leaders being accused of being the god-fathers of factionalism to come clean and publicly denounce the factionalism to dispel any forms of suspicions.
"Our enemies want to divide us using our names. We don't want to be divided, but it is our duty to denounce these things together so that the people have total confidence in us."
In his key note address, President Mugabe said: "The unity of the party is crucial and I am glad that so far we have retained that unity and I hope we will maintain it until 2018.
"We shall keep together at the top, we shall remain united, we know that accusations will continue to be made, allegations naturally some true some false, but Zanu-PF know how to settle its contradictions.
"Takafunda tirikuhondo tichiongorora maitirwo aitiwa kuChina ichatungamirirwa nava Mao."
On those using the church to front regime change, President Mugabe issued them with a stern warning.
"I want to warn ana Mawarire ivava nevamwewo . . . I want to warn them strongly. Zanu will not tolerate any nonsense, any nonsense that is done in the name of religion, so keep to your religious side.
"Once you begin to get involved with our politics you are courting real trouble, we know how to deal with our enemies who have been trying all along to effect regime change.
"We have the means to protect our hard won freedom, we have brought unity and the people are united, please don't disunite our people saka ndinoda kuvayambira and maembassies.
"The embassies foreign embassies in the country that are interfering with our politics intervening although they bare doing it privately, clandestinely I want to warn them to desist from it. The rules that govern them don't allow them to involve in our politics, to subvert our systems of governance to do things that amount to subverting the present Government and its authority please stop it and I have the lady Stop It with me," warned President Mugabe.
War veteran Cde Joseph Chinotimba had also earlier on at the meeting called for all those who were accused of being behind a communiqué allegedly issued by some war veterans calling for President Mugabe to step down, to shape up or ship out.