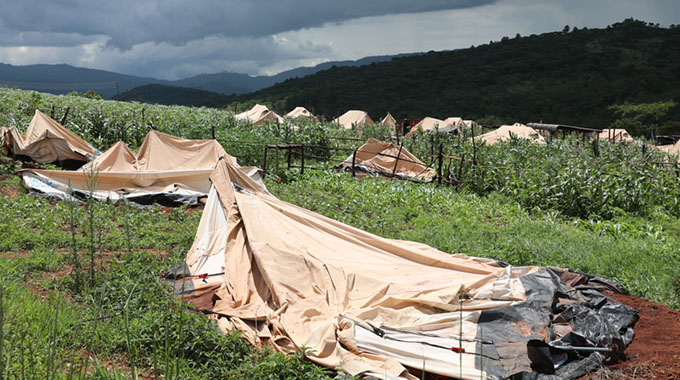 The ManicaPost
Luthando Mapepa
Chipinge Correspondent
CHIMANIMANI villagers who were evacuated last week to safe places in the wake of Tropical Depression Chalane which was expected to hit the country have returned home, with many expressing gratitude to Government for the timely intervention.
Last week, Government responded to the anticipated Tropical Depression Chalane by evacuating residents to safe places in Biriiri, St Michael's and Bumba.
As of Sunday, the villagers were trooping back home and were full of praises on Government's pro-activeness which resulted in them being evacuated to safe places well ahead of the anticipated fall of the Tropical Depression Chalane.
Government availed buses and the necessary logistical support to all those who were said to be staying in the red zone.
Awareness campaigns were also carried out across most parts of the province.
Mr Pishai Bandama of Ngangu, Chimanimani, said Government did well to ensure people's safety well ahead of the fall of Tropical Depression Chalane.
"We want to applaud Government for its timely intervention. We were moved to evacuation centres early and we also received the necessary logistical support during our stay at the centres. Awareness campaigns were also carried out across most parts of Chimanimani and everyone was aware of what they were expected to do in the event of being affected by the anticipated heavy rains and strong winds.
"Though some residents resisted evacuation, we hail Government for prioritising people's lives and safety. Everyone learnt vital lessons from the Cyclone Idai disaster and I think this will also help the country in terms of disaster preparedness," said Mr Bandama.
Ms Chipo Sithole said: "We managed to get adequate food supplies and blankets during our stay at the evacuation centre. There are some people who wait to pick up negative things, but this time they were left with egg in their faces as all stakeholders were equal to the game.
"Our prayer is that there will not be another cyclone again this year as this disturbs our normal daily activities. We also have our pieces of land that need our attention. We also need to produce and feed our families and sell the surplus to ensure national food security."
Chimanimani District Development Coordinator, Mr Joseph Manyurapasi, thanked Government for its timely intervention and said: "We want to express our sincerely gratitude for the support we received from all Government arms to ensure the safety of people here.
''Everyone played an important role and the team work is highly commendable."
He said in repatriating residents back to their homes, strict Covid-19 mitigation measures are being adhered to in the wake of increasing local transmission cases.
"Our people have returned home safely and in good spirits. We are now working on ensuring that Covid-19 regulations are being followed," he said.