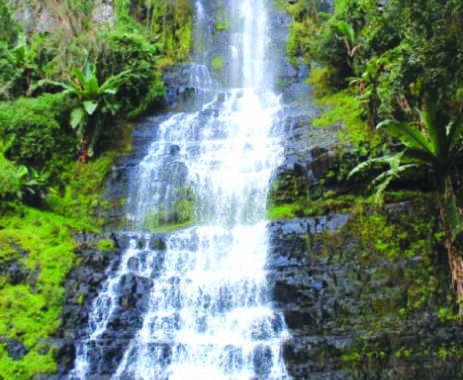 The ManicaPost
Liberty Dube
Tourism Correspondent
CHIMANIMANI'S tourism sector is fast recovering from the devastating effects of the 2019 Cyclone Idai which left hundreds of people dead and a trail of destruction.
The picture-square area is home to tourist attractions like Chimanimani Mountain, Outward Bound, Eland Sanctuary, Bridal Veil Falls, Vimba Wilderness, Moovah Park and Hanoni Falls.
Business Post has learnt that tourism in the district is now on the rebound after organisations such as the Chimanimani Rural District Council, ZimParks and other tourism players joined hands to rehabilitate some of the damaged infrastructure.
Addressing journalists at a Zimbabwe Union of Journalists-organised crisis reporting workshop at a local hotel this week, Chimanimani Rural District Council deputy chairperson, Councillor Panganai Chirongera said tremendous strides have been made in resuscitating tourism in the district.
"Efforts are being made to improve accessibility to tourism sites such as Bridal Veil Falls and Chimanimani Mountains. We are working in conjunction with ZimParks. Accessibility has been one of the major challenges, but we are on the right track.
"Plans are also underway to bring back wild animals and indigenous and exotic birds to Eland Sanctuary. The cyclone destroyed the perimeter fence resulting in some animals escaping, while others were swept away by the floods and mudslides. We are fencing the park as part of the rehabilitation programme," he said.
Activities such as hiking, bird watching, camping and other recreational activities like golf and swimming were also affected by Cyclone Idai.
Said veteran hotelier, Mr Willard Madhombiro: "Chimanimani's new look after Cyclone Idai is amazing.
"The new features such as natural stone works are profound. There are a lot of things to talk about in Chimanimani especially the mountains and the rehabilitation of Bridal Veil Falls. It has now been transformed into a unique and different tourism facility.
"There is also need to aggressively market agro-tourism. There is need to profile players in the agriculture sector in the district as the area is home to organic produce like bananas, pineapples, naartjies, sweet potatoes, macadamia, tea and coffee. If these crops are marketed, they will help to bring more tourists to the area."
Last year, the Chimanimani Business Community organised a business expo as part of efforts to market Chimanimani.
Tourism player and analyst, Mr Lloyd Makonya said: "Government and other stakeholders have made significant strides to improve and resuscitate key infrastructure like roads, mobile phones network connectivity and power to Chimanimani which are key to the tourism industry. It is imperative that focus should be placed to have easy accessibility of tourism sites to improve tourists traffic to the district.
"There is also need for associations like the Hospitality Association of Zimbabwe to continue engaging Government on ways to help tourism players in the district to find their footing through incentives such as tax holidays for a certain period and access to low cost funds/loans.
"I am alive to the fact that Government has offered a free duty facility to players across the board which players in the district should also access. It is also imperative to point out that there are new tourism opportunities which were presented by Cyclone Idai.
"Sites like Ngangu which have sad stories to tell, visible marks of rockslides and boulder deposits have brought forth new tourism products whose story players need to package as the district's tourism industry bounces back.
"A holistic approach needs to be encompassed by all stakeholders to leverage on the district's rich tourism history and the new opportunities arising from the post cyclone period."