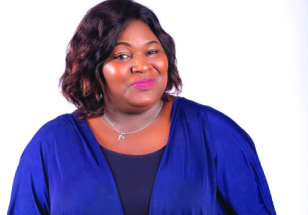 The ManicaPost
Moffat Mungazi
Weekender Reporter
TALENTED gospel musician, Caroline Chidzikwe is back in the limelight following her latest offering whose message of hope and faith provides therapeutic nourishment to believers' souls.
Titled Munozvigona Mwari, the freshly-baked track's theme was adapted from the Scripture in Jeremiah, Chapter 32 Verse 27, and it glorifies the omnipotence of God.
Speaking to Post Entertainment through her manager, Baldwin Chidzikwe, the velvet-voiced diva said the new song is another hallelujah hymn with an edifying effect.
"As suggested by the title, this is a track glorifying the Lord and reminding the Christian community that everything is possible when done in His name after surrendering unto Him.
"God is faithful all the time and is able to turn any situation around. Whatever we may be going through, if we trust in Him, He can deliver us. Our band, The Throne Worshippers, was called to serve Christ and we are unrelenting in ministering the Word through music," she said.
Blessed with a gift to make melodies with profound meaning, Chidzikwe said God's grace and love abound in people's lives, adding that everyone should count their blessings.
Munozvigona Mwari is her fifth single after Handitye, Anokuda Jesu, Zita Renyu Jesu and Fambai Neni.
It was produced by Patrick Nyanzenza at Kunashe Studios which is owned by Olin Anderson.
Chidzikwe featured Definitely Mubaiwa-Ncube on the track.
She spoke glowingly of her.
"After recognising her talent, potential and passion, we decided to rope her in. Mubaiwa-Ncube also doubles up as a backing vocalist in our band – The Throne Worshippers – and this time around we deemed it prudent to give her more prominence by featuring her on the new track," said the singer.
This is Chidzikwe's third collaboration after working with Bethany Pasinawako-Ngolomi and Clever Dzvairo on Zvinoda Mutsimba and Tonamata respectively.
The song is already trending on social media where it is gaining traction with audience engagement through views and comments.
Munozvigona Mwari has been well-received and if that is anything to go by, it is set to surpass the mark reached by Anokuda Jesu and Fambai Neni which topped music charts on local radio stations.
The Throne Worshippers Band leader said they are planning to work on visuals for their latest release.
Chidzikwe also said she is set to do collaborations with fellow gospel musicians, but could not be drawn into disclosing their identities.
She revealed that she is working on a full album, which will be her second studio project, expected to be ready by the end of this year.
Since her first studio production, Chidzikwe's profile has been steadily growing over the years and she has mellowed into maturity as a fine artiste.
She credited her band for their meteoric rise to stardom.
Said Chidzikwe: "Hard work has seen us come this far and kudos to the entire Throne Worshippers outfit for the hard work and determination. Special mention also goes to our followers who continue to back the band. We greatly value their support and deeply appreciate their feedback."