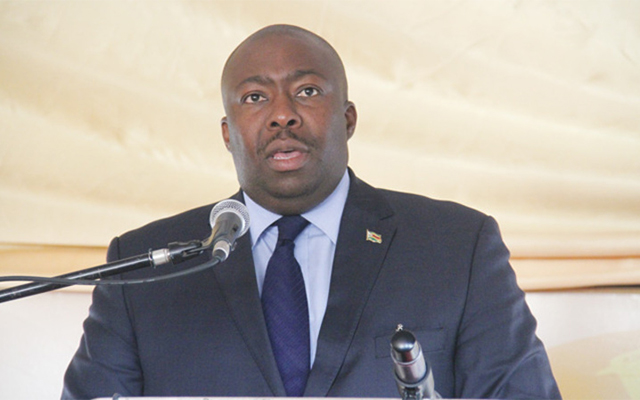 The ManicaPost
Ray Bande Senior Reporter
"WE all witnessed and we know what happened in Chiadzwa. We surely do not want a repeat of that. Only last week, we were at Arda Transau where the people from Chiadzwa were resettled. We were busy finding solutions to things that were erred before our time."
These were the words of Acting Provincial Administrator for Manicaland Mr Edgars Seenza as he struggled to pacify visible anxiety and anger that was written all over the faces of Tsvingwe residents where the Zimbabwe Consolidated Diamond Company (ZCDC) officials announced a fortnight ago that they 'suspect' there are diamond deposits in the area.
Mr Seenza is not the only one to have noted this.
Water and Environment Minister Cde Oppah Muchinguri-Kashiri echoed Minister Kasukuwere's sentiments saying the entire Manicaland province is disgruntled over the plundering of diamonds in Chiadzwa.
"Manicaland has been disgruntled over the Chiadzwa issue.
What many expected is that there could be remarkable improvement of roads, construction health centres, diamond cutting and polishing being done here, installation of boreholes and a general improvement of the infrastructure in areas surrounding Chiadzwa.
"But we witnessed diamonds being taken away without any returns. To make matters worse we have heard complaints of failure to employ locals in the diamond mining operations.
What we are going to do together with my colleague (Cde Kasukuwere) is to table the issue in the next Cabinet meeting that we really need to mobilize financial resources to fund the Marange Zimunya Community Share Ownership Scheme and let the people get what they were promised," said Cde Muchinguri-Kashiri.
Their sentiments were expressed against the backdrop of the Marange-Zimunya Community Share Ownership Scheme which was launched by President Robert Mugabe in July 2012 and on the occasion, the diamond mining companies pledged US$50 million.
Only a paltry US$400 000 was released towards the Marange Zimunya Community Share Ownership Scheme while infrastructure in areas surrounding the diamond fields remains desolate and poverty as well as unemployment levels remain high.
Issues related to failure to employ locals and lack of willpower to develop infrastructure in the area that the precious gems were being mined, became tired stories that formed daily fodder for the media.These developments in the past easily put into context the negative attitude that citizens now have whenever issues related to new diamond mining ventures are mentioned.
A fortnight ago ZCDC officials together with their SIRDC counterparts convened a meeting with residents in Penhalonga's Tsvingwe village and announced that they intend to carry out an Environmental Impact Assessment (EIA) exercise in the area because they 'suspect' there are diamonds and that would pave way for mining operations, if indeed the diamond deposits exist in the area.
This did not go down well with Tsvingwe residents, some of whom, upon request, would give a blow by blow account of what transpired in Chiadzwa from the diamond rush era up until the mechanized mining operations of companies that were eventually booted out of the area.
The mere mention of the diamond mineral being linked to their area must have sent shivers down their spines as fear of losing property and their socio-economic livelihood suddenly became a possibility. Refreshingly, in a show of respect to the masses, Government diamond mining company ZCDC, SIRDC,
MP for the area Cde Irene Zindi, local government ministry represented by the Acting Provincial Administrator Mr Seenza, Mutasa Rural District chief executive Mr George Bandure, Mutasa District Administrator, Mr Tendai Kapenzi announced last Saturday that 'the process has been put on hold'.
ZCDC officials duly apologized for having jumped the gun."I am sure we have heard it all loud and clear as the Member of Parliament has said. She is here as our mediator. We are really sorry for where we went wrong.
We are prepared to mend relations and start on a new page," said Mr Watungwa who spoke during Saturday's meeting on behalf of ZCDC.Member of the House of Assembly for Mutasa South, within which Tsvingwe falls, took to the podium and calmed the emotions when she eventually announced that they have agreed to put the process on hold.She said if ever the process would resume, it would be after further consultations between Government, local authority leadership and the residents.
"One thing that I am happy about this meeting is that it managed to calm down the emotions among the residents who thought that they are going to lose their properties and be dumped elsewhere.
Some had even started spreading falsehoods that the Tsvingwe residents are set to be relocated in Gokwe and others saying in Nyamukwarara.
"That was not true at all. Therefore the whole exercise has been put on hold and if ever it will resume it will do so after consultations between Government, local authority leadership and the residents.
It is also imperative to note that if ever anything is to go ahead in terms of mining activities we will ensure that it will not disadvantage the residents in the area," said Cde Zindi. Addressing residents during the same meeting on Saturday,
Mr Seenza went on to say ZCDC erred in creating the assumption that a diamond mining process is already underway that will soon result in the displacement of residents and dispossession of their social and commercial institutions.
Mr Seenza was also quick to remind the gathering that there were no diamonds deposits that were discovered in the area.
"I really want to apologise for what was said before, which the Government is not even aware of. We are aware that something went wrong and we as Government were not aware of. One of the things that was erred is that there was no diamond that was ever discovered here yet the message put across is that there could be diamonds. "Truth of the matter is that there was no diamond discovered here.
We can spend the whole day here explaining the same thing but the truth is that there has not been any diamond discovery here. He said the ZCDC is in Tsvingwe as part of a nationwide programme to identify different minerals found in different parts of the country.
"What ZCDC was keen to establish here was whether we have mineral deposits here such as diamonds and this is an exercise that is being carried out the whole country not just Tsvingwe. It is unfortunate that Government cannot do it on every inch of land from Zambezi to Limpopo at once. There are areas that we have to prioritise first hence the presence of ZCDC official here in Tsvingwe.
"The issue is we just cannot be in this area without even talking to the people first.
It could have been said in a manner that was not palatable but we are saying we are sorry for that.
There will not be any displacement. No trench digging will take place, so be at ease and be calm," said Mr Seenza.
Saturday's meeting, a damage control initiative in itself, came hard on the heels of a aborted meeting held at the same venue a fortnight ago where ZCDC officials announced that they 'suspect' there are diamond deposits in the area hence an EIA exercise has to be undertaken leading to mining activities that would then result in displacement of residents.
Just when everyone thought the meeting was about to end especially after getting assurance that there will not be any trench digging, no displacement for anyone, the issue of title deeds for residential properties suddenly popped up as residents demanded the local authority's sincerity in availing those property ownership documents to them.
All in the name of fear of losing properties they have already invested in around the Tsvingwe area in a life time if diamond mining operations come to fruition, irate residents took Mutasa Rural District Council chief executive Mr Bandure to task over the issue of title deeds.Such are the depths of anxiety and anger raised whenever issues to do with diamond mining are mentioned in any given area, all because of what the nation witnessed in Chiadzwza.