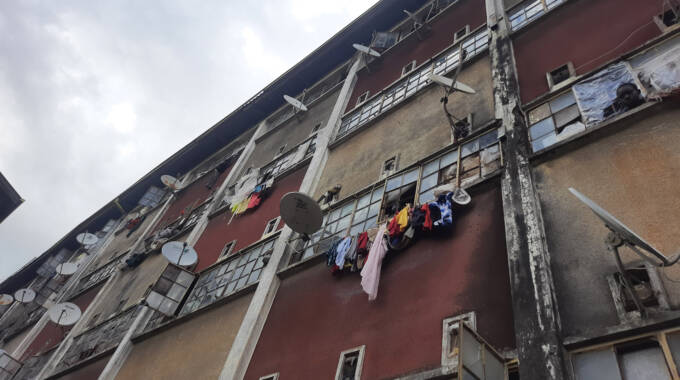 The ManicaPost
Tendai Gukutikwa
Post Reporter
A SAKUBVA man died after he fell off from the fourth floor of Matida Flats while wrestling with his married lover's husband early Sunday morning.
It is alleged that Tawanda Chirenje (25) had caught the now deceased Gift Saungweme (40) in a compromising position with his estranged wife, Phillipa Dariyani (25), in a friend's apartment.
Manicaland provincial police spokesperson, Inspector Nobert Muzondo confirmed that the police are on the hunt for Chirenje who took the law into his own hands and pushed Saungweme off a fourth floor window at Matida Hostel as they wrestled.
"Chirenje had caught Dariyani drinking beer with Saungweme in a friend's apartment. He assaulted her with the flat side of a machete, booted feet and fists and proceeded to assault Saungweme.
"They wrestled towards an open window and as they wrestled, Saungweme fell off the window from the fourth floor. He sustained head injuries and died on Monday morning.
"We are treating the matter as a murder incident as the circumstances are all pointing that way. As the police, we urge people not to take the law into their own hands and not to use violence when such matters arise," said Inspector Muzondo.
When The Manica Post visited the scene on Monday, Dariyani's friends revealed that she is a sex worker who had offered her services to the now deceased, with her husband catching them red handed.
During our visit to Matida Hostels, we leant that Dariyami had just been picked by the police for questioning while Chirenje was reported to have disappeared shortly after Saungweme's fall from the building.
In an interview with The Manica Post, Dariyami's friend, Shallon Maisera, in whose apartment the two lovebirds were caught red handed, said she had been drinking with Dariyami and Saungweme at the bar that night before they decided to go to her apartment.
"I offered them my apartment because her children were sleeping in her apartment, which is on the third floor. The three of us had been drinking in my apartment when Saungweme sent me to buy more beer and it was already past midnight.
"When I came back, I was shocked to find Chirenje inside my apartment with the lovebirds. Dariyani was crying and begging for Chirenje to forgive her. I knocked and Chirenje opened the door for me.
"He told me that he had caught the two in bed and that he wanted to kill them. I tried to stop him but he pushed and locked me outside. Shortly afterwards, he came out and told me that Saungweme had jumped off the window. He then walked away after that," said Maisera.
She said Dariyami was assaulted all over her body with the machete.
Maisera said when they rushed downstairs, Saungweme who was still alive but badly injured asked for some water.
"I asked him if he had been pushed off the window or if he had jumped but he kept saying 'pakaipa' so we rushed him to the hospital where he died later on," she said.
Dariyani's other friend, Memory Chaipa said Dariyani and Chirenje's relationship was strained due to Chirenje's violent nature.
"Chirenje is negligent and violent, which is why Dariyani joined us in sex work. She wanted to take care of her five children but Chirenje who is an illegal gold panner would not understand this. He has one child with her but he does not look after that child," said Chaipa.
The friends also confronted each other on who could have alerted Chirenje that Dariyani was with Saungweme.
They accused Maisera, who however avidly refused being the informer.
"We heard that it was you Maisera who called Chirenje because you wanted him to yourself as he had some money, so please tell us the truth. Why did he show up at the time that you had gone to the bar? Please be open with us and state the truth?" asked Chaipa.
However, Maisera insisted that she had nothing to do with it.
"I honestly do not know how everything took place. I was at the bar buying beers, I did not call Chirenje. Why would I do that when Dariyani is my best friend? I was also shocked to find Chirenje in my home. I am dealing with severe trauma right now because the man jumped from my apartment, I fear that his ghost will haunt me when I did nothing wrong," she defended herself.
Prior to The Manica Post's arrival at Matida Flats, the Saungweme family had been at the scene to conduct some rituals.
"Saungweme's parents were here this morning. They took some blood-stained soil from where he fell and conducted some rituals. The mother ordered her dead son to revenge those that caused his death.
"It was scary, she asked the residents for a hoe so that she could dig the soil that she wanted but no one came forward. So she threatened that she would leave the blood as it was and that the whole Matida Hostel would be uninhabitable due to her son's ghost, that is when people rushed to look for a hoe for her," said Chaipa.
At the place where Saungweme landed was some snuff that had been sprinkled by his mother and some other strange objects.