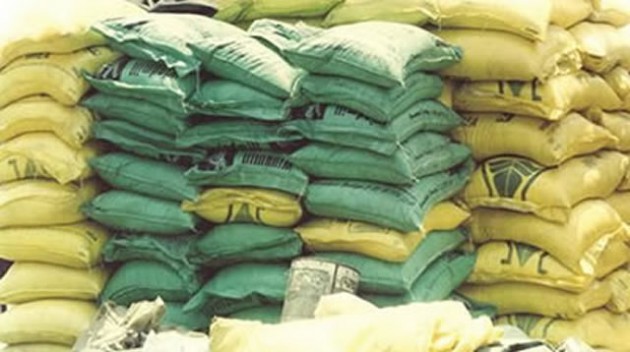 The ManicaPost
Samuel Kadungure
Senior Reporter
MAJOR fertiliser producer — Chemplex Corporation — has pledged to produce cheaper mineral fertilisers enhanced with micro-nutrients specific for different soil types to meet or exceed national demand for the 2021-22 summer cropping season, The Manica Post has learnt.
This was revealed by Chemplex Corporation acting chief executive officer, Mr James Chigwende, in an interview on the sidelines of Vice President, Dr Constantino Guvheya Nyikadzino Chiwenga's tour of a phosphate plant at Dorowa Minerals Mine last Sunday.
Dorowa Minerals is a subsidiary of Chemplex Corporation, which is under the Industrial Development Corporation (IDC) Group of Companies, wholly owned by the Government and is the only producer of phosphate in Zimbabwe.
Phosphate produced at Dorowa is used in the production of Compound D, Nitrogen, Phosphorous and Potassium (NPK) fertilisers at Zimphos and Zimbabwe Fertiliser Company (ZFC).
"We are ready for the summer season's supply of phosphates to meet national fertilisers requirements, especially Compound D. At the moment, our plant is running at 43 percent capacity utilisation — producing 150 000 metric tonnes of phosphate concentrate per year — which is enough to produce 430 000 tonnes of Compound D fertiliser through our processing plant at Zimphos and ZFC. This is enough to meet the current Compound D fertiliser demand in the country.
"At the moment we are producing around 60 000 to 70 000 tonnes of phosphate, which can produce over 200 000 tonnes of Compound D. Between now and December, the plant will produce phosphates equivalent to 80 000 tonnes of Compound D," said Mr Chigwende.
He said the mineral fertilisers will be much cheaper to promote their use and boast yields.
"We will reduce the fertilisers cost by 15 percent of the current price. The low usage of fertilisers in Zimbabwe is because of high prices. We want to produce fertilisers which are affordable to communal and small-scale farmers so that they increase fertilisation of their crops and improve the yield from 1.4 tonnes to more than five tonnes per hectare," said Mr Chigwende.
He said it was appalling that farmers were applying an average of 15kgs of fertiliser per hectare against the international benchmark of 130kgs per hectare.
"That low usage of fertiliser means that productivity and yields will be compromised.
"We have a mandate and a strategy to produce sufficient and competitively priced fertilisers which have sufficient nutrients as well. The Compound D we are talking about is not the usual one, but will be enhanced with micronutrients which are very specific to the soil tests so that it provides both the phosphates and the nutrients required for the plants to produce more," said Mr Chigwende.
He said plans are afoot to expand and install a fertiliser plant at Dorowa, a development that will transform it into a regional and international hub of fertiliser production.
The plant will produce low and high analysis as well as Nitrogen, Phosphorus and Potassium (NPK) fertilisers for export markets in SADC, COMESA and beyond.
VP Chiwenga said the fertiliser value chain is at the epicentre of the National Development Strategy (NDS1) and the Zimbabwe National Industrial Development Plan (2019-2023).
He stressed that the value-chain approach is a key import substitution strategy for Zimbabwe.
VP Chiwenga said Zimbabwe has an established reserve of 200 million tonnes of phosphates, which will ensure self-sufficiency for the next 60 years.
"These macroeconomic impacts are important as they are in line with the aspirations of the NDS1 as we strive to achieve Vision 2030.
"The fertiliser value chain players are already implementing the five-year Fertiliser Import Substitution Roadmap in support of local production of fertilisers. The five-year roadmap targets to boost productivity and production of fertiliser, save foreign currency and ensure food security and create employment," he said.
VP Chiwenga said Government, through the Ministry of Industry and Commerce, has also developed the local content strategy that seeks to foster local value addition through the utilisation of domestic resources and localisation of supply chains.
"The strategy will contribute to the reduction of fertiliser imports, which for the past five years reached approximately US$800 million. Therefore, the local beneficiation of our own phosphates will result in massive foreign currency savings through fertiliser import substitution.
"Dorowa Minerals is a strategic player in the fertiliser value chain and the implementation of the five-year Fertiliser Import Substitution Roadmap. The company will be expected to gradually increase its production capacity to supply the required local demand of phosphates concentrate and to meet the growing local demand of Compound D and other Nitrogen, Phosphorous and Potassium (NPK) fertilisers.
"The cost of Nitrogen, Phosphorous and Potassium fertiliser produced from local phosphates is lower in real terms than the imported product. Further to that, we will make huge foreign currency savings as the local product requires 50 percent less foreign currency to produce. This also presents an import substitution opportunity as the country becomes self-sufficient in fertiliser production," he said.
VP Chiwenga was accompanied by Industry and Commerce Minister, Dr Sekai Nzenza, Lands, Agriculture, Fisheries, Water and Rural Resettlement Minister, Dr Anxious Masuka, Minister of State for Provincial Affairs and Devolution, Honourable Nokhutula Matsikenyere and Mines and Mining Development Deputy Minister, Hon Polite Kambamura, legislators, senior Government officials, traditional leaders and captains of industries, among others.