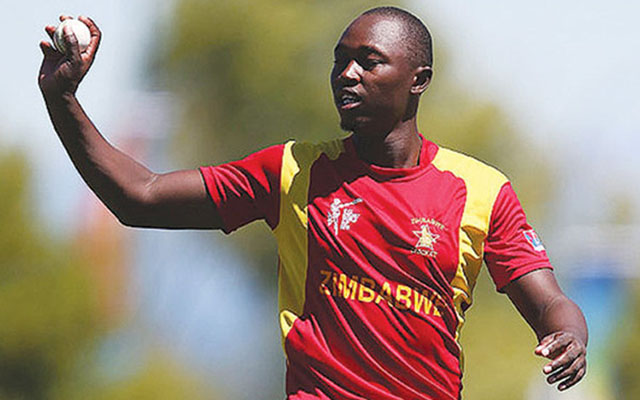 The ManicaPost
Ray Bande Senior Sports Reporter
DANGAMVURA born fast bowler Tendai "Chats" Chatara (pictured above) believes home advantage will come in handy for Zimbabwe in the ICC Cricket World Cup qualifiers.
Zimbabwe face Nepal in their opening qualifier on Sunday when the much awaited competition begins.
The qualifiers will run until March 25.
"I think we are in a good position to earn the ticket to the World Cup. Apart from the good squad that we have, we have done our preparations well and we are ready. More importantly, we will be playing at home and that is a great advantage for us. We are used to the conditions at home and that should help see us through. We are also going to be enjoying more support and one can never underestimate the value of supporters in this game.
"The good thing is that we have been very active of late. We have been on a number of tours. Even though we lost some of them, the fact that we have been together as a team helps build a competitive unit," said Chatara.
Windies captain Jason Holder has said it is time for his side to follow in the footsteps of their Under-19 and women's teams and add a third World Cup to the collection.
Speaking at the Harare Sports Club on Monday ahead of the qualifiers, Holder admitted the Windies needed to lift their 50-over cricket and hoped this 10-team tournament would help them to not only find a winning combination but also the momentum going into next year's World Cup in England and Wales.
"We've done well in T20 cricket, we have done well in women's cricket and in Under-19 cricket. I think it's about time we win another World Cup," said Holder, referring to the Windies' victories in the ICC World Twenty20 2016 and the ICC U19 Cricket World Cup 2016.
The Windies won the World Cup in 1975 and 1979 in England and Wales, but are featuring in the World Cup Qualifiers after finishing outside the top eight on the MRF Tyres ICC ODI Team Rankings at the 30 September 2017 cut-off date.
Afghanistan's vice-captain Rashid Khan, who is expected to lead the side at least in the first half of the tournament after Asghar Stanikzai underwent an emergency appendicitis operation in Harare on Monday, said he was happy for Afghanistan to be labelled as one of the tournament favourites.
"It feels good to see that Afghanistan is a favourite to qualify," said the world's number-one ranked ODI bowler with a smile, adding: "I think we should show it on the ground, it's not only on paper that we should look good. We should give 100 per cent on the ground and deliver. The result is not in our hands but we can only give 100 per cent on the ground and play positive, believe in ourselves, just go in and enjoy," he said.
The Netherlands captain Peter Borren admitted that the ICC Cricket World Cup Qualifier was a difficult tournament considering that only the finalists will progress to next year's event proper, but emphasised that his side had learnt from past experiences. Hong Kong captain Babar Hayat said his team was focused on trying to qualify for the ICC Cricket World Cup 2019 and was confident his team had the ability to do so.