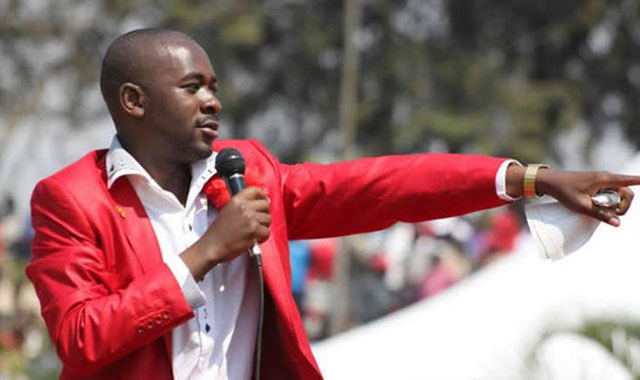 The ManicaPost
Peacemaker Zano
THE proclamation by MDC Alliance leader Advocate Nelson Chamisa that he won the 30 July Presidential elections is senseless and should not be taken seriously.
It must be dismissed with contempt it deserves. Presenting his oral evidence before the Commission of Inquiry into the August 1 violence chaired by former South African President Kgalema Motlanthe, Adv Chamisa recklessly claimed that he won the July 30 elections against President Mnangagwa.
However, his announcement was baseless considering that the Constitutional Court of Zimbabwe ruled that President Mnangagwa was the ultimate presidential winner.
In his presentation, Adv Chamisa claimed that he respects the ConCourt.
Had it been that the MDC Alliance leader honestly respects the country's constitution, he should have respected its verdict following his court application challenging the election results.
Chief Emeka Anyaoku, who is one of the commissioners at the August 1 Commission of Inquiry, was right to question Adv Chamisa arguing that one of the most impressing things that he said was that the MDC respects the law, but he failed to respect the ConCourt ruling that he was defeated by President Mnangagwa.
It's so shameful that Adv Chamisa as a lawyer and an officer of the court, and continues to disrespect the courts with his statements that he won the elections.
From the word go, Adv Chamisa has never shown maturity in his leadership. His leadership led to more divisions within the MDC soon after the death of Mr Morgan Tsvangirai.
This led MDC vice president Thokozani Khupe to go her own way. Realising that Adv Chamisa's evidence was shallow and lacked any iota of substance, Chief Emeka Anyaoku told him that for him to follow on Mr Tsvangirai's footpath he should try to be mature as he was.
The statement by Chief Emeka Anyaoku was a subtle attempt of bringing home the point that Adv Chamisa needs to grow up and act maturely.
The MDC Alliance leader is currently lobbing for dialogue with President Mnangagwa and at the same time refusing to acknowledge him as President of the country.
In other words, the MDC leader is trying by all means to come into the Government through the back door.
Under the new dispensation, President Mnangagwa's creation of a formal ''office of the leader of the opposition'' was said not to be a personal accommodation for any particular individual, but rather about long-term institution-building in line with the Second Republic's ethos of strengthening democracy in Zimbabwe.
However, it was unfortunate that when the Government offered such a post of opposition in the Parliament, he refused.
It is obvious that Adv Chamisa wants a bigger post like the Prime Minister. This will not be coming any time soon as President Mnangagwa cannot negotiate with a person who refuses to acknowledge his electoral victory.
In simpler terms, Adv Chamisa should first accept President Mnangagwa's July 30 election victory before any dialogue takes place.
Taking a clue from their leader, MDC Alliance legislators, despite being sworn in as MPs by President Mnangagwa, still refuse to recognise him as their President.
Recently, MDC Deputy President Eng Elias Mudzuri was harassed by junior parliamentarians for attending the presentation of Parliament's presiding officers to President Mnangagwa at State House.
They foolishly claimed that they do not recognise President Mnangagwa's leadership.
If Adv Chamisa wants to earn himself respect, he should just drop his childish and pompous behaviour and admit that President Mnangagwa is a constitutionally elected leader of the Second Republic.