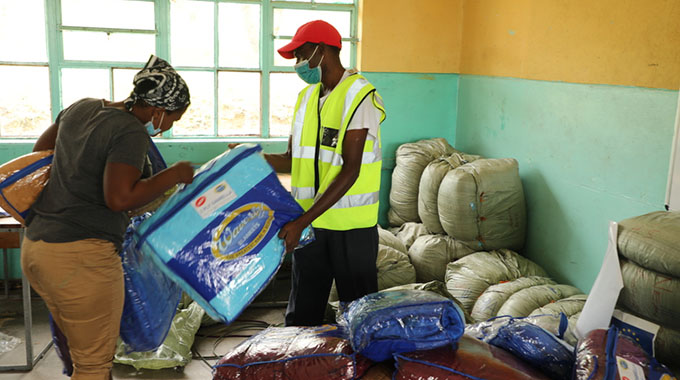 The ManicaPost
Ray Bande
Senior Reporter
TROPICAL Depression Chalane has come and gone without any loss to human and animal life as well as major infrastructure damage, but it was the effort undertaken to minimise harm ahead of and during the tropical storm that was in itself a fire drill which provided important lessons for the country's disaster management mechanisms.
Only less than two years ago, Cyclone Idai left behind rabbles where houses once stood in the mountainous Chimanimani area and experts have already warned that fluctuations in the world's temperature, as well as ocean warming, all spurred by climate change, will lead to an upsurge of tropical cyclones.
Put simply, cyclones and floods, perhaps just like the Covid-19 pandemic, have to be contained and managed as they now seem to be a permanent feature of our time.
Disaster management skills become inevitable.
Ideally, emergency managers think of disasters in the context of disaster management cycle, as recurring events with four basic phases that include mitigation, preparedness, response and recovery.
The disaster management cycle basically illustrates the ongoing process by which governments, businesses, and civil society plan for and reduce the impact of disasters, react during and immediately following a disaster, and take steps to recover after a disaster has occurred.
The eye of the Tropical Depression Chalane is understood to have passed over Cashel Valley to the north of Chimanimani and proceed westwards into Zimbabwe without much damage to human life and property during the night of December 30, 2020.
Chimanimani East, the worst affected area during the March 2019 Cyclone Idai storm was once again under the spotlight, but this time around only experienced heavy rains and bursts of strong winds, with some roofs being blown off here and there.
No injuries or deaths were reported.
Weather forecast efficiency
In terms of weather related disasters, this is a crucial component that informs disaster preparedness strategies and efforts.
Once again, the country's ability to provide detailed and accurate weather forecasts was put to test.
The weather forecast systems are an integral component of cyclone response initiatives.
In our case, members of the public were urged to be on high alert as the Meteorological Service Department (MSD) warned that the storm would likely to be coupled with violent thunderstorms and strong winds with rains in excess of 50 millimetres (mm) expected within 24 hours.
MSD warned that Tropical Depression Chalane would have the intensity of Cyclone Dineo which was experienced in 2017 and left more than 100 people dead. It also displaced hundreds of people and destroyed property worth millions of dollars.
In the same statement issued prior to the falling of Tropical Depression Chalane, MSD said areas in the eastern parts of the country could start receiving intense rains by December 30 morning, while the rest of Zimbabwe were expected to receive downpours later in the day.
It is against this background that neutrals can easily conclude that the weatherman had overestimated the intensity of the tropical storm.
It would appear that the MSD can predict correctly the general impending changes in weather patterns, but never correctly predict the intensity, speed or strength of these tropical cyclones.
This can also be argued of events that unfolded during Cyclone Idai. While most people knew that the tropical storm was on its way from the ocean, no one knew the virility with which it would pounce on Chimanimani and its environs.
Given this background, we can rate them 5 out of 10!
Disaster preparedness mechanisms
This is primarily a test for the Civil Protection Unit.
CPU falls under the Ministry of Local Government and Public Works.
The Department of Civil Protection (DCP) administers the Civil Protection Act, Chapter 10:06 of 1989 and from national level, it cascades down to district level.
The key result area of the department is Disaster Risk Management (DRM) which entails a spectrum of activities involving prevention, mitigation of disaster risks, preparedness planning, timely early warning systems and response to rehabilitate affected elements.
That is, to predict and, where possible, prevent disasters, mitigate their impact on vulnerable populations, and respond to and effectively cope with their consequences.
In the case of Tropical Depression Chalane, precautionary measures that were taken ahead of the fall of the tropical storm were mainly characterised by evacuation of people from perceived risky areas to safe ground.
The Government activated disaster response mechanisms including evacuating vulnerable communities within the Tropical Depression Chalane path.
Evacuations were done, with most vulnerable members of the community being housed in camps at Mutambara High and St Patrick's in Nyanyadzi .
Local community evacuation centres were also created. In Ward 15 of Chimanimani East evacuations were done to Population Services premises, United Baptist Church, Apostolic Faith Mission and Anglican churches.
Much as their effort was commendable, it also had its setbacks.
One of the identified evacuation centres, Chimanimani Hotel turned away a number of people who thronged the facility in search of refuge as the rains intensified, yet the public was duly informed that the hotel would be taking in vulnerable members of the community.
"To be honest, when we had a meeting with the Civil Protection Unit to identify evacuation centres and assembly points, we as Chimanimani Hotel had nominated ourselves to be on standby, saying that if the places earmarked for that purpose were overwhelmed, we would come in and take in some people.
"I think that was mistaken as an undertaking to accommodate people from the onset. There was a bit of a misunderstanding there. I also think people were given an opportunity to be evacuated, but resisted, opting to move into the hotel," Chimanimani Hotel proprietor, Mr Mandla Mataure, said.
Those taken to Mutambara High School and St Patrick's Nyanyadzi were made to sleep on classroom floors. These institutions have boarding facilities.
Food supplies were also delayed.
Disasters are dehumanising by nature and efforts to help vulnerable communities must be guided by empathy as well as respect for members of those vulnerable communities.
According to their (CPU) core values, their "clients must come first, always".
It is against this background we rate the Civil protection Unit 6 out of 10.
Public reaction to disasters
This is the test for citizens and their maturity in the face of disasters.
The way the public reacts to disasters is of paramount importance, more so in this age of social media.
While more than enough awareness campaigns were done to enlighten communities on the impending tropical storm, social misfits were at it again, amplifying the impact of the tropical storm.
Videos taken from previous disasters such as Cyclone Idai started flying around on different social media platforms purportedly as effects of Tropical Depression Chalane.
How on earth a normal being would sit down, think deep and hard to coin false and misleading material over a disaster is just unAfrican, much as is unacceptable.
Tropical Depression Chalane preparedness efforts were also dealt a big blow as the public, mainly those from perceived risky area, resisted evacuation citing different reasons.
In this regard, members of the public's cooperation to authorities in times of disaster, particularly in Chimanimani East constituency, can easily be rated 3 out of 10.
NGO, private entities participation
Chimanimani District Development Coordinator, Mr Joseph Manyurapasi, said: "We are grateful to partners such as Tsuro Trust and World Vision among others who came to our rescue when we had limited resources, vehicles and fuel. They provided us with fuelled vehicles. I think we need to keep on supporting our ward CPU committees so that we have a coordinated response. As a district, we also feel that we need to have essential materials in store for a quick reaction in future."
With their trademark all weather terrain vehicles, development partners were very visible in Chimanimani during the days Tropical Depression Chalane was expected to cause immense damage in the area.
Branded donated material ranging from blankets and tents were also visible at different evacuation centres.
In this regard, we can safely rate them 7 out of 10.