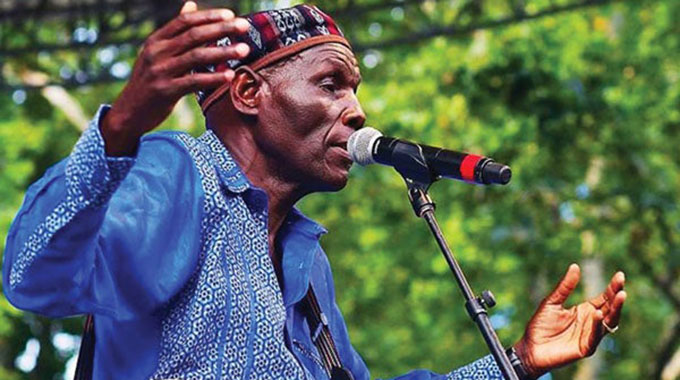 The ManicaPost
Moffat Mungazi Weekender Correspondent
EXACTLY this week the late music icon Dr Oliver "Tuku" Mtukudzi would have turned 67 years old. He was born on September 22, 1952. This week also marks exactly eight months to the day Tuku sang his last, having taken leave of this world on January 23.
With a commemorative gig to celebrate the occasion of what would have been his 67th birthday set for the Glamis Arena, Harare, this weekend, The Weekender also memorialise the legend through his immortal music.
In spite of Tuku being a deified god of song of sorts, he remained a mere mortal. He was only human — flesh and blood — and felt pain as we all do, especially that wrought by death. During his prime it was not surprising, therefore, that Mtukudzi vented out his inner emotive feelings through song to express grief over the loss of a loved one. To that end, Nzou did over a dozen dirges either solo or as collaborations.  And they were mournfully moving, especially those he did in memory of his son Samson, friend-turned-manager Jack Sadza, mother and brother Robert. That said, there are some circles that hold that the death of the apparent heir to the Tuku Music throne — Sam, who was way ahead of his time as a fledging musician — affected the senior superstar so much so that his soul must have perished with the passing on of the AY Band leader and left only an empty, aching shell hemming in his lanky flesh.  As time seemingly healed his festering wound, the music colossus — as his elephant totem implies — Tuku conceded that music had played a therapeutic effect on him as he took to it to placate himself following that 2010 road accident which robbed him of his treasure.
Predictably, and understandably so, Tuku would in the harrowing sorrow take a two-year hiatus before eventually recording the aptly-titled and self-speaking Saratoga album during one of the darkest hours of his days in this world. Death is an unfathomable mystery, one we can never get used to; reason the Black Spirits touched on it several times as one of life's most thematic concerns.
After wailing about death in some of his songs, the inevitable had to happen: the grime hand of the Grim Reaper would not spare the "Vhunze Moto singer and plucked him from our midst. May his soul continue to rest in eternal peace. 
Below we list some of Tuku's most popular elegies:
"Panorwadza Moyo": Although this is Winky D's song on which he is featured, the title suggests death stabs where it hurts the most ­— the heart.
''Seiko Mwari?'': Stung by the pain a bereavement brings, for virtually the entirety of the song's duration the composer takes the Maker to task over why death strikes.
"Rufu Ndimadzongonyedze": As life's ultimate enemy, families get perpetually separated — even where love exists in abundance and strongly binds — when the final exit calls. Such a devastating wrecker death is.
"Jeri": Robbed of his friend-cum-manager Jack Sadza, the singer mourns his late pal.
"Tiri Mubindu": Metaphorically, our existence is an allegorical garden from which death filches lives with ease and as it pleases.
"Ndakaronga Dondo": The man at his mournful worst as he battles to come to terms with his son Sam's demise, which ruined his grand scheme for both "nzou nemhuru".
"Mabasa": Loss of life has become so ravaging that communities are daily weeping the tear wells in their eyes dry. Doom and gloom has become the order of the day with death such a regular occurrence.
"Tinomuchema": A doleful condolence which seeks to console those left behind. 
Others:
"Zuva Rekufa Kwangu", "Nhai Iwe Rufu" (featuring Biggie Tembo), "Tungamira", "Akoromoka Awa" and "Mweya Wangu Nyarara".