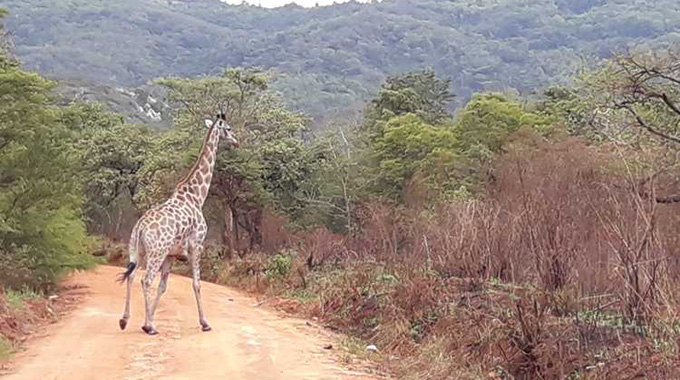 The ManicaPost
Post Correspondent
SITUATED just a stone's throw away from Mutare's central business district is Cecil Kop, an inner city conservation nature reserve that has been in existence for 43 years.
The conservation park is home to rare plant species as well as herbivorous such as zebras, giraffes, duikers and kudus.
The 1 500-hectare reserve consists of three distinct areas, Tiger Kloof, which is the most common area because of its tranquil environment for family outings or group retreats.
It is set against a backdrop of impeccable lawns and a relaxing scenic view transcending the Tiger Kloof Dam. This much-adored area is the most popular and most frequented for get-together functions and photo shoots.
The relaxing environment in the Tiger Kloof sections is bounded by dense and towering Msasa woodlands to make the place feel like heaven on earth.
The area also has picnic sites and braai facilities to give visitors a memorable outdoor experience.
The other section is Thompson's Vlei. It has rising and falling grasslands and it is where most of the wildlife habitat is found.
Game drives are also done there.
The Wilderness area is the third section consisting of heavily wooded forest and mountain ranges reaching up to Christmas Pass.
However, while Cecil Kop may have been in existence since 1977, the significance and prominence of the nature reserve which is situated just 2km from the city centre remains unheralded.
Wildlife and Environment Zimbabwe (WEZ) Manicaland vice-chairman, Mr Anwar Khan, said more efforts should be done to promote conservation education and cherish such nature reserves for future generations.
WEZ, a voluntary organisation is the custodian of Cecil Kop. They have been running Cecil Kop on a 99-year lease since 1993. Mr Khan said the Eastern Highlands is christened the Switzerland of Africa because of its scenic mountain ranges and distinctive natural surroundings just like Switzerland which has synonymous mountains which have been the selling point of the Swiss tourism industry for more than a 100 years.
He said short term plans already in place include the establishment of "culture-worthy" attractions such as conservatory gardens for exotic flowers and herbal gardens to protect and market endangered indigenous herbal plant species.
He added that the idea behind inner city nature parks is to offer city dwellers and business tourists the perfect connection to nature within a few minutes' drive from the hustle and bustle of city life.
"Having an inner-city nature reserve should be a prized thing that we should be proud of as Mutare. The best thing is the feeling of bonding with nature. You can walk for hours enjoying the nature.
"There is nothing more fabulous than escaping the hustle and bustle of the city and getting back to nature especially when nature is just 2km from the city centre.
"This affords people with limited travel budgets to also enjoy relaxing outdoor experience and also give business travellers that visit the city an opportunity to step out and relax during the day after attending exhausting business meetings," said Mr Khan.
As for long term plans, WEZ Manicaland chairman, Dr Innocent Chabanga, said the agenda is to look for funding or investors to build camping quarters and chalets to accommodate school children and initiate educational camps on conservation and wildlife management.
"The future is in our children to better understand and value nature. The courses will include teaching children in schools how to conserve our wildlife heritage and the protection of forests and plant species to preserve our ecosystem.
"This will be practical unlike the theory they learn in schools," said Dr Chabanga.
Mr Khan cited examples of the Bramble Cay Melomys which scientists confirmed as one of the first mammals to have extinct as a result of climate change and man-made destruction of wildlife habitats, saying more species will be extinct 10 years from now at the rate which forests are being destroyed.
Cecil Kop manager, Mr Knowledge Nyamhoka, however, added that at the moment, the biggest threats to the posterity of the nature reserve are wood poachers and border jumpers to and from Mozambique who are destroying the natural habitats and forests.
He said poachers from Mozambique are also killing animals for game meat, which is retrogressive to efforts being made to improve the game drives section.
"We are planning a number of initiatives to breathe life into the nature reserve. This will include renovations. We have already started setting up a recreation centre for public events such as weddings and group retreats at Thompson's Vlei.
"The park has land which is ideal for recreational getaways.
"We want to make the most of it, but Covid-19 is also deterring our progress because of the restricted movement of people and goods. Business is at standstill," said Mr Nyamhoka.