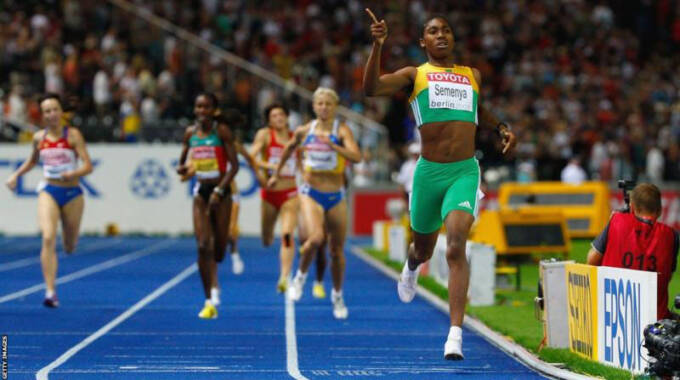 The ManicaPost
FOR the first time in several years, Caster Semenya has spoken publicly about her experiences as a world famous elite athlete born with differences of sexual development (DSD).
In a series of media rounds in the UK to promote her new autobiography, Semenya has discussed her childhood, her early career and her ongoing "fight" with athletics governing bodies around the rules that prevent her and other DSD athletes with elevated testosterone levels from competing in women's elite races.
Semenya argues that her "human rights" have been infringed, but World Athletics, the sport's international governing body, says that "fairness and the integrity of the female competition" must be prioritised "before inclusion".
BBC Sport breaks down the debate . . .
Who is Caster Semenya?
Caster Semenya is a two-time Olympic champion and three-time world champion over 800m.
Between 2009 and 2019, the South African dominated her sport, with victory in the Doha Diamond League 800m in May 2019 being her 30th consecutive victory over the distance.
She was given a hero's welcome in South Africa after picking up her first World Championship gold in 2009, with thousands of jubilant fans turning out at Johannesburg airport to greet her.
However, her rapid rise from unknown teenager to global star was also accompanied by scrutiny over her gender and possible advantages in her biology.
It was later revealed that the 32-year-old was born with differences of sexual development (DSD) which mean she has an elevated level of testosterone – a hormone that can increase muscle mass and strength.
How did Semenya's DSD became public knowledge?
Semenya's victory at the 2009 Berlin World Championships, when she broke her own world-leading time set a month earlier, came hours after athletics' governing body stated publicly that it had requested the teenager take a gender test.
The public announcement from World Athletics – which was known as the International Association of Athletics Federations until 2019 – was "humiliating" for Semenya, according to Athletics South Africa president Leonard Chuene.
World Athletics spokesman Nick Davies said "the gossip was starting to build up" while the organisation's then-general secretary Pierre Weiss said it would look to "withdraw" Semenya's 2009 world title "if at the end of the investigation it is proven the athlete is not a female".
Ultimately, Semenya was cleared to return to athletics almost a year later, and World Athletics did not make the results public – though media leaks of her tests suggested that she had both male and female characteristics.
More than a decade on, Semenya has written in her autobiography, which is being serialised by The Guardian, that she found out at the same time as the rest of the world that she did not have a uterus or fallopian tubes.
"The newspapers reported that I had undescended testicles that were the source of my higher than normal levels of testosterone," she added.
What has happened since then?
In 2018, World Athletics proposed new rules restricting testosterone levels in female runners competing in track events from 400m up to the mile.
Dr Stephane Bermon, from the governing body's medical and science department, said these distances were chosen as research had shown that "7.1 in every 1,000 elite female athletes in our sport have elevated testosterone levels" and "the majority are in the restricted events covered by these regulations".
"This is around 140 times what you will find in the general female population," Bermon said.
However, Semenya later said she believed that the regulations "have always targeted me specifically".
This was dismissed by Lord Coe, president of World Athletics, who argued instead that "athletics has two classifications – it has age and it has gender. We are fiercely protective of both".
The 2018 rules meant that Semenya could not compete in female track events over this distance without taking testosterone-reducing drugs.
She appealed against World Athletics' proposal at the Switzerland-based Court of Arbitration for Sport (Cas), but eventually lost in what amounted to a landmark case in 2019.
It was in the Cas ruling that Semenya's specific DSD was confirmed as 46 XY 5-ARD (5-alpha-reductase deficiency). People with this particular DSD have the male XY chromosomes. Some are assigned female or male at birth depending on their external genitalia.
Semenya told BBC Sport that she was "born without a uterus" and born "with internal testicles" and said: "I am a woman and have a vagina".
Cas said athletes like Semenya with 5-ARD have "circulating testosterone at the level of the male 46 XY population and not at the level of the female 46 XX population", which gives them "a significant sporting advantage over 46 XX female athletes".
While the Swiss Federal Supreme Court temporarily suspended the Cas ruling, it later reversed its decision – paving the way for World Athletics' new rules to come into effect.
"Biology has to trump gender identity," athletics' governing body said in a statement welcoming the decision.
Switzerland's top court rejected another appeal by Semenya in September 2020, after her team again sought to challenge the Cas ruling.
It was this last act by the Swiss court that formed the basis of a 2021 application lodged by Semenya at the European Court of Human Rights (ECHR).
Semenya's team brought a case against the Swiss government, arguing that its Supreme Court had failed to protect her rights when it failed to overturn the Cas ruling.
The ECHR ruled in her favour in July 2023 – though the Swiss government has requested that the case be referred to the court's Grand Chamber for a final ruling.
As the case concerns the Swiss government and not athletics' governing body, it is unlikely that the decision will impact the current restrictions on DSD athletes.
Semenya, and other athletes with DSD who have testosterone levels above the approved level, still cannot compete in female track events without taking testosterone-reducing medication.
Glossary: What is DSD?
Differences of sexual development: DSD is a group of rare conditions whereby a person's hormones, genes and/or reproductive organs may be a mix of male and female characteristics.
Some of those affected prefer the term "intersex".
46 XY 5-ARD is a specific type of DSD.
Intersex: An umbrella term used to describe people who are born with biological variations in their sex characteristics that don't fit typical male or female categories.
Hyperandrogenism: A medical condition characterised by higher than usual levels of androgens, or male sex hormones, the most common of which is testosterone.
What is the impact of DSD in athletics?
Research commissioned by World Athletics in 2017 showed that female athletes with elevated testosterone had "a competitive advantage", claiming that high testosterone was responsible for as much as 3 percent improvement in runners.
Those findings were contested at the time by Semenya and her team, who argued that it was unclear how much DSD athletes benefited from their naturally higher levels of testosterone.
Semenya said on 7 November: "There's nothing that I feel in my body that's different, that makes me feel like I'm a man. All women train to perform. If it gives me advantage, why am I not running any times close to men?"
Athletics' governing body has continued to defend its restrictions.
"World Athletics has 15 years of data, observations and information directly from DSD athletes in our own sport that show high testosterone levels do provide an unfair advantage in the female category – and that our guidelines on testosterone thresholds are necessary, reasonable, and proportionate in our aim to protect the integrity of the female category," a spokesperson told the BBC.
What are the current rules in athletics?
In March 2023, World Athletics expanded its restrictions on DSD athletes to cover all female track and field events.
Previously, the restrictions applied only to those competing in track events from 400m to the mile.
Under the new rules, all DSD athletes will be required to reduce their blood testosterone level to below 2.5 nanomoles per litre and must remain under this threshold for two years in order to compete internationally in the female category.
Interim provisions will be introduced for DSD athletes already competing in previously unrestricted events, requiring them to suppress their testosterone levels below 2.5nmol/L for a minimum of six months before they are allowed to compete again.
What are the key players saying?
Announcing its expanded restrictions on DSD athletes in March, World Athletics said it had "decided to prioritise fairness and the integrity of the female competition before inclusion".
"Decisions are always difficult when they involve conflicting needs and rights between different groups, but we continue to take the view that we must maintain fairness for female athletes above all other considerations," said Lord Coe.
World Athletics will continue to be "guided by the science" and its position will be reviewed "as more evidence becomes available", Lord Coe added.
Semenya said on 7 November that she would be switching her focus away from the track to focus on "fighting" what she described as "injustices" in the sport.
"My future is to fight injustice, fight for inclusivity and diversity," she told the BBC, adding that she wanted to "pave the way and make sure each and every young girl is treated well".
What next for Semenya and others?
Semenya is not the only athlete with differences in sexual development (DSD) in her event, let alone in her sport.
Francine Niyonsaba of Burundi and Kenya's Margaret Nyairera Wambui, who finished second and third behind Semenya in the 800m final at the 2016 Rio Olympics, were also born with DSD.
All three athletes were ruled ineligible to compete in the rearranged 2021 Olympics in Tokyo.
A number of prominent sprinters have also been affected by World Athletics' expanded restrictions on DSD athletes, which now cover all track and field events in the female category.
Namibia's Christine Mboma, the 800m silver medallist from the 2016 Olympic Games, and compatriot Beatrice Masilingi, who finished fourth in the same race, have both been affected by the rule change.
They, along with 11 others, were forced to miss the World Athletics Championships in Budapest under the new rules requiring DSD athletes competing in previously unrestricted events to suppress their testosterone levels for at least six months before returning to competition.
However, all of these athletes will be eligible for future international races "if they maintain their testosterone at the required level", Lord Coe said in March.
This means that they would be allowed to compete at the Paris 2024 Olympics, he said. — BBCsport.