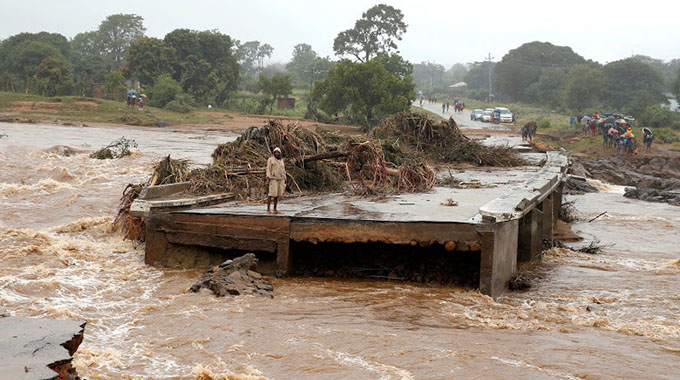 The ManicaPost
Chipo Katsidzira Post Reporter
AT least 300 Buhera families that were left homeless after last year's devastating Cyclone Idai are set to benefit from Roman Catholic Church Mutare Diocese's Caritas Zimbabwe's housing and toilet facilities response intervention scheme.
As part of its Cyclone Idai response interventions, the Mutare-based development partner has already constructed 120 one- and two-roomed houses, as well as 630 toilets in wards 27, 28, 29 and 33 in the district.
In an interview, Caritas Zimbabwe programmes manager, Mr Nhamo Hondoyomoto, said they had already constructed 120 houses which have since been occupied by some of the affected families.
He said the remaining 183 houses are nearing completion.
The families had been temporarily housed in tents for the past year.
Through the Civil Protection Department, Caritas Zimbabwe identified the communities and instituted an emergency recovery programme soon after the disaster.
This saw the organisation distributing foodstuffs to 620 households for six months.
"Buhera District has been underreported when it comes to the effects of Cyclone Idai. At least a thousand people in Buhera were affected and their houses were completely destroyed.
"They were left with nothing after the disaster. They had no houses, no toilets and no safe drinking water and as Caritas Zimbabwe, we have decided to lessen their burden," said Mr Hondoyomoto.
He said priority was being given to the most vulnerable members of the society. These included the old people, female and child-headed families, the physically challenged and pregnant women.
Mr Hondoyomoto also said allocations of houses were being done depending on family sizes.
Caritas Zimbabwe has also drilled and rehabilitated 27 boreholes in Buhera, Chipinge and Chimanimani to ease water challenges.
Roman Catholic Church Mutare Diocese Bishop Paul Horan said acute water shortages in Buhera, which were forcing villagers to fetch domestic water from unprotected sources while putting their lives at risk of contracting water-borne diseases, was the main reason behind the borehole                                                            project.
"We hope the borehole water will go a long way in easing the severe water challenges being faced by the villagers. We hope the availability of water will improve with the installation of these new boreholes," he said.
A Catholic priest, Father Isdore Madzirashe, said they had also embarked on piped water schemes and distribution of agricultural inputs in Chimanimani.
"We are also assisting Chimanimani villagers with agricultural inputs, including goats and chickens to enhance small livestock projects which will boost household finances, confidence and self-sufficiency among rural women.
"These women will no longer rely on their husbands for money, groceries and school fees for their children," he said.
Caritas Zimbabwe is also carrying out solid waste management at Chimanimani and Buhera clinics.