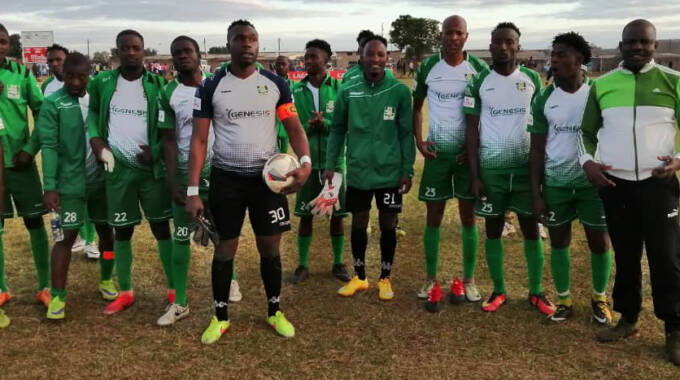 The ManicaPost
Moffat Mungazi
Sports Reporter
STRUGGLING Mutare—based Zimbabwe Prisons and Correctional Services outfit, Tenax are finding the going tough in their debut season in the Premiership as they are rooted at the foot of the table after dropping into the dreaded relegation zone.
The prisons wardens have endured a largely underwhelming campaign, battling to get the monkey of their back as the newcomers among the big boys of the domestic game.
27 games into the marathon, the team is yet to find its feet as their wobbling form has spanned both halves of the season.
While, as debutants, there were no guarantee that it would all be smooth sailing for them on their maiden Premiership voyage, Tenax were at least expected to pull their weight.
While their earlier struggles in the preliminary rounds of the season might have been attributed to stage fright or teething problems as they sought to take off, it looks like the second half of the campaign has not brought any respite for them.
Sitting second from the bottom, the team has amassed less points than the games they have played. 22 points in 27 matches is a not a healthy return by any means and observers are agreed that this is pedestrian form that culminates in relegation.
Winless in their previous five games (two draws and three losses), they have managed five wins, seven draws and 15 losses so far.
Their deficiencies are pronounced at both ends of the pitch.
Their attack has netted just 17 goals, the third lowest in the league after ZPC Kariba (13) and Harare City (15).
Their rearguard, on the other hand, has been leaky and sloppy.
It was breached 44 times, the second worst in the league after Whawha (49).
This leaves them with an unhealthy goal difference of minus 27.
Tenax are keeping ignominious company with fellow prisons wardensWhawha, who anchor the18-team table.
ChauyaChikara have simply not roared loud enough to avert danger.
They have not kicked on since the season kicked off.
The prisons wardens were eliminated from the knockout tournament — Chibuku Super Cup–by reigning league champions, FC Platinum after going 2-0 down at Mandava Stadium
But Tenax are not throwing the towel in just yet!
Their executive member, Lloyd Chinawa is putting up a brave face.
Conceding that the season has not panned out according to plan, he remains confident that they will duck the chop and avoid demotion.
"The fight is definitely on. Although we have made it difficult for ourselvesby failing topost good enough results consistently so as to steer ourselves away from relegation trouble, we are still in with a chance. It is not easy but we still believe that we will stay up.
"Our survival is still possible. As a united force, we will continue fighting with all that we have. In fact, this task at hand (to avoid relegation)is challenging us to continue working harder. Our determination and perseverance will carry the day for us," said the seasoned administrator.
He added that they will take the remainder of the campaign by the scruff of its neck.
Inconsistency has been Tenax's biggest undoing. Despite recording some impressive outings like the come-from-behind 2-1 triumph over CAPS United at Sakubva Stadium, overpowering Chicken Inn 1-0 at Vengere, the 0—0 deadlock at Highlanders and 1—0 win away to ZPC Kariba, they have failed to build onto that momentum and string together positive results.
Chinawa also feels Lady Lucky has frowned on them in some games.
He explained: "The way we lost against to Dynamos right at the death of the game after matching them throughout regulation time was painful. Missing a penalty against Highlanders at home proved costly as we drew the match. We also played better against Bulawayo City and Whawha, but still failed to collect maximum points in those encounters."
Observers opined that the uncertainty in the Premiership debutants' dressing room may have also played a part in destabilising the ship as they battled for good form.
Coach, Shadreck "Father" Mugurasave briefly left reportedly in protest that assistant coach Blessing Madombi was back in the fold.
Youthful gaffer, Isaac "Zeka" Nengomasha promptly took temporary charge of the team before father made a swift return.
This, the observers pointed out, could have affected the team's rhythm and led to a dip in morale in the boys' camp.
But with the campaign now on the homestretch and approaching the business end, can Tenax turn the corner?
Club captain Joseph "Taksha" Jambo concurred with Chinawa that they can still come right and salvage their season.
"It is never over until the final whistle of the last game of the season. We are still in with a chance. The group is upbeat. We are running our own race and not concentrating much on what is happening elsewhere. We cannot control other teams' match outcomes and there is no point in concentrating on their results. If other results come our away, then we will take that as a bonus," he said.
He, however, acknowledged that they have gone below par in the second half of the season.
Said Jambo: "It has been a rollercoaster ride. After starting slow, we gradually picked up and improved. The progression, however, has been somewhat stagnant as we had highs and lows. As such, we need to work harder for the seven remaining games so that we achieve our goal of surviving relegation."
Jambo expressed confidence that their return to Sakubva will mark an upturn in their fortunes.
Their hope, he said, is that home fans play the important "12th man role" by thronging the popular venue to rally behind the team.
Tenax will be out to get their campaign back on the rails when they host equally struggling Harare City at Sakubva tomorrow (Saturday).