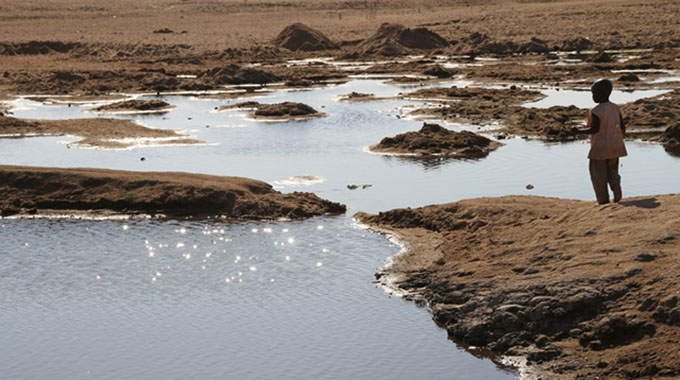 The ManicaPost
From Luthando Mapepa in Chipinge
FARMERS in the Chibuwe/Msikavanhu irrigation scheme in Chipinge are appealing to corporates to assist them acquire modern equipment to desilt Save River, which they say is threatening the supply of water to the irrigation.
The farmers, who have been using traditional means to divert water say they are slowly losing the battle as the amount of water reaching their farms has dwindled.
A visit by The Manica Post to Save River this week, revealed that a sizeable a number of farmers were using hoes, shovels and empty bags to divert the water.
Chibuwe/Musikavanhu irrigation scheme is one of the leading producer of sugar beans in the country with a capacity of producing thousands of tonnes of sugar beans per season.
The farmers said they were taking shifts to irrigate their farms as water supply was low adding that erratic electricity supply also interrupted their irrigating schedule.
Mr Edmore Mabika one of the leading sugar beans producers at Chibuwe irrigation scheme said their winter crops were at risk.
"We are in a critical situation. Some of the sugar beans are wilting because of the unreliable distribution of water.
"Farmers here have no money to hire modern equipment to desilt the river and we are using traditional ways to divert water to the pumps. If this situation continues to prevail, many farmers here will record loses," he said.
Another farmer Mr Fainos Dhliwayo of Musikavanhu Block B said there should be unity of purpose for farmers along the banks of Save River to work together to desilt Save River. He also appealed to the corporate world to come to the rescue.
"The winter cropping is the season which define us. We grow our cash crops during winter and use the proceeds to pay water and electricity bills among others. However, this season is now affected by siltation," he said.
"We call upon local companies to come and asssist us in this situation since they own heavy machinery. We need to have long term strategies so that this situation does not become a perennial problem," he added.
Local legislator for Musikavanhu constituency Dr Joshua Murire said he had managed to source some equipment to assist the farmers.
"Together with famers cooperatives, we have managed to source modern equipment which will attend to the problem this week. We need to make this irrigation scheme regain its old status,"he said.