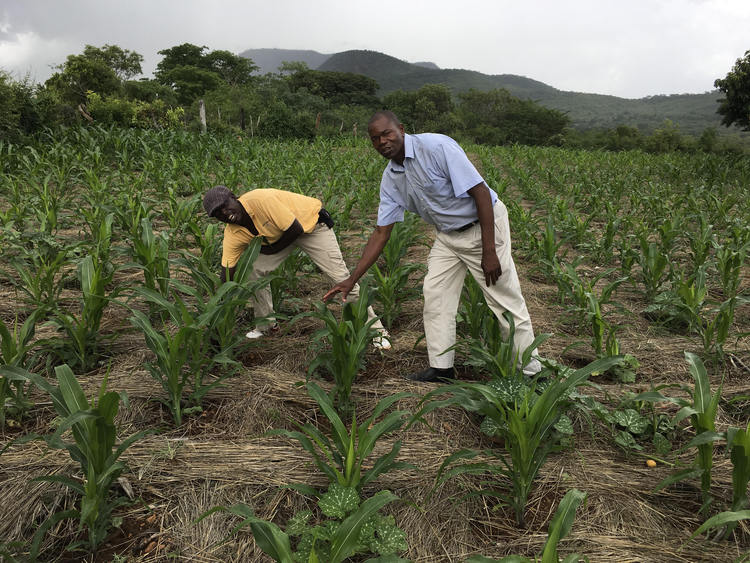 The ManicaPost
Samuel Kadungure Farming Reporter —
SUSTAINABLE cropping is the answer to food problems faced by smallholder farmers in arid and semi-arid communal areas famed for highly erratic and low rainfall as well as overworked and tired soils.
Initiatives by Caritas Zimbabwe to promote framing practices that conserve the soil and water resources, protect the climate, enhance agro-diversity and ensure biodiversity have improved livelihoods and standard of living for beneficiary farmers in Wards 18 and 19 in Chimanimani District.
Harvests have soured and for the first time in decades, farmers have enough nutritious food and are making a profit from produce through conservation agriculture – hinged on practices as multiple-cropping, crop rotation and use of organic manure.
The smallholder farmers have embraced the initiative and are convinced that agro-ecological methods are the way to eradicate current food crisis in rural areas.
CA is a practice which aims to conserve soil and water by using surface cover or mulch to minimise runoff, evaporation and erosion while improving conditions for plant growth.
Mrs Laiza Muronzereyi (48), of Ward 18, said her family had been practicing CA for the past four years.
She warned that CA was not for the fainthearted as it is an all year practice.
"Some are emulating us, but some self screen themselves as they see it as labour intensive. It is not dhiga ufe as claimed by some, but dhiga udye. Its labour intensive during the first year and job is lighter during the second season as you will be working on the same planting basis and gradually adding your mulch.
One thing I like about it is it confines me to the field, which means I no longer have time to move around gossiping. I have enough nutritious food for my family, and have built a house from the proceeds I realised from selling surplus. This season I want to furnish it," bragged Mrs Muronzereyi, whose healthy and green maize crop is knee high.
"For the past four years, I have been producing surplus to sell, while others complain of drought," she added.
Mrs Muronzereyi harvested one and half tonnes of maize in 2013, two tonnes in 2014 and 15 bags last season – from the 4 500 planting holes dug on her yard.
"CA and small livestock project introduced by Caritas Zimbabwe have had a positive impact on our lives. The projects drastically reduced our suffering and build our self-sufficiency as rural people. My family used to be looked down upon, but it is being admired by many people because we no longer lack anything," said Mrs Muronzereyi.
She added that several women in Ward 18 had ventured into goat, chickens, guinea fowl and turkey production with remarkable success.
"This has boasted household finances, confidence and self-sufficiency among rural women. These women no longer rely on their husbands for money, groceries and school fees for their children. Their children are health and fit because they get nutritious diet every day. A number of people in this area, unlike in the past, no longer suffer from chronic hunger and their household income levels have improved. We are no longer vulnerable," said Mrs Muronzereyi.
Her husband, Maxwell, said together they start cutting grass, for use as mulch, soon after harvesting; following which they would dig planting basins and prepare composite manure by June. They would start applying manure after 70 days and then dry plant by September to take advantage of early rains of October.
"I don't have food problems and my family is adequately provided for. CA is hard during the first year; the following year is easy because you will be working on the same planting holes and gradually adding mulch.
We also inter-crop, mixing maize with cow-peas, beans, pumpkin vegetables and ground nuts.
"There is no way I will fail to harvest this year, it can't be. Even if we experience a drought, I am assured of something," said Mr Muronzereyi as he took our news crew on tour of his field.
The soil organic matter in the Muronzereyis' field does not only provide nutrients for the crop, but it is also is a crucial element for the stabilisation of soil structure.
The soil has not been ploughed since 2012, making the crop residues remain on the soil surface and produce a layer of mulch, which protects the top soil from the physical impact of rain and wind as well as stabilise soil moisture and temperature in the surface layers.
The mulch layer is also a habitat for a number of organisms, from larger insects down to soil borne fungi and bacteria and keeping the soil covered protects the soil and improves the growing environment for the crop.
The Caritas Zimbabwe project provides subsidies and technical support to more than 1000 households to enable them to adopt environmentally friendly crop production practices.
The innovation also has brought benefits in small livestock production and animal waste management as it is being utilised for crop production ahead of chemical fertiliser. The waste gets composted as organic manure for crop production.
Prior to Caritas intervention, the smallholder farmers had substituted livestock manures, composts and nitrogen-fixing crops with inorganic fertilisers – scientifically known for polluting local water systems and overwhelm their products with excess chemicals.
Research shows that about 30-40 percent of applied pesticides and fertilisers performed their intended functions, while the rest got released into the environment or ended up as residue on agricultural products, threatening food safety.
Acting Chief Muusha is grateful that Caritas has capacitated his subjects to beat hunger. "This community is a drought prone, and most practices used by my people were not ideal to beat hunger. Caritas Zimbabwe has over the past years, introduced conservation agriculture, and it has worked. The harvest has been impressive and many people are embracing it. This has had a social impact of reducing the commission of crime. Hungry people are generally difficult to manage and it is my appeal that the people of Chimanimani embrace this technique as it has the power to transform their lives," said Chief Muusha.
Caritas Zimbabwe programmes manager, Mr Nhamo Hondoyomoto, said the Roman Catholic-run NGO was promoting sustainable agriculture with emphasis on reducing the use of pesticides and fertilisers in communal areas.
"We are encouraging them to use manure, compost instead of chemical fertiliser which are expensive and have residual effect in food. The farmers use grass and various crop residues as mulch," said Mr Hondoyemoto.
He said CA had more advantages than disadvantages and farmers in dry areas should embrace it as it has precision in plant population and use of water in planting basins.
CA can only be effective if the plots are fenced all year round and farmers desist from the old concept of burning plant residues and tilling the soil is mainly considered necessary for reasons to control pests, diseases and weeds.
Chimanimani District's major characteristic is low and highly variable and erratic rainfall, severe mid-season dry spell, overworked and tired infertile soils that culminate in an unsuitable agro-environment for crop production under conventional farming methods that disturbs the soil. Most households in the district face hunger and survive on food handout.
Major causes of hunger in dry regions of Manicaland are poverty and poor harvests resulting from poor agricultural planning in which peasants continue using the wrong methods and planting crops that are unsuitable for their regions. Communal areas experience adverse drought related to climate change that often leads to erratic rains.
Decreased rainfall and rising temperatures have thrown many farmers in these areas into confusion as seasons have become unpredictable making it difficult for them to plan properly.
Erratic rains have caused crops to wilt before maturity. Climate change experts are placing the blame for the changing weather patterns on the increasing amount of gases in the atmosphere, especially carbon dioxide.
Carbon dioxide and other gases such as methane and nitrogen — commonly referred to as greenhouse gases — are causing the earth to heat up.