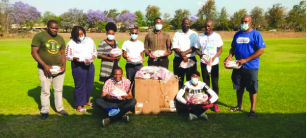 The ManicaPost
Ray Bande
Senior Reporter
MANICALAND Rugby Board (MRB) has so far collected 142 balls that will be distributed to schools and clubs across the province, thanks to a shrewd buy-a-ball campaign.
The campaign saw donations coming from former players, administrators and fans, and is aimed at developing the sport in the province.
MRB leader, Josiah Borerwe said they had already drawn the list of beneficiaries across the province.
"All the seven districts of Manicaland will have schools receiving balls. We came out with 70 recipients from National Association of Primary Heads (NAPH), National Association of Secondary Heads (NASH), tertiary institutions, clubs and referees. Each recipient will receive two balls during the first phase.
"We really want to thank all those who honoured their pledges. I cannot name them as individuals.
"We also want to thank individuals who played a crucial role in sourcing the balls and shipping them to Zimbabwe," said Borerwe.
The veteran sports administrator said the initiative came after the realisation that most schools only prioritise the acquisition of football and netball balls.
"We noted as a board that most schools only buy football, and netball balls, not rugby balls.
"We came up with a strategy to source for balls so that rugby can be played by all pupils.
"We want to move away from the old mindset wherein some people regard rugby as an elitist sport, and we are trying prove that point wrong," he said.
Borerwe noted that there were also other initiatives meant to fast-track the popularity of the game in the province.
"Infrastructure will definitely help us since athletes need to acclimatise to standard facilities, and we are working frantically with NAHP and NASH, tertiary and universities to make sure rugby is played by all boys, girls, men and women.
"We are encouraging the formation of community clubs so that schools become developmental rugby corridors.
"We have noted that there is great, but unidentified gems in rural areas too, hence the need to spread the game to marginalised areas," he said.