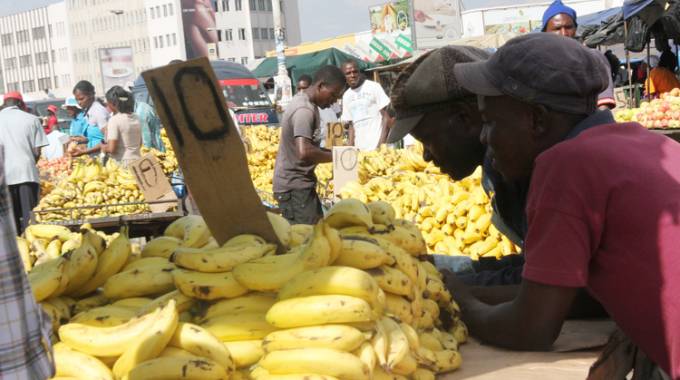 The ManicaPost
Luthando Mapepa Chipinge Correspondent
THE business community in Chipinge town has urged council to flush out vendors who sell their wares from shop pavements.Speaking during a meeting between the business community and councillors at Chipinge Government complex recently, Chipinge Business Initiative chairperson, Mr James Gabaza urged new councillors to urgently act on the vendors' issue and flush them out from shop pavements and allocate them alternative places to work from.
Mr Gabaza said the business community was losing revenue because of vendors selling from illegal points in the town.
He also raised concern over pirate transport operators doing their business everywhere in the town.
"As the business community we are calling for order in town. Vendors have invaded every corner of the town and the situation is getting worse every day.
"We are losing a lot of revenue; we are not making money because of vendors selling the same products we have in our shelves.
"We need protection from the council and other law enforcement agents so that an 'ease of doing business' environment is created.
"Vendors are blocking the entrances to big retail shops like OK Supermarket, TM Supermarket and N Richards wholesalers, as they sell an assortment of goods some of which are also available in these shops that pay tax yet the vendors do not.
"Again pirate transport operators are operating from every corner. They have even created a pick-up point in front of our shops and this is worrisome.
"If this continues, many shop owners will end up defaulting paying rates because of poor sales being recorded. We urge you councillors, as policymakers to urgently consider these problems in your next meeting," he said.
Mr Gabaza said council built a vending facility that was not being fully utilised.
"There is a state-of-the-art vending facility, which council built but is not being fully utilized, as only a few vendors go there. We hope all vendors go there so that we create a win-win situation for all stakeholders in business as well as council," he added.
Speaking at the same event, Chipinge town Ward 6 councillor, Lovemore Mkwapati promised to bring the sanity to the town.
"As councillors, we will hold meetings to decide what ought to be done after assuming office. We are listening councillors and all your grievances will be discussed so that a win-win situation is created," said Cllor Mkwapati.