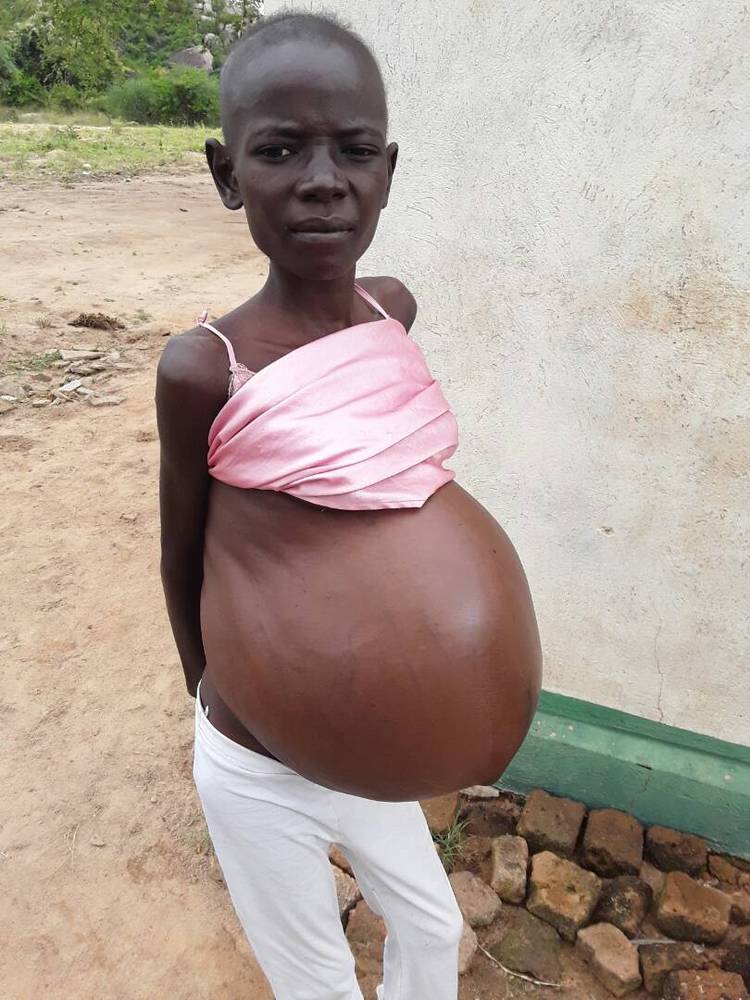 The ManicaPost
Samuel Kadungure Health Reporter
The 16-year-old Buhera girl — Bridget Zireni — who was forced out of school after developing a painful bloated belly is on the mend after undergoing a re-constructive surgery to save her life.
The surgery, in which about 18kgs of growth was removed from Bridget's abdomen, was carried out at Chitungwiza Central Hospital for free, but well-wishers, among them the wife of the Vice President Dr Constantino Chiwenga, Mrs Mary Chiwenga, Dr Obediah Moyo and Musha Mukadzi chipped in and assisted with medicines and blood.
A sample of the lump has since been taken for laboratory tests.
The life-saving medical intervention came after two years of misery which had left the patient encumbered as her parents failed to raise exorbitant medical fees demanded by private doctors in Mutare.
Her poor parents had resigned to watching her suffer in perpetuity after failing to raise U$4 000 required for the operation.
Bridget's sad story was first published by The Manica Post in April with other media outlets later adding their voices, resulting in her getting assistance from Chitungwiza Central Hospital.
Bridget has since been discharged from hospital, and is recuperating at a relative's home in Harare. She is due for review next week.
Mr Devias Zireni said his daughter was recuperating well and the family was grateful to all who assisted in rescuing the girl.
"We are grateful that your publication was the first to give our daughter a voice, which was later bolstered by other media outlets, which resulted in the rescuing our daughter as the nation got aware of her condition.
"Bridget is now out of danger after undergoing a successful operation at Chitungwiza Central Hospital. She is in Harare with a relative and we are expecting her home after undergoing a review set for next week.
Upon being certified fit, she will join her peers at school," said an elated Mr Zireni in a telephone interview from Murambinda.
Bridget was doing Form 1 at Murambinda B Secondary School when her health condition got out of hand. She could be mistaken for a pregnant teenager, with the only difference being that her abnormal belly was degenerating into a mortal threat each passing day.
The girl had not gained weight and the painful bloated belly had left many wondering what's going on with her life. The superstitious ones alleged witchcraft.
"We had failed as a family, and we are grateful to those who extended a hand, especially Vice President Chiwenga's wife Mrs Marry Chiwenga, Dr Moyo and the Musha Mukadzi Trust.
"As a family we are grateful about the assistance our daughter received from Zimbabweans. Her condition was terrible, life-threatening and worsening each passing day and the wonderful Zimbabweans have brought a smile back on my face as her father. Zimbabweans pulled their resources to come to Bridget's rescue, and this rare show of benevolence should not be limited to my daughter, but be extended to all suffering people.
"As you are aware, Bridget was no longer able to stand up and walk without aid, but following the operation, her condition has changed for the better, and she is now able to walk and bath on her own," said Mr Zireni.
Bridget was initially taken to Murambinda Mission Hospital where she was referred Mutare Provincial Hospital and was admitted for three weeks, but was discharged prematurely after doctors demanded U$3 000, for which the family only raised U$460.
The family could not negotiate a payment plan since they had also accrued an additional debt of more than U$1 200. This dampened the family's spirits, forcing them to try spiritual and traditional healing, which equally proved elusive.
It was Bridget's wish "to have my condition corrected and to go back to school with other kids of my age". Bridget said her wish was to get well and study hard to make it in life.