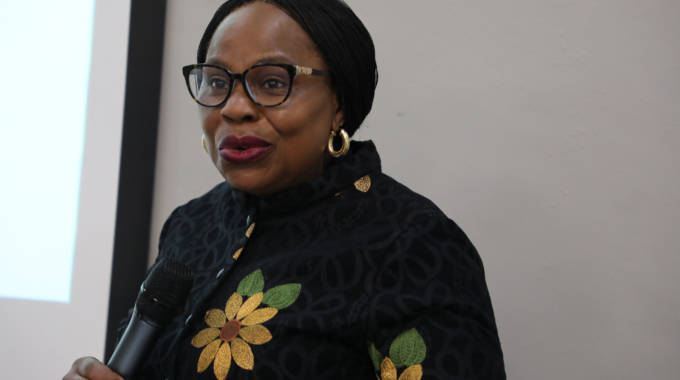 The ManicaPost
Tendai Gukutikwa
Post Correspondent
MORE than 250 000 people were affected by the floods, while hundreds were left homeless after Cyclone Idai ripped through south-eastern Zimbabwe, leaving a trail of death and destruction.
Narrating the sad ordeal in which seven family members (his neighbour's family) perished, Chimanimani Ward 10 Councillor, Eddie Njanji wipes tears with a piece of cloth.
While tropical cyclones have a tendency of repeating themselves, the need to set up clear communication and information dissemination stations during disasters is key and for Chimanimani folks, there is a ray of hope.
A community radio station and a digital terrestrial television are being set up for them to facilitate communication and information dissemination in the event that another disaster strikes, thanks to the efforts by the Ministry of Information, Publicity and Broadcasting Services and its partners.
With such technology at their disposal, the people of Chimanimani will have enough time to prepare and vacate their homes for safer ground if disaster ever strikes again, says Cllr Njanji.
"We now have hope because with a radio station right in our backyard, we will have information easily accessible to everyone including those in the remotest parts of Chimanimani," he said.
He said they used to rely on Mozambican radio stations which broadcast in Portuguese, a language they do not understand, as local signals are rarely accessible due to the area's rugged terrain.
"We are super excited because we have been listening to Mozambican radio stations in most parts of Chimanimani for a long time because of lack of signals from most local radio stations. Had there been community radio stations that disseminated information ahead of the March 2019 Cyclone Idai, its devastating impact would have been minimised.
"I had a family of seven people which perished near my homestead. We were stuck for days with the bodies because we had been cut off from the rest of the world. Other neighbours who were also affected by the tropical storm also camped at my homestead because they had nowhere to go as all roads were badly damaged.
"I believe if the tropical storm strikes again when we have a radio station, we will be warned and leave for safer ground in time," he said applauding the move to set-up a radio station in the area.
Another Chimanimani villager, TrymoreMauchaza, who is an up coming Zimdancehall artiste, said they were all happy because now they can get content being produced locally.
"Now we can showcase our own talents on the radio without all the hassles of travelling to Mutare or Harare. We just cannot wait for it to start broadcasting because we have waited all our lives for this radio station. The television project is an added bonus. We just cannot thank Government enough," he said.
The Chimanimani Community Radio Station is being mobilised to disseminate life-saving and real-time messages through public service announcements and ensure that what happened in 2019 does not recur.
Government prioritised Chimanimani because of the frequent natural disasters that hit the area.
Had there been a community radio station in the area, the disaster which occurred there could have been minimised, said Information, Publicity and Broadcasting Services Minister, Senator Monica Mutsvangwa during the recent 19th Post-Cabinet Media Briefing in Harare.
Minister Mutsvangwa revealed that six priority projects were earmarked for implementation during the current 7th 100-Day Cycle of the Second Republic.
These include Chimanimani Digital Terrestrial Television launch, Gokwe Digital Terrestrial Television launch, Nyangani Community Radio Station installation, language-based community radio stations licensing, Radio Zimbabwe studio installation and national awareness audio-visual productions.
"Cabinet was informed that site preparatory works for the Chimanimani Digital Terrestrial launch were completed and the launch thereof will be held at a later date. A pilot Digital Terrestrial Television service in Gokwe will also be commissioned and later launched," she said.
She said the licencing of community radio stations across the country, are part of Government's efforts to compliment freedom of expression and access to information.
The radio station will serve the people of Chimanimani, while Garawa Community Radio Station will serve the people of Chipinge.
"Information should be readily available to anyone wherever they are. We want people in Chipinge and Chimanimani to have the same access to information as the people in Harare. Not only are we looking at giving them information, but we are also looking at getting information from the communities. We want talent to be identified in these communities," said Minister Mutsvangwa.
UNESCO also pledged to support the Ministry of Information, Publicity and Broadcasting Services and its partners to establish community radios in remote areas.
It offered to provide capacity building and installation training when the studio equipment is ready so that the radio stations begin operating.
Recently, UNESCO, the Ministry of Information, Publicity and Broadcasting Services and the Broadcasting authority travelled to Chimanimani for surveys and villagers expressed appreciation for the radio stations.
In an interview, UNESCO ROSA Regional Advisor for Communication and Information, Mr Al-Amin Yusuph said: "We hope the community radios will be able to provide early warning systems and emergency responses in case of any future disasters."
He also said the early response systems would be achieved through the linkages between the community radio stations, community communications mechanisms and regional and national mechanisms.
"The early warning system will bring in new partners such as the Meteorological Department, Red Cross and other disaster response agencies or organisations to work with the communities through the community radios. The establishment of the community radios is being undertaken by the World Bank and UNOPS supported by Zimbabwe Idai Recovery Project (ZIRP)," said Mr Yusuph.
The community radio station will form part of the Zimbabwe Idai Recovery Programme's Community early warning system which aims at strengthening community resilience to disasters and emergencies in the region.
The station will broadcast in Ndau, Shona and English. To date, the Broadcasting Authority of Zimbabwe has licenced six community radio stations, Ntepe-Manama Community Radio Trust, Mbembesi Development Trust and Nyangani Community Radio Trust, Shashe Community Radio Broadcasting Association, Avuxeni FM, and Lyeja-Nyayi Development Trust.
BAZ also awarded six academic institutions compass broadcasting licences to the National University of Science and Technology, Lupane State University, Great Zimbabwe University, University of Zimbabwe, Midlands State University and Harare Polytechnic.
Minister Mutsvangwa revealed that six priority projects were earmarked for implementation during the current 7th 100-Day Cycle of the Second Republic.