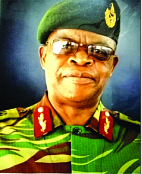 The ManicaPost
Ray Bande in Honde Valley
RELATIVES, neighbours and friends of the late national hero, Brigadier General Charles Kaneta (64) will fondly remember the decorated soldier as a down to earth man who never bragged about his military credentials.
Even though he occasionally rubbed shoulders with many in his rural Munyuku Village of Honde Valley, very few knew of the late Brigadier General Kaneta's military accolades because to his unmatched humility.
This came to light when the late Brigadier-General Kaneta's body made the last trip to his rural home for a memorial service held yesterday (Thursday) before his burial at the National Heroes Acre tomorrow (Saturday).
The late national hero's niece, Ms Noreen Dumba, said: "He was a loving man. He cared for everyone including those from the extended family. He was an accomplished soldier who never bragged about his achievements in the military. We were surprised to hear of some of his achievements in the army when we attended a military parade held in his honour yesterday (Wednesday). He never spoke about it. He was soft, but firm at the same time. When my mother, his only sibling passed on, he became a mother to us."
A neighbour to the national hero in Munyuku Village, Gogo Joyce Tsorai (80), said: "Charles was more than a neighbour to us. He was our son. He never showed that he was well off. He accommodated everyone. During his visits, he would perform any duties assigned to him like any other ordinary person. We will sadly miss him, and personally he was more of my child."
A cousin to the late national hero, Ms Loveless Kaneta, said:
"We want to thank Government and His Excellency, President Mnangagwa for bestowing the national hero status on our brother. Charles was a reserved and a man of a few words. He did not like quarrelling.
"He was also a unifier in the family and the community at large. He has left a huge gap, not only in the family, but in the community of Munyuku Village."
Ms Everjoice Mwanonoka, a niece to the late national hero, who was present when Brigadier General Kaneta breathed his last, said: "He came here last week on Friday. He had porridge and tea as breakfast the following morning before going around the village meeting our neighbours.
"When he returned, he started digging a trench when he suddenly collapsed. I was in the kitchen and heard him crying for help.
"I rushed out and saw him lying on the ground. I started praying and called for assistance from neighbours. We rushed him to Hauna District Hospital where he was pronounced dead upon arrival."
She said the late national hero was a humble man.
"I started staying with him in 2015. He was a soft character. When there were disagreements, he would leave and return when tempers had cooled down. He was so humble and would mix and mingle with anyone regardless of their social standings. Just before his death, he had discussions with a number of people over the issue of a water project as well as the community's well being," she said.
Ms Mwanonoka added: "Most of the people were surprised to hear that he had been declared a national hero. He never showed his credentials. We are thankful to Government for this recognition of his sterling works."
Mrs Rhoda Mafemba, an aunt to the late national hero, said: "Brigadier General Kaneta was a humble person. He would fit and participate in any conversation in the village. He was very helpful. I can say he is a national hero at large as well as a family and community hero."
The late Brigadier General Kaneta, whose Chimurenga name was Santana Tongai, joined the liberation struggle in 1975 in Mozambique at the age of 17.
He later became a graduate of the Nanjing Military Academy in China, as well as a beneficiary of specialised military training in Syria.
In his condolence message, President Mnangagwa described the late Brigadier General as a tough and brilliant military instructor through whose hands passed many cadres, including senior ZANU PF party officials such as the late national hero, Dr Herbert Ushewokunze, late Crispen Mandizvidza and Dr Sydney Sekeramayi.
Brigadier General Kaneta was attested into the integrated Zimbabwe National Army in 1981.
He is survived by his wife, Amai Kaneta and three children.