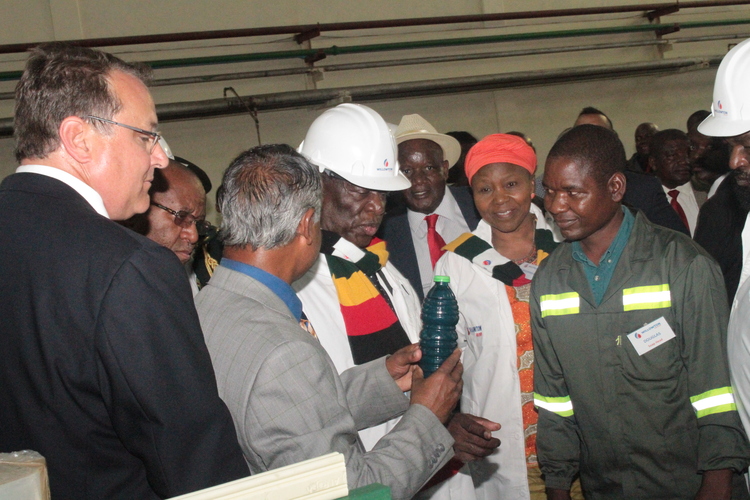 The ManicaPost
Rumbidzayi Zinyuke Senior Reporter
President Mnangagwa says Government is committed to removing all bottlenecks that have been making investing in Zimbabwe difficult, as well as opening up channels to facilitate easier trade between Zimbabwe and international markets through Mutare.
President Mnangagwa was speaking at the official opening of the $40 million Willowton Refinery plant in Mutare last Friday.
"My Government will continue to eliminate all investment impediments, bureaucratic bottlenecks, public sector lethargy, deliberate inefficiencies and corruption," he said.
Added the President: "This huge investment complements Government's call for value addition and beneficiation of our primary produce from the agriculture sector such as soya beans and sunflower, among others.
"I am informed that this new plant boasts of new technology that has enhanced efficiencies in cooking oil production with the potential to produce internationally competitive products."
He said Willowton's strategic location in Mutare was in sync with the call to industry to decentralise their operations and location and give impetus to industrialisation and the creation of provincial and rural industry systems, which would in turn help the growth of distinct provincial gross domestic product.
"Following my recent insightful re-engagement visits to Botswana, Zambia, Mozambique, South Africa and Angola, I was delighted to note the tremendous market potential for Zimbabwean products.
"I encourage you therefore to fully use your strategic proximity to the port of Beira and export products to the broader regional, continental and global markets. I further urge the private sector in general to seize the incredible market opportunities that exist beyond our borders," said the President.
Government, he said, was seized with streamlining and simplifying import and export regulations, rules, and procedures in the spirit of SADC, Comesa, and new Africa Continental Free Trade Area (ACFTA) protocols.
Willowton Zimbabwe is a subsidiary of South Africa-based Willowton Group. It manufactures a wide range of products including edible oils, margarines, toiletries, laundry and bath soaps, candles, baking and industrial fats.
The company opened shop in 2016 and is the second project in Manicaland, after Greenfuel in Chisumbanje to be awarded National Project Status because of the immense contribution it will make to economic growth.
Willowton Zimbabwe employs over 140 employees directly with a number of key positions being occupied by women in line with Government's gender policy.
The plant has a capacity to refine 6 000 tonnes of cooking oil, 5 000 tonnes of laundry bars of soap and 1 000 tonnes of beauty soap per month. They produce cooking oil brands such as D-lite and Sunfoil, Sona beauty soap and Britelite laundry bar.
Willowton is about 300km from the port of Beira, which makes it ideal for exploration of international markets.