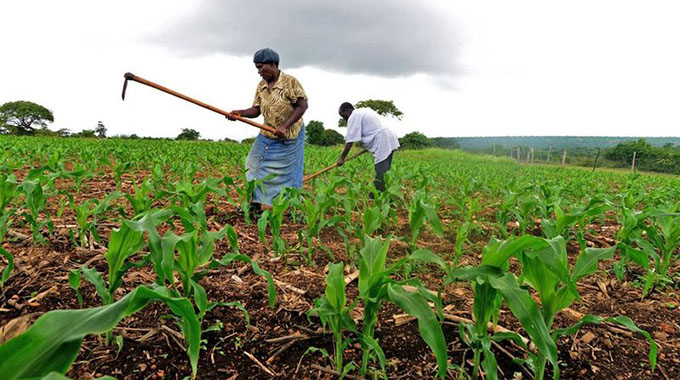 The ManicaPost
Tendai Gukutikwa Post Correspondent
IN a set to drastically boost agricultural productivity and food security, 3 000 smallholder farmers in Nyanga are set to benefit from 32 two-wheel tillage tractors and ancillary equipment worth thousands of dollars availed by two Non-Governmental Organisations operating in the district.
Apart from the tractors, the farmers also received double-row planters and locally manufactured maize shellers.
The equipment was handed over to 45 trained lead farmers last Friday as part of a project by the International Rescue Committee (IRC) and the International Maize and Wheat Improvement Centre (CIMMYT).
The project is being funded by the Zimbabwe Resilience Building Fund (ZRBF).
Senior agronomist and project leader for CIMMYT in Zimbabwe Dr Frédéric Baudron, said mechanisation was a critical step in agricultural development.
He said the small-scale nature of rural farming in Zimbabwe makes conventional tractors and equipment prohibitively expensive for many.
"With small-scale mechanisation, we can work with rural service providers — often women and youths — to provide timely and affordable mechanisation even to smallholder farmers," said Dr Baudron.
He said this model has registered huge successes in other African countries, and has potential to transform rural farming in Zimbabwe.
The 45 service providers entrusted with the equipment were trained by CIMMYT over the past year.
The gesture will optimise planting times, improve yields and reduce the impact of future dry spells and droughts.
"The mechanisation equipment will not only enable farmers to plant more quickly after a rainfall event, but will also allow significant cost savings. Planting one hectare using a two-wheel tractor will cost a farmer approximately $50, against an average of an amount of $225 using traditional methods.
"The new planters use minimum tillage, which conserves soil moisture and improves crop establishment," said Dr Baudron.
In addition to tractors and planters, the project is also introducing small-scale shellers, which will allow farmers to shell up to eight tonnes of grain per day.
The shellers were produced locally, thereby creating employment along the value chain.
Deputy Minister of Lands, Agriculture, Water, Climate and Rural Resettlement, Mr Vangelis Haritatos said smallholder farmers in the country were struggling to produce cheap maize.
He said mechanisation approaches that were affordable to smallholder farmers like two-wheel tractors have the potential to reduce production costs tremendously as they reduce the use of fuel, allow precise application of seeds and fertilisers and saves time.
"Two-wheel tractor schemes that seek to reduce costs benefit small scale farmers who represent the majority of food producers in the country. This, therefore stimulates domestic maize production, and requires that smallholders adopt cost saving technologies. Mechanisation approaches that are affordable to smallholders, like two-wheel tractors, have the potential to reduce production cost tremendously," he said.