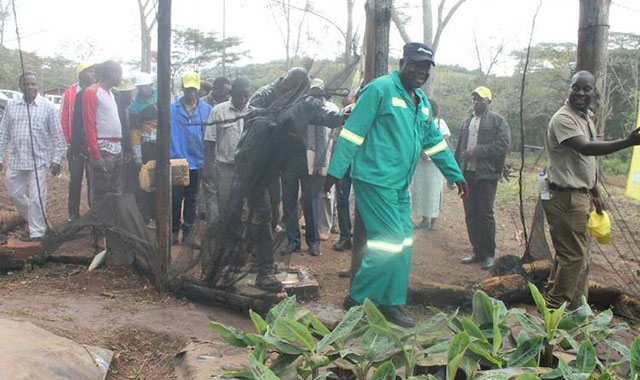 The ManicaPost
Liberty Dube Post Correspondent
A FARM in Burma Valley — Yarnfield Enterprise — in partnership with Africa University is set to sign a Memorandum of Understanding to enable it produce own tissue culture and better banana varieties which are suitable to Zimbabwe and Southern region.
Banana producers in the region were relying on South Africa for tissue culture.
"In the near future, Yarnfield will be signing an MOU with Africa University and this is in line with our belief that learning everyday is the only way to success. The focus will mainly be on bananas and looking forward to produce our own tissue culture and better varieties which are suitable to us and the region. Zimbabwe has the potential to tap into this market and this can only be achieved with such partnerships as we are fostering with Africa University," said Yarnfield Enterprises in a statement.
Speaking after his tour at Fangudu Farm in Burma Valley last Friday, Minister of Lands, Agriculture and Rural Resettlement Chief Air Marshal (Retired) Perrance Shiri said: "We are there to assist farmers. I have attended several field days across the country but what I saw today is unique and special. We have an abundance of land, water and good soil that can enable us to have booming banana farming. Farmers should use these resources and work on value addition. Banana farming is a money printing machine and if fully capitalised it has the capacity to bring more foreign currency than tobacco," he said.
Zimbabwe National Army Commander Lieutenant General Absalom Chimonyo was the host farmer. The field day was jointly organised by Fangundu Farm and Zimbabwe Fertilizer Company.
The farm has 252 hectares of which about 96 are arable. From 2006 a total of 36.8ha of the current total 58.6ha has been replanted. Some of the challenges encountered at the farm are shortages of fertilizers and other key chemicals such as herbicides and nematicides, a situation attributed to shortage of foreign currency by suppliers. The farm employs 117 people.
Speaking at the same event, Minister of State for Manicaland Provincial affairs, Cde Monica Mutsvangwa, whose speech was read on her behalf by Manicaland Provincial Administrator, Mr Edgars Seenza said: "To this end, there is need to look at supporting and financing banana production as a country by incorporating bananas into command agriculture.
"The rich fertile soils and conducive climate in this area enables the province to participate and contribute immensely in the food security and nutrition of our country in the form of various types of commercial fruits and crops.''