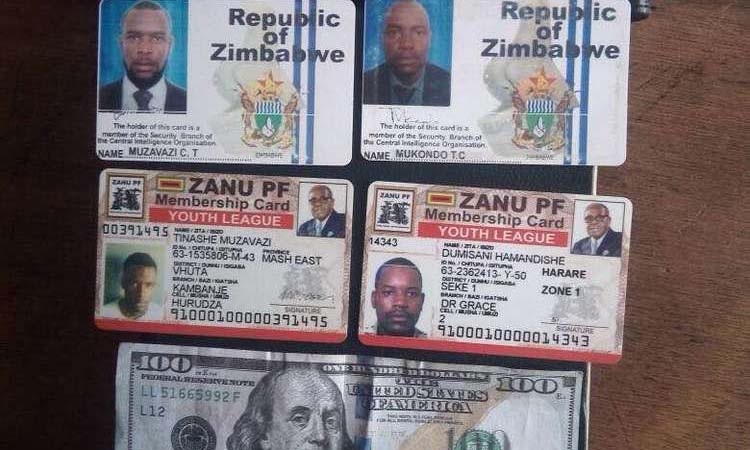 The ManicaPost
Abel Zhakata Senior Court Reporter
THERE was drama in Mutare's Central Business District after two bogus Central Intelligence Organisation officers – who were part of a 10-member gang that was illegally dealing in diamonds recently quarrelled with detectives who wanted to arrest them.
The cunning impostors brandished fake identity cards, telling the detectives from the Minerals and Border Control Unit to back off since they were coming from Harare on a special mission to trap and arrest diamond dealers in the city.
Sensing danger after realizing that they were outnumbered, the cops sweet-talked the criminals to accompany them to Mutare Central Police Station to record their statements as witnesses against the other gang members.
On arrival at the police station, the imposters were subsequently detained. Apart from the fake identity cards, they were also found in possession of counterfeit $100 notes.
Dumisani Hamandishe (27) of House Number 16430 Unit M Seke, Chitungwiza and Tinashe Muzavazi (23) of House Number 55, 37 Crescent Warren  Park 2, Harare were this week arraigned before the courts facing charges of illegally dealing in diamonds, possessing articles for criminal use and impersonating public officers.
On illegally dealing in diamonds, the duo was jointly charged with eight other accomplices – Romio Charles Tembo (30), Luckmore Chikove (28), James Dhlora (33), Patrick Marwa (27), Sharon Madziro (19), Judith Nyanhongo (42), Sharon Munetsi (25) and Givemore Chikwashe (42) – who were also arrested by the police following a raid by detectives at Café 111 situated along Second Street.
They appeared before Mutare provincial magistrate Mr Tendai Mahwe while Mr Fletcher Karombe prosecuted.
Hamandishe and Muzavazi pleaded guilty to charges of impersonating public officers as well as possessing fake notes.
The 10 suspects, however, denied charges of illegally dealing in diamonds and were remanded out of custody after paying $200 bail each.
They will be back in court on July 7 for routine remand.
Mr Karombe told the court that: "In April this year Chikwashe communicated with Tembo through Nyanhongo for him to buy some diamonds from Tembo. Chikwashe then came to Mutare from Harare and bought one piece of diamond for $500 and returned to the capital city where he attempted to sell the same diamond but was offered $35."
Chikwashe came back to Mutare with the diamond and he was given another gem by Tembo to compensate the first one. He took the diamond to Harare where he was offered a shocking $15 for the gem.
"Chikwashe was again invited back to Mutare by Tembo to get a valuable piece of diamond but he was ordered to pay an extra $500. He did as instructed and he paid the $500. However, on his way back to Harare, Chikwashe was robbed and he lost the diamond to unknown assailants who were using Tembo's vehicle," said Mr Karombe.
On June 21 Chikwashe teamed up with Munetsi, Muzavazi, Hamandishe, and Clive Mukondo who is still at large and drove to Mutare to recover their money.
"They arrived in Mutare purporting to intend to buy more diamonds using Munetsi and Muzavazi as buyers. Their intention was to recover the money which was paid by Chikwashe. As they were transacting a misunderstanding arose between the team from Harare with the suspects from Mutare who included Tembo, Nyanhongo, Chikove, Marwa, Dhlora and Madziro."
The situation suddenly became tense resulting in Muzavazi and Hamandishe producing fake CIO identity cards to intimidate the Mutare suspects. Police detectives received a call and they rushed to attend the scene. When they were about to arrest the suspects, Hamandishe and Muzavazi produced the fake identity cards and told the officers that they were on a special mission which was sanctioned  from their command at CIO headquarters  and at Police General Headquarters to trap diamond dealers.
"The detectives pretended to have believed them and they asked them to accompany them to the station. At the office, further interrogations were done and CIO Mutare office was called to verify the authenticity of the identification cards. It was confirmed that they were fake CIO officers and their identity cards were also fake," said Mr Karombe.
While at the station they were searched and also found in possession of fake two $100 notes. The counterfeit money and the identity cards will be produced in court as exhibit.