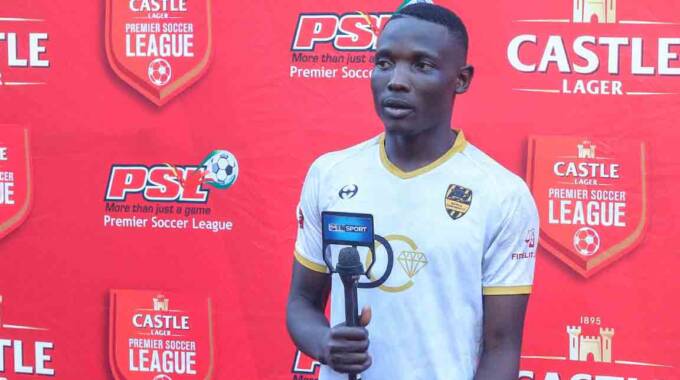 The ManicaPost
Ray Bande
Senior Reporter
THE only player to score 46 goals in a season in the post independent Zimbabwe — Moses 'Bambo' Chunga — believes that the contemporary generation of goal shy forwards is a product of too much coaching theory that lacks practical aptitude.
Coupled with the disregarding of junior football structures as well as a poisoned vetting system in junior football competitions, the celebrated football icon is of the opinion that there is need for an overhaul of the system if the country is to witness more joyous moments that come with a galore of goals in football matches.
Arguably one of the best football players to emerge in the country since independence, Chunga was a prolific goal poacher, blessed with the rare ability to bang in goals using both legs.
The dearth of lethal goal-scorers in the country has seen the current crop of strikers struggling to hit the 20-goal mark.
Thirteen years after Norman Maroto banged 22 goals in the top-flight league, no striker has surpassed that feat.
Former Dynamos marksman, Maroto was the last to breach the 20-goal mark when he scored 22 goals for the now-defunct Gunners in 2010.
In the ongoing 2023 season, Manica Diamonds' top man, Fortune Binzi and Bulawayo Chief's Obriel Chirinda are tied on nine goals each, but already the numbers are declining in terms of frequency for both strikers with 14 rounds of league matches remaining before the curtain comes down on the 2023 season.
And Chunga, whose super 1986 season saw him score 46 goals, exactly the same number of goals scored by Christiano Ronaldo when the later smashed the record for goals scored by a Real Madrid player in the famous La Liga, thinks coaching skills have to improve, not in theory, but practical.
Chunga told Post Sport that some of the training drills being witnessed at the highest level in the country leave a lot to be desired.
"The thing is you are as good as you trainer. I have seen some training session drills and for the sake of being polite, the drills leave a lot to be desired.
"If you do not score at training, don't expect to score during the weekend match. Scoring at training gives you confidence that you will do the same during the weekend.
"The difference between yesteryears and today's strikers is the practical approach, and not just this theory we are seeing this day. The system has prioritised the theoretical approach to coaching negating the important practical aspect of it.
"The things that you are going to do on match day are practical, hence that should start at training. This is the reason why we have too many well qualified coaches with the theoretical knowledge, but they fail dismally because they do not have the practical aptitude to identify, let alone mentor a player," said the legendary football personality.
Chunga refuses to accept that the game of football no longer has the best of talent because it is no longer a rewarding vocation.
"I don't buy the fact that we no longer have good players because football is not paying. I bought my first house in Glen Norah when I was 18 using money from football when I was still at Dynamos. I was not going to any formal work.
"Therefore, nothing has changed in terms of how this game used to pay players. We have teams that are currently paying good salaries, therefore a good player can always find a club that rewards him handsomely," said Chunga.
The former Warriors attacking midfielder said junior football has gone into extinction in the country.
He pointed out that the vetting system in some junior football competitions has also worked against talent development.
"Overall, we have disrespect for junior football. It is no longer in existence at all. This has worked against talent development. If you don't have a Grade Seven certificate you are disqualified in some competitions at junior or school level. The result is that a school with a mediocre team is allowed to progress.
"At times, in these school tournaments, the vetting is not done properly. The dates requested for players to be eligible do not allow inclusivity.
"For example, an Under-17s tournament has a certain age limit which says only players born on such a date to such a date are allowed to play. You then have a 14-year-old being denied to play in a Under-17 tournament. That is ridiculous," fumed Chunga.
The former Dynamos and Buffaloes coach, said the corporate world has also let down the game of football in the country.
"I also think that the corporate world is not playing ball. When we were playing, the corporate world was heavily involved. We had Castle Cup, Milo Cup among many, many others. This is no longer the case. This is the reason why we no longer have teams in the Premiership in areas like Chegutu, Kadoma and Kwekwe.
"Way back all these places had teams in the top-flight league, but lack of corporate partnership has left these places without teams. The net effect is that players from these areas have no platform to be identified and developed. It is wasted talent for the country," said Chunga.
Current Castle Lager Premiership top goal scorer's list:
OBRIEL CHIRINDA (BULAWAYO CHIEFS) – 9 Goals
FORTUNE BINZI (MANICA DIAMONDS) – 9 Goals
WILLIAM MANONDO (CAPS UNITED) – 6 Goals
MICHAEL CHARAMBA (CHICKEN INN) – 6 Goals
MARLVIN HWATA (CHICKEN INN) – 6 Goals
WALTER MUSONA (FC PLATINUM) – 6 Goals
TAKUNDA BENHURA (NGEZI PLATINUM) – 6 Goals
QADR AMINI (NGEZI PLATINUM) – 6 Goals.