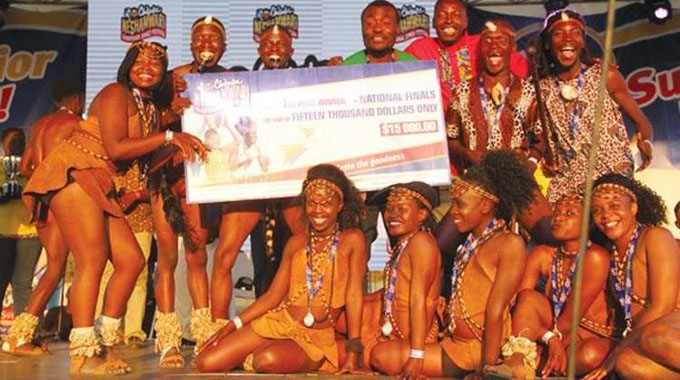 The ManicaPost
Liberty Dube Entertainment Correspondent
MANICALAND representatives at the Chibuku Neshamwari Dance national finals — Ben Arinoti — found the going tough and failed to make it into the Top Five.
The competitions were held last Saturday at Rimuka Stadium, Kadoma.
Bulawayo-based dance ensemble Ezimnyama shrugged off stiff competition from other dance groups to came out tops while Budiriro Arts Ensemble from Mashonaland West and Totambanengoma from Harare were second and third, respectively.
Ezimyama, who showcased a unique dance called Setapa which originates from Botswana, received $15 000 while the first and second runners-up received $10 000 and $5 000 respectively.
Ben Arinoti exhibited their trademark dance — Ben — which originates from Malawi.
Ben Arinoti is a traditional style that was named after its founder, Arinoti.
Other groups that participated at the competition showcased cultural dances such as Dinhe, Nyau, Mbakumba, Nsumbule, Chinyambera and Zambian Nyau.
In an interview, Ben Arinoti leader, Tupeyo Mdala, said: "We believe we did well despite the stiff competition. It was a good experience for the group. Unfortunately there had to be one winner. We will bounce back next year."
Zimbabwe National Traditional Dancers' Association president Kennedy Kachuruka said the festival continues to grow in leaps and bounds thanked Delta Beverages and its partners for running the event smoothly.