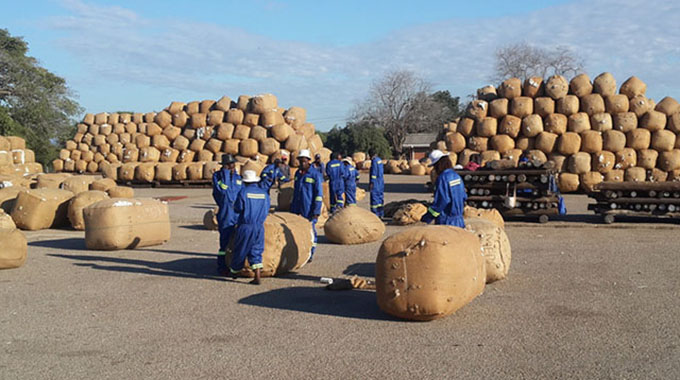 The ManicaPost
Freedom Mutanda Correspondent
Chipinge farmers have been implored to desist from side-marketing their crop, while violence at depots will not be tolerated.
This emerged during an all stakeholders meeting in Chipinge South on Tuesday.
In the past few years, buyers have been accusing each other of luring contracted farmers to side market their crops, thereby resulting in violence erupting at some depots.
In Chipinge, the Cotton Company of Zimbabwe (Cottco) financed 11 027 farmers during the 2019/2020 cotton farming season.
Cottco's depot manager, Mr Milton Manhando said, "We financed 11 027 farmers to grow cotton in Checheche. So far, our skeletal staff is on the ground to facilitate the cotton sales.
"The Agriculture Marketing Association has also deployed its staff to the buying points.
"However, I must emphasize that all cotton should be bought at designated buying points only.''
Zimbabwe Cotton Consortium's area manager, Mr Crosswell Nyatoti urged other players to stop using unorthodox means to lure farmers to their companies.
"We are fully prepared for the cotton buying season, but I must hasten to add that companies must fully sponsor their farmers.
"Piece meal sponsorship does not benefit the farmer and this usually leads to some players using unorthodox means to lure farmers,'' he said.
ETG Parrogate manager, Mr Dakarai Makuyana said, "Meetings of this nature must be carried out regularly as they create trust among stakeholders.
"They help us in finding solutions to some of the teething challenges we encounter in our day-to-day activities.''
Farmers' representative, Mr Thulani Thondlana said farmers are satisfied with the cotton buying price and called on buyers to pay them promptly to cushion them against inflation.
The cotton floor producer price was by Government at $43,40 per kilogramme, while companies are also giving farmers an extra incentive of US$10 per each bale delivered.
Thirty-eight percent of the money is paid in cash while the rest is paid through mobile money or bank transfers.
Mr Thondlana implored the buyers to pay them cash.
"While we appreciate that there is a cash crisis, we implore buyers to pay us cash for us to break even. Again, inputs for the next season must be distributed on time so that we plant early,'' he said.
Chipinge South legislator, Cde Enock Porusingazi called on buyers to put the farmers' interests first.
"Let us put the interests of the farmers first. As buyers, you are partners in the cotton industry, you are not enemies.
"Don't expect to get preferential treatment. You are all equal and I expect all of you to operate within the parameters of the law,'' he said.