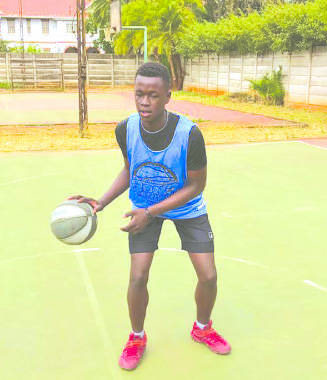 The ManicaPost
Liberty Dube
Sports Correspondent
MUTARE'S own basketball jewel, Tadisa Muratu, continues to soar high despite his tender age of 15 after being drafted into the national junior team that is set to travel to Bamako, Mali for the FIBA Africa Under-16 Men and Women Tournament in August.
The gangling Tadisa, who is 1,98 metres tall, way taller than most players of his age, plays for ambitious local basketball outfit, Dangamvura Knights.
Tadisa, who hails from Dangamvura is the only U-16 player from Manicaland Province to be selected into the national team that will be travelling to Mali.
The selection was held in Harare a few weeks ago and his height impressed the selectors before setting foot on the court.
His ball handling skills and shooting from inside and outside the three-point line earned him the first team jersey.
Tadisa is also the youngest player turning out for Dangamvura Knights men's team.
In an interview last week, the Zimbabwe National Basketball Under-16 team coach, Tadiwa Erickson Mungunyana, said Tadisa has a good height as well as exceptional and unique qualities for a player of his age.
"It is awesome to have him on the team. The boy stands at 1,98 metres which is a good height for basketball especially at their age group, though we wish he was a bit taller. The boy has a nice and wide frame. He also possesses amazing skills ideal for this sport which is now a bit demanding in terms of skill regardless of size.
"He also has a good eye for the game. However, he needs more exposure because of the inactivity of most teams in Mutare. The boy needs to get used to certain styles of play and we were looking for someone like him who could be nurtured.
"The other boys of his size did not possess the ability to learn things pretty fast, given the little time camping time at our disposal," said Mungunyana.
He added: "We are supposed to travel with a 15-member squad if resources permit. The association is trying to secure sponsorship to make the trip a success."
The talented coach, who traces his roots from Mutare played for City Saints and Mercenaries before relocating to Harare.
He urged corporates and individuals to come on board with any form of assistance, either in cash or kind to allow the team to adequately prepare for the tournament.
The FIBA Africa U-16 Men and Women Tournament will be run from August 6 to 15 in Bamako, Mali.
Teams to participate include the hosts, Mali, Egypt, Guinea, Algeria, Gabon, Uganda and Côte D'ivoire.