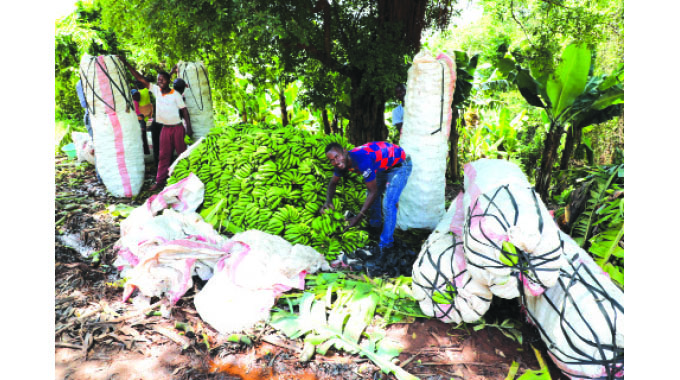 The ManicaPost
Cletus Mushanawani
News Editor
Over the years, Honde Valley bananas have established themselves in the market in terms of quality and taste.
Despite being grown on a small-scale, with most farmers averaging a hectare of bananas, produce from the rugged terrain of Honde Valley has continued to enjoy a big market share, both on the local and export market.
Productivity has been on a steady increase from about 6,8 metric tonnes per hectare in 2014 to 7,9 metric tonnes per hectare in 2018, while the planted area increased from 1 155 hectares in the 2014/15 season to 1 422 in the 2018/19 season, an indicator of well managed plantations.
New export markets have also been found for the bananas mainly in South Africa, Botswana, Mozambique and Zambia. South Africa takes about 97 percent of the exports.
The farmers' realisation that the venture is a lucrative business has spurred growth in banana production, with producers ensuring quality of their produce to make them more competitive.
Bananas are now being grown in all Honde Valley's 14 wards, with a total of 45 groups actively producing and selling them.
Agritex estimates that 684 metric tonnes of bananas are marketed from Honde Valley on a weekly basis, with 45 percent of the bananas going through the formal market channels, while 55 percent go through the informal market channels. Buyers from all over the country are now a common sight in the valley, with informal buyers paying mainly in cash, although some known customers from the area are given credit terms by the farmers and pay after selling or after three to seven days. Since bananas are perishable and need to be marketed quickly, some farmers have also established relationships with transporters to ferry the produce to urban markets in Harare, Bulawayo and Mutare on agreed terms of being paid after farmers sell their bananas.
However, despite being among the best producers of bananas in the country, there is a visible mismatch between the increase in production and what is finding its way into the farmers' pockets and bank accounts.
This has prompted the rolling out of a banana value chain special study spearheaded by the market development component of the Livelihoods and Food Security Programme (LFSP). lt is being implemented by Palladium and its partners — the Agricultural Partnership Trust (APT) and GRM Zimbabwe.
The National Agricultural Policy Framework (2019 to 2030) emphasises private sector-led growth and inclusive sustainable development.
In his findings, contracted researcher, Dr Tafireyi Chamboko said key service markets required for the efficient production and marketing of bananas include inputs supply, sustainable output markets, extension, finance, transportation and cold chain facilities.
"So far at the national level, there are no official regulations or quality control measures on commercialised banana production. The produce is not subject to food and safety regulations. Horticultural products, including bananas that are destined to the local markets and other municipal markets across the country, are not subject to commonly agreed quality and sanitary standards.
"In the formal market, quality control is the industry's responsibility and is not supported by a quality enforcement body. In the formal markets, the key quality attributes include size, colour, firmness of harvested product as well as freedom from pests and diseases.
"The minimum standard specifications are defined and imposed on the farmers by wholesalers, retailers and importers. Produce failing to conform to these requirements, including phytosanitary regulations and international standards, is rejected," said Dr Chamboko.
At production level, poor agricultural practices are also contributing to the low returns.
ln some cases, farmers want to be the sole player from growing the crop to taking it to the market, thereby causing a long downtime in the production chain as he or she will be forced to be away from the fields for up to two weeks as they sell the produce.
Due to Honde Valley's mountainous terrain, some areas are only accessible by rough and poorly maintained roads, thereby leading to bruising and compression of the bananas, which affects their quality at the ripening stage.
Quality is also being compromised by lack of storage facilities in the areas. Some farmers end up using banana leaves to cover the produce, while some use reed baskets to carry them from the field to the aggregation point.
A representative of BrandFresh, one of the major banana buying companies in Honde Valley, Mr Edward Madewekunze said although the area still holds the record of having leading banana small-scale producers, farmers are not realising much for their sweat due to the exorbitant inputs' costs.
"Costs of inputs, especially fertilisers, are now beyond the reach of many farmers. At times farmers project to buy about seven bags of fertiliser from the sale of their produce, but they are eventually forced to buy just four or five bags. This is also compromising quality.
"Besides inputs, we have realised that poor marketing models are also having negative effects on the eventual income being generated by the farmers. Some opt to take their bananas to Mbare on their own, while some prefer to sell from the field to whoever comes with cash. Some sell to companies that have a presence there. But the moment a farmer goes to the market for two weeks, the production chain is affected," he said.
Mr Madewekunze also cited mode of payments as a major constraint in farmers realising their full potential.
"When farmers sell their bananas through the formal markets, the major modes of payments are plastic and mobile money. Most farmers are not comfortable with this arrangement as they want to be paid cash on the spot. This has a negative effect on the volumes moving through the formal market channel. However, the recent move to liberalize companies with free funds to pay for services in forex has helped in addressing this challenge," he said.
There is a ray of hope for the farmers as Mutasa Rural District Council is moving in to set up a Mutasa Fruit and Vegetable Wholesale market in Honde Valley.
The council's chief executive officer, Mr George Bandure, said they are working with private investors to establish the market.
"We are in the process of setting up a fruit and vegetable wholesale in Honde Valley. It will be equipped with refrigerators and other storage facilities to help farmers get value for their produce. We also want to play a role in regulating the marketing of Honde Valley's farm produce," he said. While this is still work in progress, value addition of the crop is another way to go.
Mr Chamboko said: "Very few are practicing value addition of bananas due to lack of knowledge. The few farmers received training in value addition. The training was facilitated by development partners who are mainly producing value added products for family consumption. The farmers use home-made solar dryers for drying and the quantities produced are very small.
"One farmer at Mupangwa Irrigation Scheme is commercially producing flour and sundried bananas. About 1 000 unpeeled bananas produce 23kgs of brown flour, while 1 000 peeled bananas produce 15kg of white flour. Banana rejects are used for producing flour. Rejects are also used for producing snacks, but these must be fully sealed, not cracked."