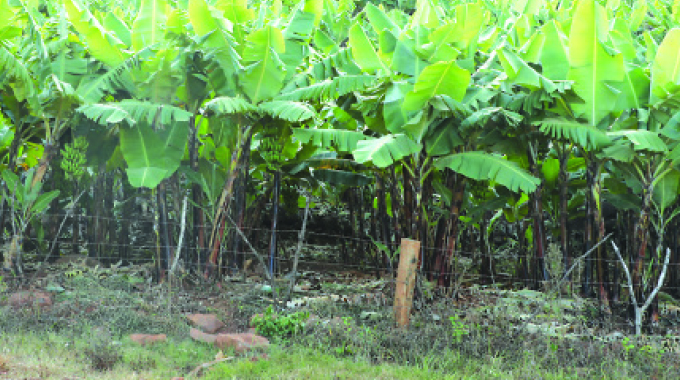 The ManicaPost
Freedom Mutanda Post Correspondent
Middle Sabi lies 160 kilometres from Mutare, and the area is one of Zimbabwe's prime farming regions, at one time producing nearly a quarter of the country's wheat requirements.
The area is also home to banana, orange and lemon plantations.
It is also known for the production of maize, sugar beans and potatoes.
With the country working towards attaining an upper middle income economy by 2030, farmers in Middle Sabi have moved a gear up in their operations.
After partnering with a private contractor — MacCater Bananas — the lives of the A2 farmers have been transformed positively.
Middle Sabi Farmers Association chairperson, Mr Skumbuzo Thondlana said farmers decided to evolve in their farming approach after realising that partnerships are the way to go.
"We noted that President Mnangagwa's vision to grow the economy places agriculture at the centre of this growth and therefore we are doing our part,'' he said.
More than 160 hectares are under bananas at Farm 32, while farmers at Farm 31 are producing potatoes.
Farm 40 is producing maize and sugar beans.
Land preparations are already at an advanced stage, with planting expected to commence soon. Ms Katie MacCater said the future is bright for the farmers as their partnership provides the farmers with a ready market.
"This is a mutually beneficial business model, everybody wins. We supply some of the leading supermarkets in the country and we also export to South Africa. ln this venture, we are after quality,'' she said.
Hundreds of people have benefited from the banana project and this has seen people working in shifts at the company's pack shed as they battle to meet the growing demand of the product.
An agriculture expert, Mr Teramai Maposa, said bananas are highly nutritious, adding that their export potential is huge.
He, however, said value addition is the way to go, as exporting bananas is equal to exporting jobs.
"A medium-sized banana provides 320-400mg of potassium, which amounts to 10 percent of a person's daily potassium needs. Potassium helps the body to maintain a healthy heart and stable blood pressure.''
"Those are some of the avenues that can be exploited by the banana farmers, we need to export finished products," said Mr Maposa.
Banana production supports downstream industries that make banana flour, banana puree, banana blossoms, banana chips, banana wine and banana vinegar, among other products.
"Industrialisation also has to take off in Chipinge as there are banana plantations there. In the adjacent district, Chimanimani, bananas are rotting in the fields due to shortage of transport to take them to the markets.''
While Government declared agriculture an essential service and allowed farmers free movement to take their produce to the markets during the ongoing lockdown, very few of the farmers can afford the exorbitant transport charges to take their produce to their markets.
Therefore many have been watching as their produce rot in the fields.
Traditionally, middle men have been coming to Chimanimani and Chipinge to buy the bananas from them for markets in Mutare, Harare, Gweru, Bulawayo and even Beitbridge.
Partnerships like the one in Middle Sabi could save the day.