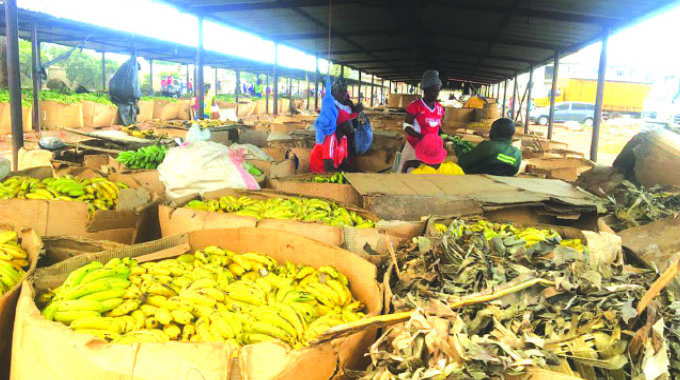 The ManicaPost
Rumbidzayi Zinyuke Senior Reporter
For decades, bananas have been the source of livelihood for hundreds of families in the Rusitu Valley of Chimanimani District.
A visit to the valley shows that every family has a banana field.
Add to that, pineapples, avocados, oranges, sweet potatoes and yams, among many other crops, and you have their major source of income.
They sell their produce and their children go to school, they buy food, clothes and life goes on.
They rarely require food aid, even when there is a drought, because the area is been blessed with good climatic conditions.
They get good rains and they have good soils. The people of Chimanimani fully utilise these resources to ensure that there is food in abundance.
Even Cyclone Idai, which ravaged the district last year, did not keep them down for long. They slowly went back to their feet and it is now business as usual.
But at a time when they are still healing from the effects of the devastating natural disaster, they have been hit by another one.
Although the Covid -19 pandemic is affecting the whole country, for them, it has dealt them a double blow.
It is hitting them where it hurts most — the security of their income is severely compromised.
Their crops are rotting in the fields because they cannot take them to the markets.
While Government has declared agriculture an essential service and allowed farmers free movement to take their produce to the markets, very few of the farmers can afford the exorbitant transport charges to take their produce to their markets.
Traditionally, middle men have been coming to Chimanimani to buy the bananas from them for markets in Mutare, Harare, Gweru, Bulawayo and even Beitbridge.
Farmers also had a coordinated system of ferrying their produce to the market.
Now considering that these transporters and middle men have no means to travel to Chimanimani due to the ban on inter-city travelling, most banana farmers are watching their produce as it rots in the field.
They are praying that the tide brought about by Covid-19 will pass soon so that they can get back in business full time.
Bananas require a certain time frame to mature. Once they have done so, they need to be removed from the tree to ripen.
But once they are ripe, they don't have a long shelf life.
In Rusitu Valley, there is no market for the bananas. As a result, bananas are going to waste.
Mr Dick Mutisi from Nyabamba Village said he had to throw away some of his bananas.
"By nature, bananas have a period they are supposed to stay in the field. Once they are mature, you need to remove the fruit from the tree because if you don't, it will continue growing and then burst. I had to throw them away after they burst open.
''This is a big loss.
"We have the same problem with avocados, nartjies and oranges. They are ripening in the field and this is not good. We cannot eat all of them. They are too many and we cannot give them away either because everyone has their own field," he said.
"Usually transporters would come here to carry our produce, but now it's difficult because movement is not very easy due to the lockdown measures. We cannot move in groups because of the physical distancing requirements, but I cannot hire a truck on my own.
"We need to come together as four or five farmers to share costs and hire one truck. But this has not been possible," he said.
Mbuya Enia Musona, a resident of Nyabamba Village, said all their hard work is going down the drain.
"Our produce is rotting in the field. This year we had a good harvest of maize, avocados, bananas, sweet potatoes and yams, among other things, but the perishables are rotting as we are failing to access the markets.
"Farming is my only source of income. The authorities really need to find a way of addressing this issue," she said.
Chimanimani District Development Coordinator, Mr Joseph Manyurapasi said his office has been facilitating the movement of farmers who want to transport their produce to the markets to ensure that they are not affected by the lockdown.
"We have been writing exemption letters, even for those who want to buy fuel for agricultural purposes. We are trying to ensure that the district is not heavily affected," he said.