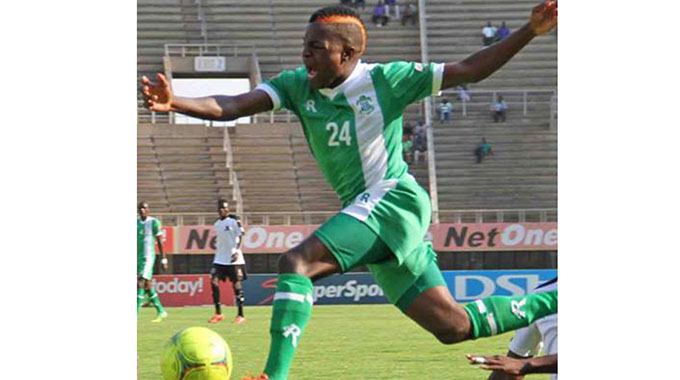 The ManicaPost
Moffat Mungazi Sports Correspondent
SPEEDY CAPS United forward Phineas Bamusi is encouraged by his team's early fine form and believes they are laying a strong foundation for a fruitful Castle Lager Premier Soccer League 2019 season following a strong start to the campaign.
Bamusi was in devastating form once more on Sunday as he put up another man-of-the-match performance that helped the 2016 champions to a key victory over battling Harare City at National Sports, feeding a sumptuous pass to substitute Ronald "Rooney" Chitiyo who was upended to earn the team a penalty. Playmaker Joel "Josta" Ngodzo missed the subsequent spot kick.  MaKepeKepe, one of only two teams yet to suffer defeat alongside defending champions FC Platinum, have been an imperious lot that Bamusi is tipping them to gun for glory this term. The Green Machine – who appear well-oiled, going by current form – sit second and boast the best defence and second finest attack.
And it is this balance in the side that the former Buffaloes and Mutare United player is banking on.
"There are lots of positives to pick from our performances so far although we are not going to get ahead of ourselves. As long as we continue scoring goals and remain impenetrable at the back, then we are good to go. We can do even better than we already are and the quest to succeed keeps driving us forward in hot pursuit of our goal," enthused Bamusi in an interview with Post Sport yesterday (Thursday).
The diminutive pacy winger, who returned to the Harare giants following a successful stint with Triangle last season, was on song again in their previous match as he laid an assist for bustling striker Dominic Chungwa during their 4-1 demolition of Bulawayo Chiefs.
So instrumental to the squad is the talented Mutare-born footballer that he has already earned the kudos from his usually austere coach Lloyd Chitembwe, who has spoken glowingly of the former Cup Kings' 2016 Players' Player of the Season's abilities.
"Phineas (Bamusi) and Gabriel (Nyoni), we knew they were going to give us that kind of speed in the wide areas and it's our weapon. Even if you know it's one of our strong points as a team, it's difficult to contain them because at the end of the day you really need the right kind of quality to contain the. Not many players can contain them on their day. So we are very delighted to have them and I am pleased with their contribution so far," bubbled Chitembwe effusively about his wing attackers after another good day in office recently.
Once he gets on his bike out on the flanks, Bamusi can be a tricky customer and thriving on those outlandish bursts of speed can unlock and split the opposition defensive lines.
"It is a warmly pleasant compliment to win the trust of one's coach and get to be well-spoken of. That can only serve to inspire a player and push them to go that extra mile. As such, I want to be more actively and regularly involved in the team's goal harvest; be it as a scorer or assist provider.
"As CAPS United we are continuously thriving to improve on our previous performances and that one outstanding virtue is going to give us a competitive and comparative edge over many of our opponents this season. So far we are on course and this team will go far with the right application. Staying focused and diligent is imperative and we are setting the tone for that," said the Dangamvura-bred livewire forward, who is eyeing another sterling season with the Harare giants.
Bamusi is expected to be one of the driving forces leading the Green Machine juggernaut from the front alongside Nyoni and the returning talisman Chitiyo, who has fully recovered from a long injury layoff, to ignite the spark for their goal haul.