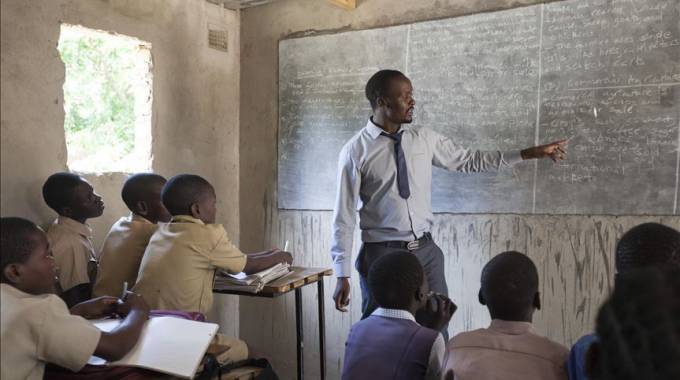 The ManicaPost
Post Reporters
Despite increasing cases of Covid-19, some teachers are cashing in on the prolonged closure of schools by offering backyard extra lessons at their homes, thereby exposing their families and learners to the virus.
In high density areas where students' physical distancing cannot be guaranteed due to space constraints, some of the defiant teachers have converted their sitting rooms and bedrooms into classrooms, with lessons staggered depending on the grades.
Those in lower grades are the first to have lessons, usually for two hours, followed by Grades 6s and 7s.
High school learners come in around mid-day.
Some of the teachers have joined hands with university students to help them teach high school learners.
In order to conceal their illegal activities, some of the teachers are asking learners not to call them by their names. They prefer to be called Gogo, Auntie, Maiguru, Uncle or Sekuru.
Charges for the lessons range from US$0,50 per day to US$10 per month, depending on the child's level.
Although law enforcement agents make constant raids on some of the houses that have been converted into schools, those interviewed said they have to continue conducting the lessons to supplement their incomes.
However, some of the teachers have scaled down their operations following a spike in Manicaland's Covid-19 cases. As of Wednesday, the province had 124 cumulative confirmed cases of Covid-19, including five deaths.
Health officials say Dangamvura, Mutare, is proving to be the disease's hot spot.
But despite these statistics, some teachers are arguing that parents and guardians of children in examination classes are pleading with them to continue with the lessons, while some are even volunteering to pay the fines in the event that they are arrested.
Manicaland Provincial Education Director, Mr Edward Shumba encouraged people with information on the backyard schools to come forward with it to help officials deal with the culprits.
"We have heard rumours of teachers conducting backyard lessons. This makes our work very difficult because we cannot go door to door carrying out searches. We do not have such search warrants as required by the law.
"There is the issue of people's privacy which should be respected," he said.
"But as parents, it is our responsibility to protect our children. We do not know who has the virus. If one is infected, then the whole family is also at risk of getting infected.
"We should not risk our lives by defying Government directives unnecessarily," he said.
On penalties for those arrested conducting extra lessons, Mr Shumba said, "There is a two-way system in disciplining those caught breaking the law. As the Ministry of Primary and Secondary Education, we have internal disciplinary processes.
"Then the courts will also prosecute all those violating lockdown regulations announced by President Mnangagwa."
A survey conducted by The Manica Post in most high-density areas revealed that most teachers are now adopting a wait and see approach while monitoring the situation.
"I cannot continue with the extra lessons given the increase of Covid-19 cases. The virus is on our doorstep and I really cannot continue risking my life and that of my family members," said one primary school teacher in Dangamvura.
The teacher has been conducting lessons with 25 students for the past few months, with each child paying US$0.50 per day.
Another teacher in Sakubva said she is now waiting for a decrease in Covid-19 cases to resume extra lessons at her house.
"I am only stopping for two or three weeks for the situation to improve," she said.    
However, one parent with a Form Four child said he will continue sending his child for extra lessons as "exams will be written soon after the situation normalises".
"It is a tricky situation for me because my child is in Form Four. Chances are high that he will sit for his exams soon after the situation normalises so if l don't do this he will be greatly disadvantaged.
"The teacher has assured us that he will ensure maximum precaution during lessons. He is ensuring the students observe physical distancing. They also sanitise their hands during lessons," he said.
Meanwhile, Mr Shumba has warned schools against demanding fees for the second term.
This comes as some schools are sending circulars and invoices to parents demanding second term fees, arguing that the money will be used for online lessons.
"When Government initially announced that examination classes would commence on July 28, there was no problem with schools asking for fees as the money was intended to buy essentials, especially for boarding schools. However, there is no justification in asking for parents to pay the fees now since the schools are indefinitely closed.
"All those collecting fees should cease doing so because this is illegal.
"No school has the authority to offer online lessons. Demanding money for online lessons is also illegal," he said.