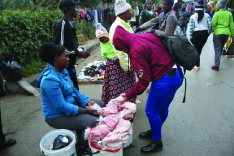 The ManicaPost
Ray Bande
Senior Reporter
THERE is a proliferation of backyard butcheries in Manicaland, with beef, pork, chicken and fish being sold for relatively cheaper prices in homes and on roadsides, The Manica Post has established.
However, the source of the meat remains highly questionable as the meat is neither inspected nor certified by health authorities .
In a recent interview with The Manica Post following an outbreak of January Disease in some parts of Mutare District, Manicaland Provincial Veterinary Officer, Dr Charles Guri said meat sold without veterinary inspection was often contaminated and must be considered a hazard to human health.
"The need for meat inspection in relation to public health cannot be overestimated. It involves the examination of animals in order to determine the fitness of the meat for human consumption. These control measures seek to control meat-borne diseases and protect the consumer from eating inferior quality meat that would have been slaughtered in unhygienic conditions," said Dr Guri. He said it was unlawful to slaughter animals without police clearance, as well as to sell the meat without inspection and certification from health authorities.
"It is illegal to sell meat that has not been examined and certified. The Department of Veterinary Services and the police do not clear any sick cattle for either selling and slaughtering.
"The slaughtering of sick cattle for commercial purposes is illegal. Such meat should not be sold to the public. We have deployed our officers, together with the police in the Mapembe area, to get to the bottom of this scandal.
"It has come to our attention that certain businesses have deployed runners in the affected villages to convince farmers to sell their sick cattle for a song. The cattle are being slaughtered without the required permits and clearance from the police, meaning these people are breaking the law and must be brought to book," said Dr Guri.
The trend, which is posing a health risk to consumers, has seen some residents in Hobhouse, Sakubva, Zimta Park, Bernwin, Chikanga and Dangamvura in Mutare; those in Vengere, Rusape and those in Gaza, Chipinge, shunning established butcheries in favour of backyard meat shops.
In Gaza suburb of Chipinge, most residents are buying meat, mainly goat meat and pork, at Thiba Business Centre. In Hobhouse, Mutare, where the trend is well pronounced, beef is being sold for US$2,50 to US$3 per kilogramme, while small packets of fish and chicken pieces are being sold for as little as US$1, depending on the weight.
When The Manica Post visited the area early this week, some residents revealed that they were lured to the backyard butcheries by the cheap prices.
Some confided in this newspaper that buying from neighbours provided them with the opportunity to get meat on credit.
Mr Sydney Goko of Hobhouse One said he gets beef at a nearby house.
"They sell beef at US$3 per kilogramme. Most butcheries sell their cheapest beef for US$3,50, while other grades of beef in butcheries go for US$4, US$4,50 or even US$5.
"Therefore, l find it cheaper to buy beef from my neighbour's house. Apart from that, they also have credit facilities to cushion me when I do not have cash," said Mr Goko.
Asked about the health risks associated with buying meat from unlicensed butcheries, Ms Shamiso Mlambo of Hobhouse Two said she will cross the bridge when she gets there.
"The issue here is that we have children who want to eat tasty meals. This issue of health risks is a story for another day," said Ms Mlambo. At one of the houses where meat was being sold in Hobhouse, a lady said they had beef and pork in stock.
"Beef is going for US$2,50 while pork is going for US$3 per kilogramme. We also have US$1 packs," she said.
Manicaland provincial police spokesperson, Inspector Nobert Muzondo said they will be investigating the developments with the aim of establishing the source of the meat as well as the operations of the unlicensed selling points.
"We are taking this as a tip-off, hence we will need to go on the ground to get finer details," said Inspector Muzondo.
Repeated efforts to get a comment from City of Mutare since Monday morning were fruitless as the local authority's spokesperson, Mr Spren Mutiwi, said he would reach out to the responsible authorities within council to get finer details.
According to local authority by-laws which regulate the operation of butcheries, it is illegal for someone to sell uninspected meat.
The by-laws reads: " No person shall, in a butcher's shop, food premises or vehicle within the council's area: (a) keep or supply any butcher's meat unless such meat or the carcass from which such meat was obtained has been: (i) inspected by a State grader, and passed as being sound, free from disease and fit for human consumption; and (ii) graded and marked; or (b) keep, sell or supply any fresh butcher's meat unless the livestock from which such meat was obtained has been slaughtered at an abattoir.
"If any butcher's meat which has not been graded and marked is found in a butcher's shop, food premises or vehicle, an authorised person may: (a) seize and detain such meat; and (b) remove such meat from the butcher's shop or food premises or vehicle; and (c) arrange for the destruction of such meat or for its disposal in such manner as to prevent it from being used for human consumption; and (d) impose the prescribed penalty on the person found in contravention of section 4(L) of these by-laws."